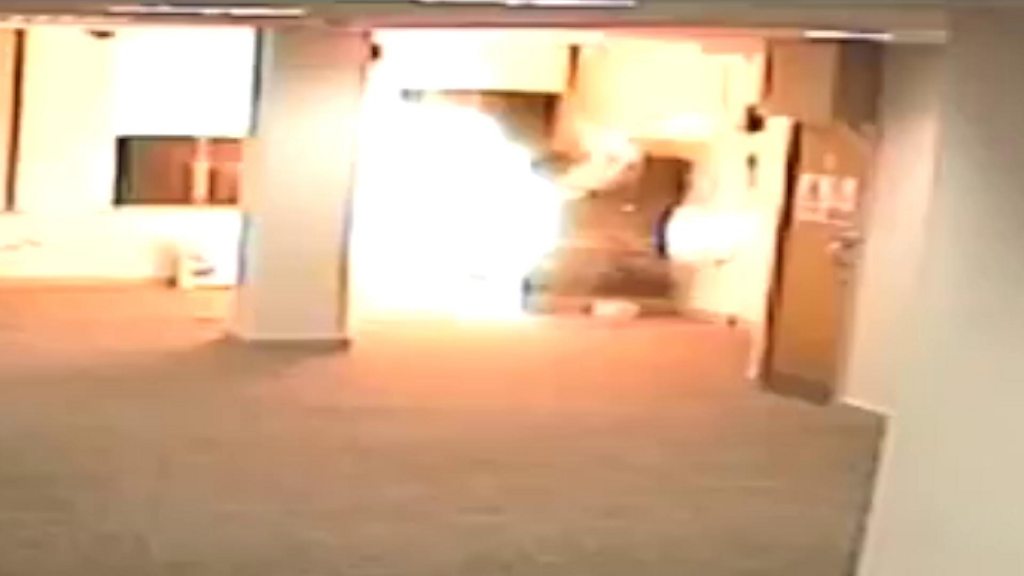 Thieves are increasingly trying to smash or blast their way into UK cash machines – with the number of attacks on ATMs nearly doubling in four years.
Attempts to steal cash have risen from 400 attacks in 2014 to 723 last year, according to a report by ATM operator Cardtronics.
It said one in five incidents in Europe occurred in the UK.
Thieves are generally unsuccessful, with 41% of cases resulting in cash being stolen.
"For the first time, we have proof that the wider damage caused by these attacks is far greater than the direct impact to cash machines or the building they are in. ATM attacks are not victimless crimes," said Tim Halford, managing director of Cardtronics UK and Ireland.
The report suggested that nearly half of all attacks could be considered as dangerous, in that heavy force was used. This could include ram-raids and gas explosions to blast out the ATM.
These "dangerous" attempted thefts have risen from an estimated 129 in 2014 to 342 in 2017.
Last year, a seven-man gang that blew up cash machines across the UK, stealing hundreds of thousands of pounds, were handed jail sentences ranging from 10 years to life imprisonment.
Would-be thieves in Liverpool blew up a cash machine but were unable to take any money from it on Monday.
Other dramatic cases included raiders using gas to blow up a cash machine outside a Matalan store in Darlington last year.
The report said industry data showed that in 2018 almost 70% of gas attacks on ATMs took place on petrol station forecourts, adding an extra level of potentially dangerous consequences.
Community concern
The report said that rural communities, where there are are already issues over access to cash, were being targeted. One in four attacks occurred in communities which had only one or no bank branch in the vicinity, it said.
It could take more than four months for the ATM to reopen.
Cardtronics is the largest operator of non-bank cash machines in the UK, and receives a fee from banks each time one is used. It run brands such as Cardzone and Bank Machine which operate on forecourts,
It is one of the various operators closing ATMs. Network co-ordinator Link has said more than 250 free-to-use cash machines are disappearing a month as operators shut unprofitable ones. There are more than 50,000 free machines in the UK – but the number is shrinking at a record rate as people use less cash.