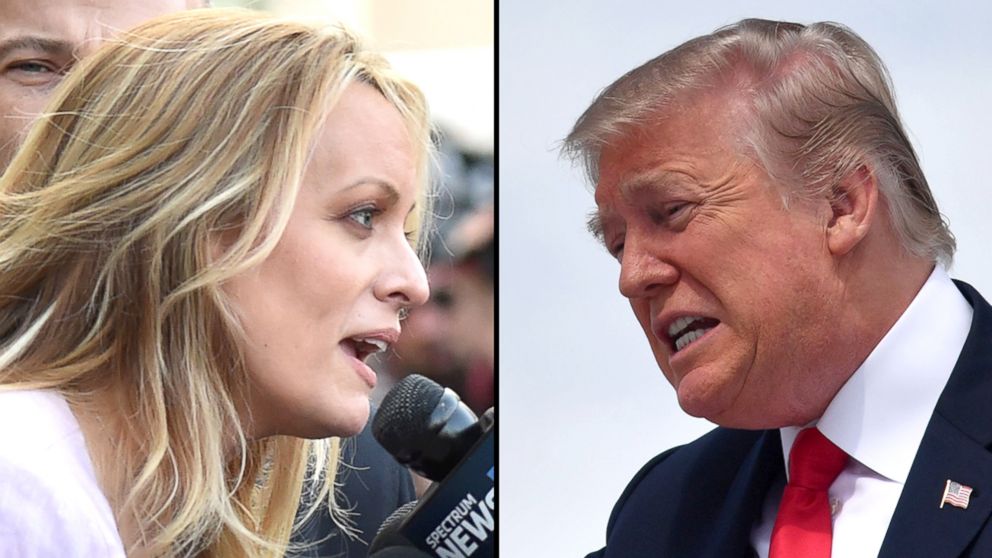 The lawyer for the adult film star who is suing President Donald Trump slammed Trump lawyer Rudy Giuliani's performance on behalf of the president as a "train wreck."
"It is an absolute unmitigated disaster for Rudy Giuliani and the president," said Stormy Daniels' attorney, Michael Avenatti, in an interview with ABC News Chief Anchor George Stephanopoulos on "This Week" Sunday.
Avenatti was referring to a prior appearance on the show by Giuliani, the former New York City mayor who recently joined the president's legal team.
"It is a train wreck. I can't believe that actually just happened," Avenatti said. "I mean, what we witnessed by Rudy Giuliani may be one of the worst TV appearances by any attorney on behalf of a client in modern times."
"I mean, this guy's all over the map over the last 72 hours on some very simple facts that should be very straightforward," Avenatti continued, referring to questions about when President Trump knew that his personal lawyer had paid Daniels $130,000 and whether the payment was made in relation to Trump's run for president.
Trump has denied the allegation of a sexual encounter with Daniels and told reporters last month on Air Force One that he wasn't aware of the payment to her by Cohen. However, Giuliani said in an interview Wednesday night on Fox News that Trump reimbursed Cohen for the "so-called hush" payment to Daniels prior to the 2016 presidential election.
On Sunday, in an exclusive interview on "This Week," Stephanopoulos began by asking Giuliani, "The president does acknowledge meeting Stormy Daniels, correct?"
Giuliani responded that he wasn't "really involved" in what he called the "Daniels thing," but that Trump "denies that it happened."
After Stephanopoulos displayed a photo of Trump and Daniels together, Giuliani said, "Well, it depends on kind of what you mean by met her. Right?"
Stephanopoulos also asked Giuliani if Trump learned about the payment to Daniels after the 2016 election.
Giuliani said he was not sure when Trump found out, "It could have been recently, it could have been a while back. Those are the facts that we're still working on."
On this question of when Trump found out about the payment, Giuliani also said, "don't know and doesn't matter to me."
The issue of the payment is not important because it cannot be construed as a campaign contribution, he said. "It was not a campaign contribution because [the payment] would have been done anyway [for personal considerations]. This is the kind of thing that I've settled for celebrities and famous people. Every lawyer that does that kind of work has.
Stephanopoulos noted that Giuliani just days ago told Buzzfeed News that Cohen "had complained to some people" after the election that Trump hadn't paid him back fully. Giuliani said in that interview that Trump and Cohen met up to discuss Cohen's complaint and that Trump told Cohen, "We'll cover your expenses." Giuliani said, "It clearly was a payment to reimburse expenses," but that he was "almost certain that there wasn't an itemized bill."
"So the president did know about this after the campaign?" Stephanopoulos asked.
"Can't say that," replied Giuliani. "This is more rumor than it is anything else."
Stephanopoulos said Giuliani had described the exchange between Trump and Cohen to BuzzFeed "as a fact."
"Well, maybe I did," said Giuliani. "But I — right now, I'm at the point where I'm learning, and I can only — I can't prove that. I can just say it's rumor. I can prove it's rumor, but I can't prove it's fact. Yet. Maybe we will."
Giuliani told Stephanopoulos that he doesn't have knowledge of any payments to other women by former Trump lawyer Michael Cohen but that he couldn't rule it out.
He also suggested there were other payments of some sort.
Giuliani said he could not confirm that Cohen told Trump days before the election about the purpose of the payment to Daniels.
"Right before the election? $130,000 payment when there were other — I did make clear — and I don't know what they are yet. I will know. There were other things involved that had nothing to do with Stormy Daniels. In other words, other amounts of money. This was not uncommon for him to do that," Giuliani said on "This Week."
Avenatti in his interview later in the show asserted that Giuliani seemed to be suggesting that the president's lawyer had "a slush fund."
"According to Rudy Giuliani, this [type of payment] was basically commonplace," Avenatti said. "The president had effectively an extramarital-affair slush fund that was administered by Michael Cohen, and that [Cohen] would just be expected to take care of these things. They were a regular occurrence."
Daniels' lawyer continued, "I mean, that in and of itself should be very disturbing. Most people of means, most people of wealth and celebrity, they don't have extramarital affair slush funds and the suggestion is insulting."
Daniels, whose legal name is Stephanie Clifford, claims she had a sexual encounter with Donald Trump a decade before he was elected president. The president and his lawyers have denied it happened.