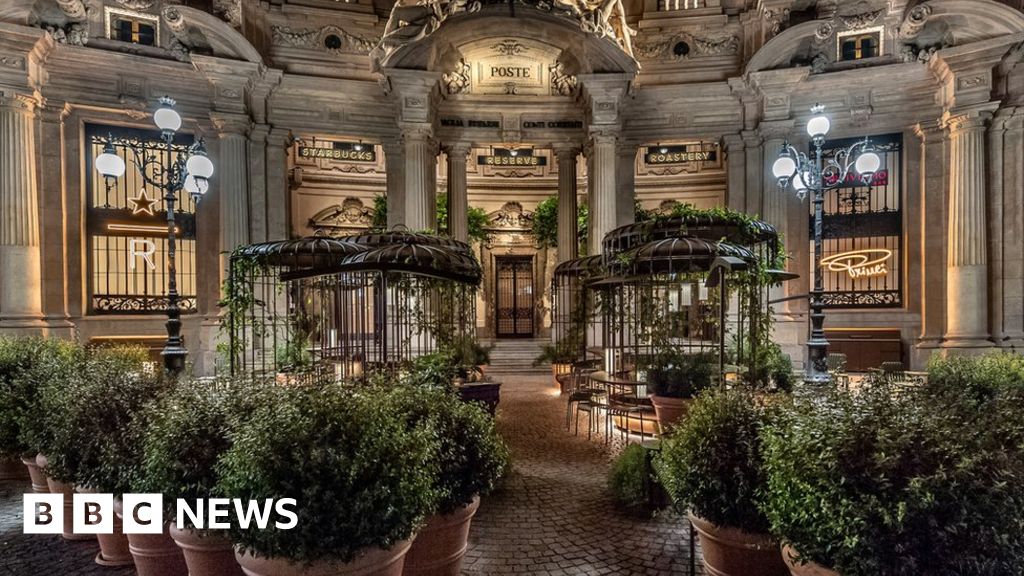 It has taken more than two years to build, but on Friday, Starbucks will open its first Italian outlet, in the heart of Milan.
Starbucks' "roastery" goes far beyond the usual latte production line.
There's marble flooring and wooden panelling, the promise of a "theatre of coffee roasting, brewing and mixology", as well as cocktails, bread, pizza and ice cream.
It is intended as a "homage" to Italy's coffee traditions, Starbucks says.
But while the materials and craftsmanship are locally sourced, the new store is emphatically part of the chain's global ambitions.
It is the third of its new concept "roasteries"; the first two are in Shanghai and Seattle, designed to provide a Willy Wonka style wow factor to the coffee drinking experience.
The store, about a third of a football pitch in size, inhabits the historic Poste building near the cathedral in Piazza Cordusio.
Customers are invited to witness the bean-to-cup process: green coffee being poured out of burlap sacks, going through the roaster, and reaching "a dramatic crescendo" as the six-and-a-half metre bronze cask they're processed in "unfolds like a blooming flower".
From there, the coffee whizzes overhead through copper pipes to the baristas at the marble-topped coffee bar.
Not content with taking on Italian coffee-drinkers, Starbucks is also offering pastries, bread and pizza from a wood-fired oven, and an affogato station where you can finish off your ice cream with a liquid nitrogen quick freeze and a dose of espresso.
Former chief executive Howard Schultz has always claimed it was drinking coffee in Milan more than three decades ago that prompted him to found Starbucks.
"Everything we have experienced, since that first moment of inspiration 35 years ago to now being a daily part of millions of people's lives around the world, we bring with great respect to Italy," he said at the store's launch.
While feeling "humbled" in bringing Starbucks to Italy, it remains to be seen whether Mr Schultz's firm can convince Italians to switch from their traditional knocked-back espresso in favour of a more American experience.
Italians can be somewhat "snobbish" about coffee according to psychologist Paolo Vergnani, who drinks 10 espressos per day.
Surprisingly, though, coffee-drinking is a relatively young tradition in Italy.
Before World War Two, it was a luxury import for the wealthy elite, and most Italians stuck to hot drinks made from toasted barley or chicory.