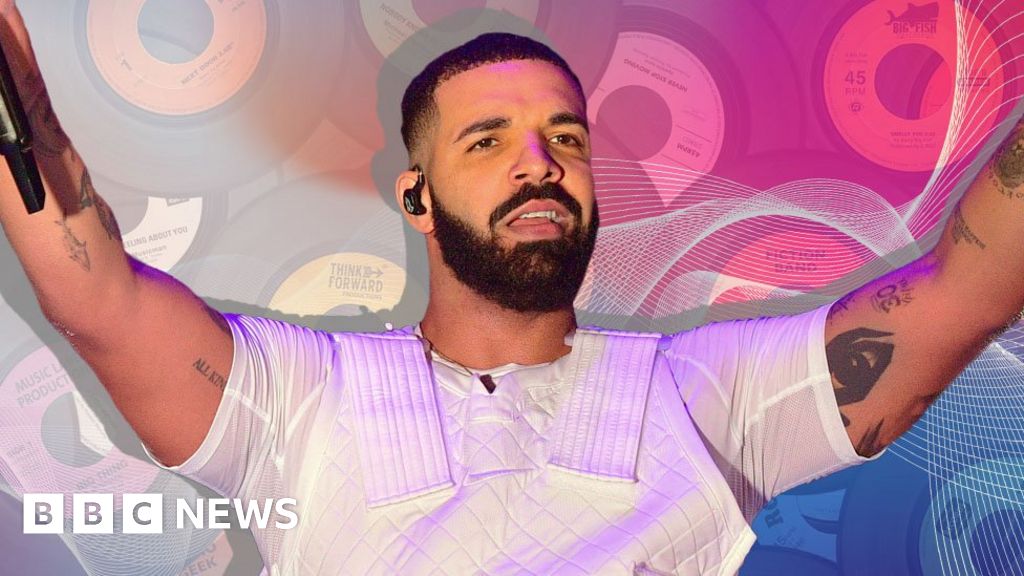 In 1948, New York's Philharmonic Symphony Orchestra put out a recording of Felix Mendelssohn's Violin Concerto in E minor.
You know the one – the release widely regarded as the first ever album.
Since then, the format's taken on various shapes and sizes, as fans listen to music in different ways.
Although recent figures suggested UK sales had halved since 2010, the world's leading streaming platform says the album is "alive and kicking".
As the UK's first National Album Day celebrates "all aspects of the album" (and Violin Concerto in E minor marks its 70th birthday) Spotify UK's head of shows and editorial says an album release in 2018 "can still be absolutely monumental".
"You only have to look at some of the records that have been broken on Spotify in the last year or two with things like Drake's Scorpion, Post Malone, Ed Sheeran or Stormzy's albums in 2017 to see you can have very big moment across streaming and traditional media," suggests Austin Daboh.
"People will always look at a collection of songs as a moment, a landmark, a flag in the sand for an artist's career."
In 2017, figures from the BPI suggested physical album sales and downloads in the UK had halved since 2010 to 59.7m.
Many linked a rise in streaming sites like Spotify and Apple Music to a drop in the format's popularity but Austin claims recent data from users appears to show the album hasn't been killed off by streaming just yet.
"Last week on Spotify we had five million streams on albums.
"Compare that to the height of the digital era, the height of the iTunes era, nobody sold five million albums in a calendar year let alone a week.
"Also, 46% of all streams on Spotify aren't singles. These are songs that are coming through projects whether that be albums, EPs or playlists.
"The album is very much alive and kicking on Spotify."
While Austin says there's work to be done to ensure albums are released "in an efficient way" on streaming platforms, he's adamant acts don't need to change their approach to writing music.
"It's not a case of saying: 'If you're a guitar band you must release in this certain way or if you're an MC you have to do this wacky format.'
"We're not in the business of telling people what type of music they should be making or how… if music is good, we'll support it.
"It's always been the case that some albums do and some albums don't work, the streaming era is no different."
'Albums stay with you for life'
For Amazons singer Matt Thomson the idea of albums becoming less significant "really doesn't appeal".
"Just because we're a band in 2018 why shouldn't we be allowed to do albums?
"I don't care what year it is I want to put out music, not with one or two singles here and there, I want to put out bodies of work."
"The ways bands do things probably doesn't reflect how people are listening to music in 2018… But for rock n roll, albums are of huge importance.
"It's a great chance to have a snapshot of where a band is at."
The band are working on their second album and although they say making it is "a mix of excitement and terror", bassist Elliot Briggs explains approaching a new album, as both an artist and as a fan of other people's music, "is like when a big movie comes out".
"There's a level of excitement you can't find anywhere else except for in an album that people have spent hundred of hours on."
Matt adds: "But music has a bigger impact. Seeing a film is maybe a once or twice-off experience, albums stay with you for life."
Drummer Joe Emmett agrees: "The world without albums would be an interesting place.
"If music was just released via singles it would just become like chip paper – it would be so throwaway."
'Everyone's releasing what they want'
Since winning the BBC Sound Of poll in 2017, there's been a lot of speculation around the release of Ray BLK's debut album.
She's following a string of singles and EPs with what she's calling "a project" later this month and is in no rush to commit to her first record.
"It's a collection of songs I've done over a long time… I just didn't want to put a big label on it.
"If you call it an EP people discard it as not that serious, and if you call it an album it's like 'Oh my god this has to be your everything'."
She says she'll be releasing an album in 2019 when she has time to "concentrate on a body of work".
"I'm an album lover, so someone's album for me is when you say 'I've taken time out to do the best thing I can'.
"I always expect a lot from other artist's albums so I expect a lot from myself as well."
Although some behind the scenes in the industry might question the move, Ray insists R&B and grime fans aren't as fussy as people think.
"When they hear songs they're not thinking 'Oh is this your first single from the album?' They just want to hear good songs.
"A lot is changing so I think artists know that… Everyone's just doing what they want.
"Like Drake put out a playlist – what is that? I never heard of that before he did it but now it's a thing."
Follow Newsbeat on Instagram, Facebook and Twitter.
Listen to Newsbeat live at 12:45 and 17:45 every weekday on BBC Radio 1 and 1Xtra – if you miss us you can listen back here.
http://platform.twitter.com/widgets.js