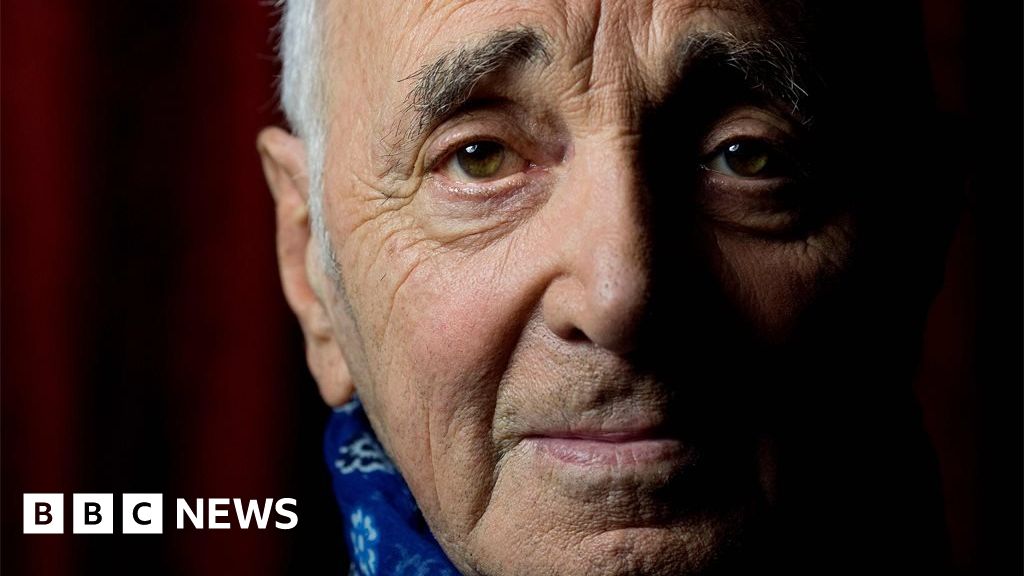 "I don't express myself particularly well when I talk, but when I write, words, melodies flow," Charles Aznavour told The Telegraph in 2001.
"Their pathway is from brain to pen."
Over the years, he wrote more than 1,200 songs, dealing with everything from street violence and the deaf to ecology and homosexuality (and love, bien sûr).
It's almost impossible to write a precise guide to such an extensive catalogue – but here are just six of his most memorable songs.
Yesterday, When I Was Young (Hier Encore)
Aznavour was only 40 when he wrote this nostalgic torch song to youth; a chanson that devastatingly captures the realisation of wasted potential.
In French it was called Hier Encore but Aznavour always felt the English version, co-written with Les Miserables' lyricist Herbert Kretzmer, was more poetic.
It opens optimistically: "Yesterday when I was young / The taste of life was sweet as rain upon my tongue," but grows more poignant as it builds to the finale: "There are so many songs in me that won't be sung … The time has come for me to pay for yesterday / When I was young."
The song was made a hit in the US by country singer Roy Clark; while Bing Crosby, Andy Williams, Shirley Bassey and Dusty Springfield all recorded covers.
But the world-weary resignation of Aznavour's original, accentuated by that trademark vocal rasp (caused by a paralyzed vocal cord in his youth), was never bettered.
What Makes A Man (Comme Ils Disent)
Controversial at the time, this ballad paints a tender portrait of a lonely gay man in the 1970s, of his close relationship to his mother, and his nights spent impersonating female stars in Parisian nightclubs.
Aznavour wrote it to address "the specific problems my gay friends faced," he once said.
"I could see things were different for them, that they were marginalised."
"It is still forbidden in certain unenlightened countries," he told Canada's The Star in 2014. "I sang it in prime time in America on the Johnny Carson show 25 years ago. They were not happy about that, but I received many grateful letters."
Après l'Amour
"You slip your fingers into my open shirt" – Après l'Amour is a flighty, languorous depiction of a couple lying together in bed after making love.
"Wrapped in the twisted sheets, we stay entwined together," he sings.
Included on the 1955 EP Interdit Aux Moins de 16 Ans (forbidden to those under 16), it was struck from the airwaves by the French government.
But once the ban was lifted in the late 1960s, it became one of his most-loved songs.
She (Tous Les Visages De L'amour)
His biggest hit in the UK, She was written as the theme tune to the 1974 BBC series The Seven Faces of Women.
The song needed to tie together the series' seven separate stories, each depicting contemporary women at various stages of life – which is why the woman Aznavour sings about is never named.
The producers originally wanted Marlene Dietrich to record the song but lyricist Herbert Kretzmer (Les Misarables) put his foot down, insisting "if there is one thing I know about the mystery of women it's that they don't talk about it. If they did, it wouldn't be a mystery."
Aznavour spent four weeks at number one with the record; but it took longer to become a hit in his home country, partly because the word "she" sounded like a slang word for faeces.
You've Let Yourself Go (Tu T'Laisses Aller)
"I gaze at you in sheer despair and see your mother standing there," sings the three-times-married Aznavour, as he notes with displeasure as his partner grows old and dowdy.
Rather than telling a real-life story, though, You've Let Yourself Go was inspired by a movie – La Poison – a dark satire in which a husband gets away with murdering his charmless, alcoholic wife, despite admitting his guilt in court.
"There's plenty of great ideas in movies. Plenty of bad ones too," said Aznavour. "A good writer knows the difference."
La Boheme
Aznavour's signature song, La Boheme remembers Toulouse-Lautrec's Montmartre, where painters could rarely afford to eat – but where art and love were enough to sustain them.
An ode to simpler times "when I was starving and you posed nude," it is also a lament for the loss of youth.
"When, on a random day, I go for a walk to my old address," sings Aznavour, "Montmartre seems sad and the lilac trees are dead."
Such was the song's popularity that he recorded versions in Italian, Spanish, Portuguese, English and German.
He also performed it at almost all his concerts, frequently producing a handkerchief and using it as a painter's rag, dabbing at an invisible canvas as he sang. When he dropped the hankie to the floor, there was inevitably a scramble amongst the audience to retrieve it.
Follow us on Facebook, on Twitter @BBCNewsEnts, or on Instagram at bbcnewsents. If you have a story suggestion email entertainment.news@bbc.co.uk.
http://platform.twitter.com/widgets.js