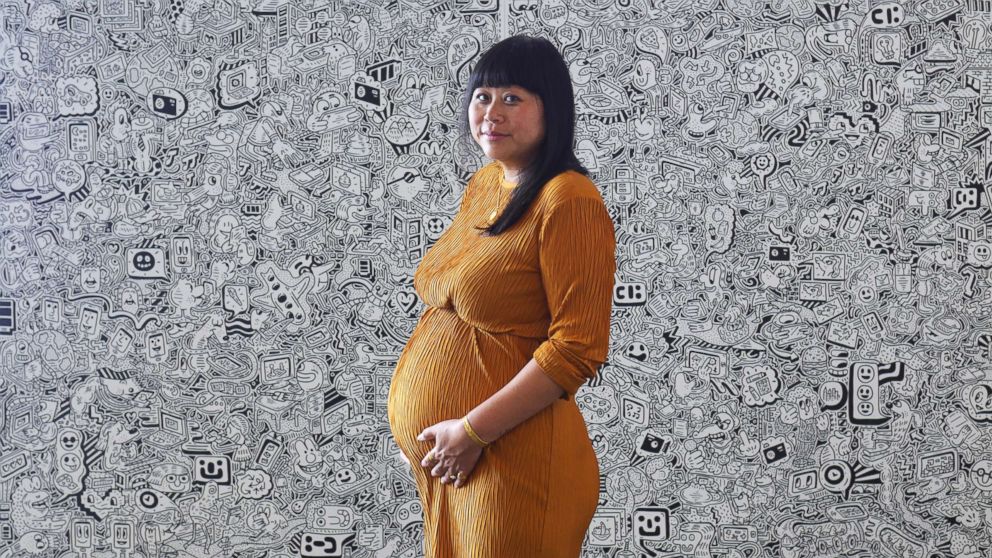 Stephanie Yung was 40 years old when she decided to have a baby on her own.
As she went through the fertility process, Yung, a New York City-based design expert, quickly noticed, and felt, barriers as a single woman.
"It was so surprising that with all of the advancements in technology and social awareness, the fertility experience was still not as accessible to single women," Yung told "Good Morning America." "It is still considered progressive or brave to do something like this and the state of the industry is reflective of that."
Even simple things like brochures constantly reminded Yung that she was doing something considered out of the norm.
"In all the pictures of fertility, they show you couples," she said.
"Not seeing yourself reflected back at you, that's alienating," Yung added. "It seems very abnormal, or that you're doing something wrong or that something is wrong with you."
But Yung is far from alone in being an older and single mother.
An increasing number of women in the U.S. are choosing to have children later in life, often on their own, according to data from the U.S. Census Bureau. For the first time, single adult women outnumber married adult women in the U.S.
"We're at a time right now where the science and technology and medical advancements for assisted reproduction are sophisticated, but now we need our societal opinions and judgments to catch up with them," said Dr. Jennifer Ashton, ABC News chief medical correspondent and a practicing OB-GYN. "That can be slower to occur than even the medical and technological advancements."
The journey to motherhood becomes a 'living design experiment'
As she made her way through the fertility process, and found obstacles at every turn, Yung decided to make her motherhood journey into a living design experiment.
"I'm sharing my story to have [single mothers by choice] not be such an implausible idea in the future," Yung said. "To tell women, probably my age, that you're not wrong and there's nothing wrong with you, there's just something wrong with the system."
The goal, she said, was to re-imagine the fertility process for nontraditional families.
The months-long project became known as "Project Junior."
Yung, who is now eight months pregnant, collaborated with fellow would-be moms, friends, family and colleagues at Smart Design, a global strategic design company.
The result is Jr., an app that promises to connect all the dots in the fertility process.
The app begins with an survey that helps determine where you are in the process and what type of support you need.
Jr. aims to address three areas of opportunity that Yung saw as gaps in the fertility journey for single women: Stigma, design and support.
1. Support: Eliminating costly mistakes
Yung found herself at doctor appointments without the benefit of having a partner at her side to digest what doctors were saying and to write down what she needed to know.
That obstacle led her to one of her most frustrating mistakes of the fertility process: Buying sperm with the wrong blood type.
The costly and emotionally taxing mistake also highlighted to Yung how difficult the total cost of the fertility process is to discern, a scary prospect for a single woman.
"I didn't even know how much I owed until after," she said. "There are a lot of hidden costs, so you're not prepared and it is really hard to create a budget."
The Personal Dashboard on the Jr. app centralizes all of your up-to-date information and data and offers customized tools that can help with things like creating a realistic budget as a single parent.
The app also breaks down the fertility process into what Yung calls "digestible increments and milestones." For each milestone, the app shows you the details, cost implications, steps that need to be taken and suggested questions for your doctor.
Jr. also would pair you with your own personal Fertility Advocate. The on-demand advocate would deliver immediate responses to questions and help curate advice from all the experts needed on the fertility journey, including pharmacists, psychiatrists and other specialists.
2. Stigma: Making communication easier
Some of the most dramatic moments in Yung's journey to motherhood came when she had to share details with friends and family.
"One of the bigger hurdles I had was telling my close family that I was [becoming a mother] alone," she recalled. "Telling people is a huge barrier for women. It's not normalized, it's still taboo and you feel the need that you have to justify it."
In another case, Yung had to cope with a well-meaning friend telling her just hours after she had a negative pregnancy test, "You would make such a wonderful mother," and asking, "Have you gone through the treatment yet?"
"Friends have the best intentions and want to help, but they don't know how," Yung said. "It's like when a person dies and you ask, 'Does the person want to talk about it?'"
She added, "The times I didn't want to talk about it, I either stayed at home and avoided people or I had to lie."
Jr. allows you to invite members of your "village" to the app and includes an interactive journey map and a mood indicator so they'll know you're feeling. Moods include descriptions like "do not disturb" and "excited."
"It's a way to inform your friends close to you of your emotional state and where you are simply so you don't have to say it to them," Yung explained. "Because you need people and you need to be around people."
3. Design: Personalizing the sperm donor
One of the most surprising parts of the fertility journey for Yung was how impersonal it was, particularly the process of picking out the sperm donor.
"It took me a long time to commit to actually buying sperm because it was so intimidating and foreign and weird," Yung said. "No one could really help me."
Yung described the sperm buying process as one in which she was handed a list of 10 URLs to look through and not the "Tinder-meets-Netflix swipe-through of super attractive aspiring rocket scientists and brain surgeons."
It only clicked for Yung when she was able to hear the voices of the sperm donors available to her.
"Each donor has like 17 types of descriptions you can look at," she said. "The thing that mattered to me most was hearing the voice. That made it more real and more personable."
The Jr. app features a Donor Portal that seeks to make an admittedly artificial process more natural, according to Yung. The portal makes it easier to compare and contrast donors and highlights the most helpful information, such as their voices.
Evan after Yung decided on her sperm donor, she found the moment anti-climactic. Instead of celebrating a momentous occasion, she got an email and a follow-up sales call.
Yung's design solution is a celebration box that would mark the moment and help the mom-to-be remember who she chose and why.
What's next for Jr.
Yung's first child is due next month.
The project that has become her second child, Jr., is still in the design phase.
Yung and her Smart Design colleagues are in the process of finding a partner to help pilot and launch the app.
"It's definitely needed because we're seeing more and more this idea of single motherhood and parenting," Yung said. "I want women to feel empowered and be more engaged with their own health."
Yung also plans to continue as a self-described "living experiment" as she becomes a single mother.
"I'm documenting all of this," she said. "If we can solve the problems for me, then it can hopefully make the experience better for women in general."