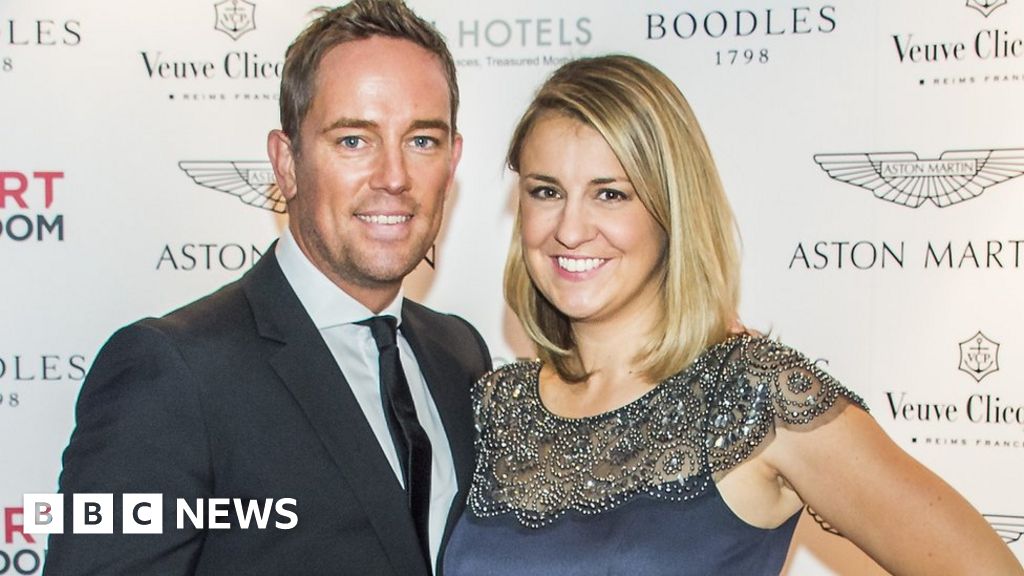 Sky Sports anchor Simon Thomas, whose wife died suddenly of cancer last year, has announced he is leaving his job to focus on his son, Ethan.
In a blog post, the ex-Blue Peter presenter thanked Sky for its "unswerving support".
His 40-year-old wife, Gemma, died last November, just three days after she was diagnosed with acute myeloid leukaemia.
Thomas, 45, has spoken openly about his grief on social media, saying he is "really struggling".
In a post on his blog published on Friday afternoon, Thomas announced he will officially leave Sky – where he has worked for 13 years – at the end of the domestic football season in May.
He has not returned to work since his wife's death but said he took the decision to leave permanently "with a heavy, but peaceful heart".
Thomas, who was married for 12 years, cited several factors but said the main reason is his son, Ethan.
He said: "Firstly and most importantly, I'm doing it for Ethan.
"I remember Ethan coming up to me in the lounge and through his tears he said these words: 'Daddy, you know every weekend you go away and do the football and I spend the weekend with Mummy? What do I do now?'
"And they have stuck with me ever since."
But the presenter also admitted football "just doesn't matter" to him anymore, adding: "The flames of passion I once had for it are, for now at least, gone.
"I hope one day they will relight again, but at the moment there's barely a flicker."
Thomas reiterated that he is "not turning my back" on broadcasting but will focus on writing a book and raising awareness for charity Bloodwise UK.
Sky has said the door will always be open for him, Thomas added.
Sky Sports managing director Barney Francis said he spoke to Thomas and "fully supports" his decision, Sky reported.
"Simon has suffered an unspeakable loss and we have done everything we can to ease the burden he is carrying," Francis said.
On social media, fans and fellow sports journalists sent messages of support and praised him on his candid posts about grief.
Thomas has regularly tweeted updates on how he has coped since his wife's death.
Earlier this month, to mark five months since she died, he shared a photo of a note he had left his son, Ethan, telling him: "You have been amazing. Mum would be so proud. So am I."
Last month, Thomas spoke of his pride after his son was a mascot for the England football team at Wembley.