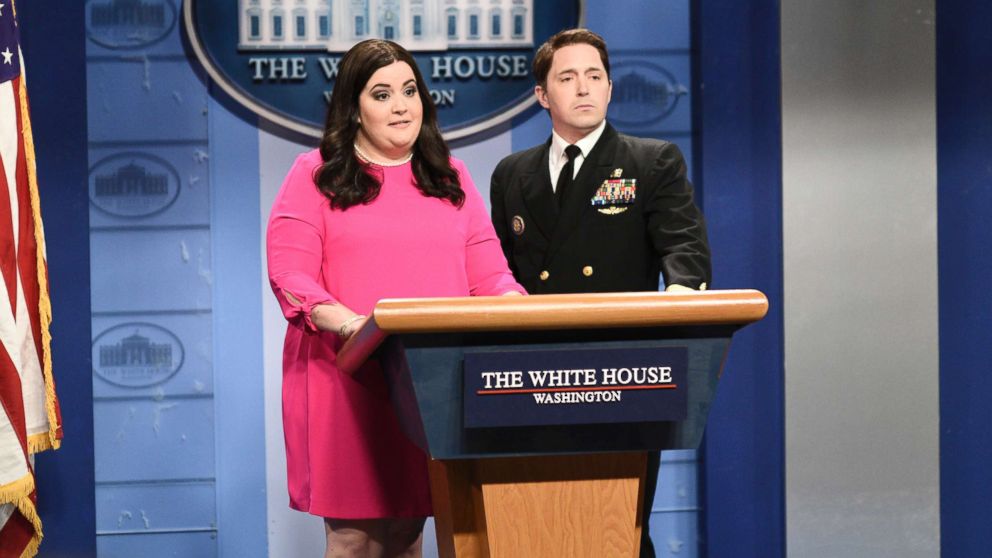 The government shutdown and the results of President Donald Trump's physical exam, released Friday by his physician Ronny Jackson, provided fodder for this week's "Saturday Night Live."
The cold open features "SNL" cast member Aidy Bryant as White House Press Secretary Sarah Sanders kicking off a daily press briefing.
"Thank you for all for being here," Bryant's Sanders says to the reporters. "First off, I would like to wish everybody a Happy Women's March. A million women strong out there to celebrate the president's kick a– year in office. We did it, girls!" Women's Marches were held in cities across the globe Saturday, including Washington, D.C., New York and Los Angeles.
In a nod to the government shutdown, Bryant's Sanders tells the reporters, "If you want to blame somebody for the shutdown, blame Senator Chuck Schumer, hashtag 'Schumer shutdown.' Please let's get it trending, guys."
"SNL" cast member Beck Bennett, who plays Dr. Jackson, then addresses the reporters. "Once again, this is the president's unbiased, 100 percent accurate health assessment."
Bennett's Jackson says, "It's my expert medical opinion, that the president's gotta rockin' bod."
A reporter, played by "SNL" cast member Kate McKinnon asks, "There's been questions about the president's mental fitness, and the White House has of course pushed back on that. Since you examined him personally, my question is, how broke that brain?"
Bennett's Jackson responds, "We did do a cognitive exam at the president's request and he passed it with flying colors. Almost no hits."
Another reporter, played by "SNL" cast member Mikey Day, asks, "The president has bragged about scoring higher on that test than any other president, is that true?"
Bennett's Jackson responds, "In fairness, no other president has taken the test. We typically only use it to make sure someone is not severely brain damaged or a monkey in people clothes. But the president grabbed me by the collar and insisted taking it. He has the grip of a guy who would fail that test, if you know what I mean."