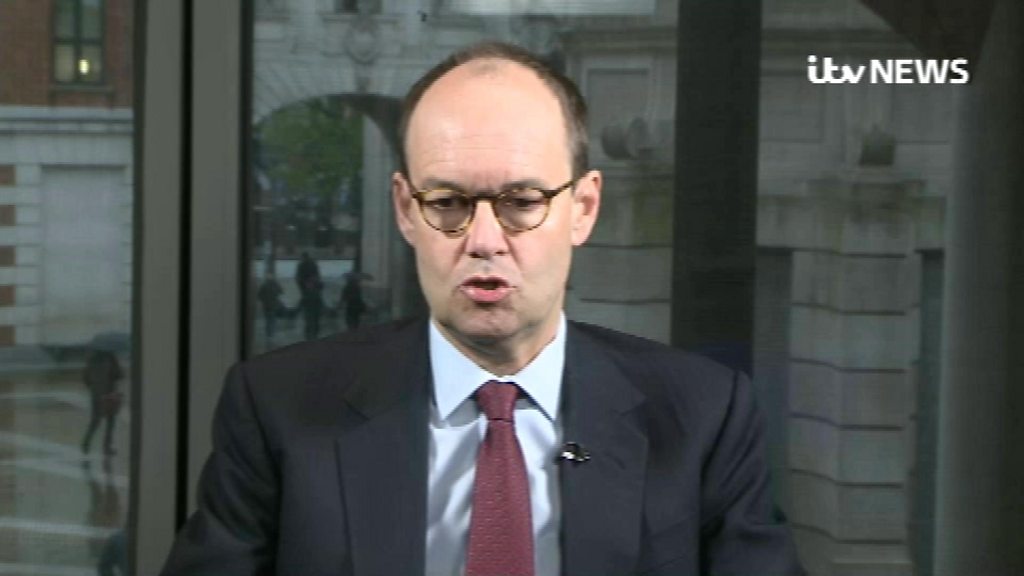 The boss of Sainsbury's, Mike Coupe, has apologised after being caught on camera singing "We're in the money".
He was filmed singing the words to the show tune as he was waiting to be interviewed for ITV News.
It was one of a round of dozens of interviews to explain details of the planned tie up with Asda, the company's biggest deal to date.
Mr Coupe said: "It was an unfortunate choice of song" and apologised if he had offended anybody.
Mr Coupe has said staff will not lose out through the deal and customers will benefit by seeing prices fall by an average of 10%.
But suppliers fear that the price cuts will come at the cost of their profit margins.
The song, We're in the Money, is one of the key tunes used in the musical 42nd Street, which Mr Coupe said he had seen last year.
He busked some lines from it: "We're in the money, the sky is sunny, let's lend it, spent it, send it rolling along," while sitting waiting to be interviewed.
Mr Coupe, a keen guitarist who has played in front of thousands of Sainsbury's employees on occasion, issued a statement after the incident became public.
"This was an unguarded moment trying to compose myself before a TV interview," he said.
"It was an unfortunate choice of song, from the musical 42nd Street which I saw last year and I apologise if I have offended anyone."
Mr Coupe could indeed be in the money if the positive effects of Monday's announcement are sustained.
He is a shareholder in Sainsbury's, and shares in the supermarket jumped by nearly 15% on Monday after the Asda deal was announced.
Ian Cass, managing director of the Forum of Private Business, reacted scornfully to Mr Coupe's choice of song.
He said: "If that's the song he's singing and highlights his position on this, I very much doubt small suppliers would choose the same song to sing, and one option would be Highway to Hell.
"It's almost like, what's in it for him? I'm sure his bonus and dividend will go up massively because of this merger.
"I don't think there's any degree of sensitivity to our concerns. A lot of business organisations and suppliers have said this merger is making them very nervous."