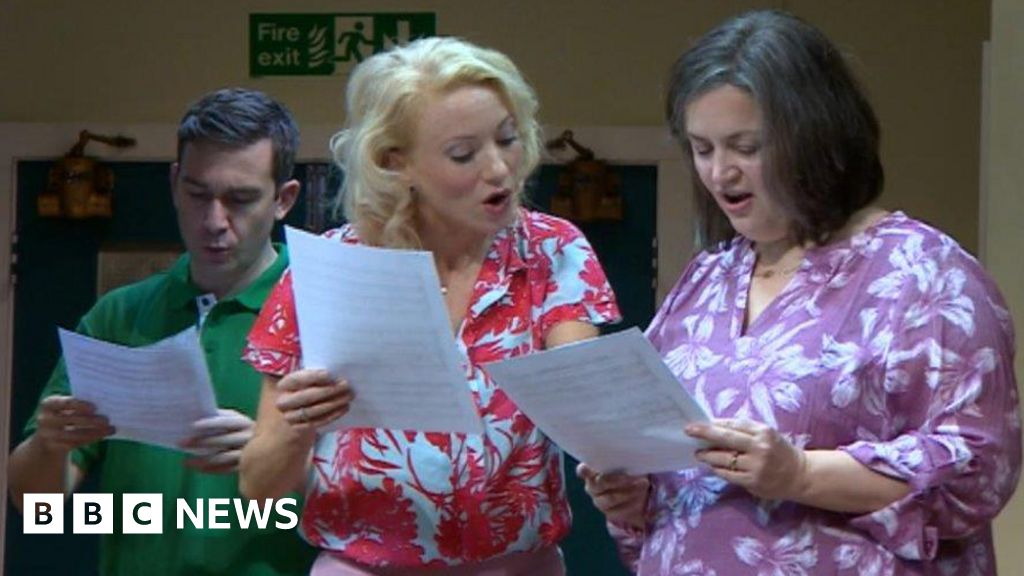 Ruth Jones has revealed she was "terrified" of forgetting her lines during her return to the stage.
The Welsh actress is starring in The Nightingales in Cardiff, after last performing a play in 2006.
Jones, 52, said she had to employ techniques including setting lines to music in order to learn the script.
The star of Stella and Gavin and Stacey last appeared on stage 12 years ago in a production of Educating Rita in Cardiff.
The Nightingales opens in Cardiff's New Theatre on Monday until 24 November as part of a tour which has already been to Bath and Cambridge. The show is also expected to run in the West End.
Asked if she was nervous before her stage return, Jones said: "Completely terrified, I can't tell you. I was completely terrified.
"And I think because I kept, in my head, going: 'You are going to forget your lines! You are going to forget your lines!'
"Obviously with TV you have got the luxury of doing it in small segments. You do five minutes of the script every day, and you can go back and do it again if you make a mistake. Of course you can't do that when you are on the stage."
In the play Jones stars as Maggie, a Welsh single mum and newcomer to a village a cappella choir who brings intrigue and suspicion to the comfortable group of middle-Englanders.
After putting some lines to music to help remember them, she even sang them to cast members.
"I did do it once in rehearsal, just for showing off, for the entertainment of everyone else.
"It is a completely different animal doing stage work. I am loving it, but it has been really hard work. It is not by any means for the faint hearted. The rehearsals have been very intense."
Jones – who lives in Cardiff – said she was looking forward to bringing The Nightingales there.
"I have been to the New Theatre loads of times but I have never performed there, so I really am genuinely hugely excited.
"Apart from the fact it will be lovely that a lot of my friends and family can come to see it, there is a nice poetic sense about going back to Cardiff 12 years after being on stage last time."