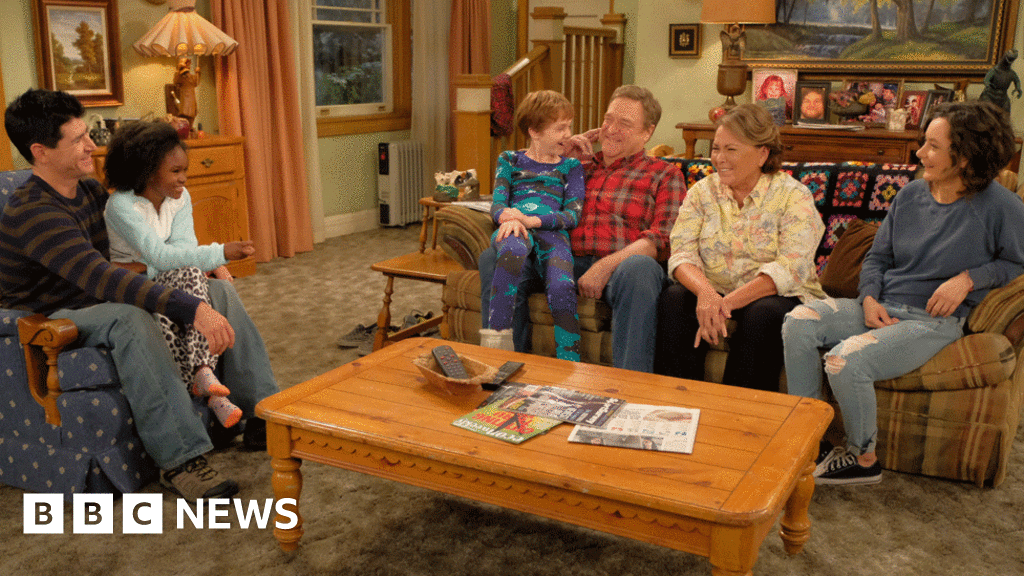 The Roseanne comeback was all going so well – until Roseanne Barr's now infamous tweet about former Obama aide Valerie Jarrett led it to be cancelled.
The latest episode, which has suddenly become the revived sitcom's finale, was the most-watched comedy on US TV last week.
There has been much sympathy for Barr's co-stars including John Goodman and Laurie Metcalfe, who now find themselves without a show.
Lena Dunham and Mindy Kaling are among those who have offered to write spin-offs for them.
So what might the future hold for the cast and for Roseanne herself?
Roseanne without Roseanne?
TV network ABC has simply said the show, which was revived in March after 21 years off air, has been cancelled.
But there are lots of calls for it to carry on – just without its lead character.
Mindy Kaling, creator and star of The Mindy Project and one of the hottest names in US TV, jumped in with an offer to "write things" for Goodman and Metcalf, who play Roseanne's husband Dan and sister Jackie.
Lena Dunham followed that by offering to "do the spin off of your show starring Darlene's cool kids".
Roseanne herself tweeted that she was "sick" about the fact ABC had also thrown out "two of the greatest actors in the world".
Variety has reported that "there have been extremely preliminary discussions among key players about options for keeping the ensemble together in some form without Roseanne Barr".
Could they write Roseanne out?
Her name may be on the tin, but anything is possible in TV.
Goodman's character was written back in for the revival after dying of a heart attack in the original finale in 1997.
He shrugged off the miraculous return in the first few minutes of the comeback, telling his screen wife that he was just asleep, not dead. Perhaps they could follow that example in reverse and have a passing reference to the fact her character has died.
There are precedents for hit TV shows carrying on without their main stars.
In the 1980s, a sitcom called Valerie was changed to Valerie's Family when its original star Valerie Harper was written out following a pay dispute with producers.
And House of Cards is having another series without Kevin Spacey, who was obviously dispatched for very different reasons.
---
What about Roseanne?
Variety reported: "One big problem to overcome [with continuing the show] is the fact that Barr has a significant financial interest in the series, and there is concern that a new iteration that would benefit her financially would be a non-starter for everyone involved."
Roseanne herself has suggested she may not take the cancellation lying down, saying the support she's received makes her "feel like fighting back".
Meanwhile, talk show host Jimmy Kimmel has called for understanding that "mental health issues are real" and that "the Roseanne I know could probably use some compassion and help right now".
Beyond the sitcom that bears her name, Roseanne is now unlikely to find work in the mainstream media but won't be short of offers from conservative outlets.
The Daily Beast has reported that former Trump campaign aide Michael Caputo, who is planning an online streaming start-up, said he would "reach out to Roseanne immediately".
British right-wing commentator Katie Hopkins tweeted in solidarity, saying: "I have found the more I am fired, the busier I become."
Yahoo! TV critic Ken Tucker speculated that she might even fancy another shot at becoming president. Six years ago, she failed to gain the presidential nomination for the Green Party and ended up running for the Peace and Freedom Party.
Tucker added that she now "has the Trump playbook as a guide".
And Roseanne pledged to use the attention surrounding the furore to build her profile as "a fighter 4 fairness in all aspects of US life".
---
Not just the cast
Her co-stars may have had the most sympathy following the show's cancellation, but many more people are rethinking their career plans.
"I just want to apologise to the hundreds of people, and wonderful writers (all liberal) and talented actors who lost their jobs on my show due to my stupid tweet," Roseanne reportedly tweeted, although the tweet appears to have been deleted.
The show's writers returned to work on the show's new season on the day it was cancelled, ABC News reported.
"None of us were in the frame of mind to start writing the show under the circumstances," showrunner Dave Caplan told the network's news site.
"We got together as a group for the first time and there was a lot of bittersweet hellos – and a couple hours later, a lot of very difficult goodbyes."
ABC counts its losses
The Hollywood Reporter said ABC is likely to face a bill of "tens of millions of dollars" for the cancellation.
It said Metcalf, Goodman and Sara Gilbert, who plays Darlene, negotiated deals worth $300,000 (£225,000) per episode for the planned next series, up from $250,000 (£187,000), and will expect to be compensated for at least 10 episodes, even if they are not made.
Variety reported that "the highest echelon of writers and producers also have some minimum episodic guarantees".
Ad revenue for the next season was due to be worth at least $60m (£45m), the Hollywood Reporter estimated.
All of which could be an incentive to try to keep the show going in some form, Variety suggested.
---
Follow us on Facebook, on Twitter @BBCNewsEnts, or on Instagram at bbcnewsents. If you have a story suggestion email entertainment.news@bbc.co.uk.