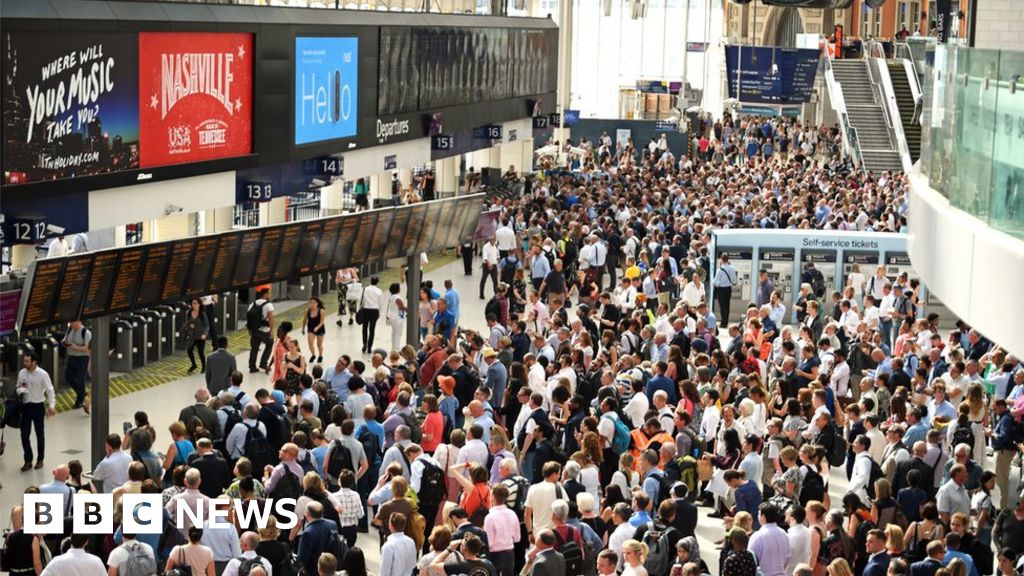 The rail regulator has ordered Network Rail, which manages tracks and other infrastructure, to improve its performance
The Office of Rail and Road (ORR) said punctuality and reliability on the UK's rail network were at their worst for five years.
If Network Rail fails to comply with the ORR's demands it could be fined.
Network Rail's boss said it took responsibility for its part in poor train service reliability.
It is the first time in a decade that the ORR has issued such an order against publicly-owned Network Rail.
The regulator said extreme weather and problems implementing the May 2018 timetable had contributed to the poor performance.
It said the recent disruption on the railways had not always been Network Rail's fault. However, it added, there were concerns about Network Rail's ability to restore services in a timely fashion, after problems had occurred.
The announcement follows a series of recent independent reviews into train performance, which have highlighted many areas where Network Rail, and some train companies, must improve.
The ORR is demanding that Network Rail work more closely with train operators to address the findings of the reviews into performance on the network.
It has ordered Network Rail to report back by mid-February and outline how it will improve its ability to recover services after there are incidents on the network.
Four years ago the ORR fined Network Rail £50m. Some of that money was invested in improving on-board passenger services on trains, including faster wifi.
"Today's decision is a clear demonstration of ORR's approach to how we will hold Network Rail to account," said the ORR's chief executive, John Larkinson.
"Passengers and freight customers rely on Network Rail for punctual and reliable train services and the evidence we have collected suggests to us that Network Rail is failing to take all reasonable steps to effectively manage performance and recover from incidents on its network."
"This is a capability issue which must be addressed urgently," he said.
'Fully committed'
Andrew Haines, Network Rail chief executive, said: "We know that train performance has not been what our passengers deserve. We have let them down and we take responsibility for the part we have played in poor train service reliability.
"Network Rail is fully committed to leading the industry back to higher levels of performance both through our own measures and actions and by working closely with our industry partners."
The ORR also found Network Rail was better placed to "deliver efficiently" in its next five-year funding period called CP6, which starts in April 2019, compared with the same point five years ago.
"We are pleased that the ORR has acknowledged the progress we have made in preparing for CP6, including by establishing work banks, securing network access for planned engineering works and building up maintenance resources," Mr Haines said.
Separately, the Department for Transport is expected to soon announce how it will punish Govia Thameslink Railway (GTR) to account for the chaotic introduction of a new timetable, with more services, in May following weeks of negotiations.