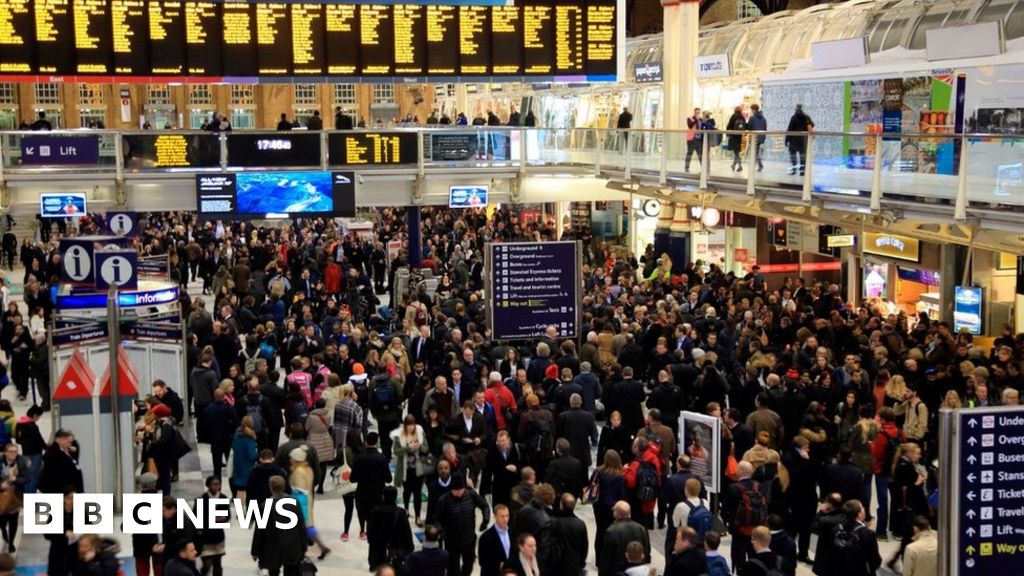 Rail passenger numbers have fallen in a number of big English cities, but overcrowding remains a problem in many.
The Department for Transport says daily rail passenger numbers fell in Leeds, Liverpool, London and Manchester between autumn 2016 and autumn 2017.
Overcrowding, using a "passengers in excess of capacity" measure, was worst in London (5.4%), followed by Cambridge (4.8%) and Manchester (4.3%).
More than one million passengers arrived into London on a typical day.
Some 55% of those passengers arrived in the morning peak period, which is defined as services arriving at a city centre in a three-hour period from 7am to 10am.
Birmingham, the second busiest city, had eight times fewer daily arrivals than London, with 128,100.
Regional differences
King's Cross had the highest crowding rates in the morning (9%) and afternoon peaks (5.6%) of all the central London stations during 2017.
In the 2017 morning peak, 23% of passengers were standing on trains arriving into London, and for those arriving into Blackfriars station this was 36%.
"In London, the most populous region also with the highest population density, more rail journeys were made in 2016-17 than all other regions of Great Britain combined," said the Department for Transport.
"Between 2006-07 and 2016-17, the West Midlands, North West and West Yorkshire saw the fastest growth in rail usage.
"These regional differences tend to reflect the levels of urbanisation within them. Areas with higher urban population densities are less reliant on car usage and more reliant on public transport, walking and cycling."
It said that the number of passenger journeys made by rail in Scotland had also increased considerably over the past decade, with ScotRail seeing a 31% increase,
Rail traffic in Scotland is concentrated around Glasgow and Edinburgh, and all of the country's 10 busiest trains are services to or from these cities.