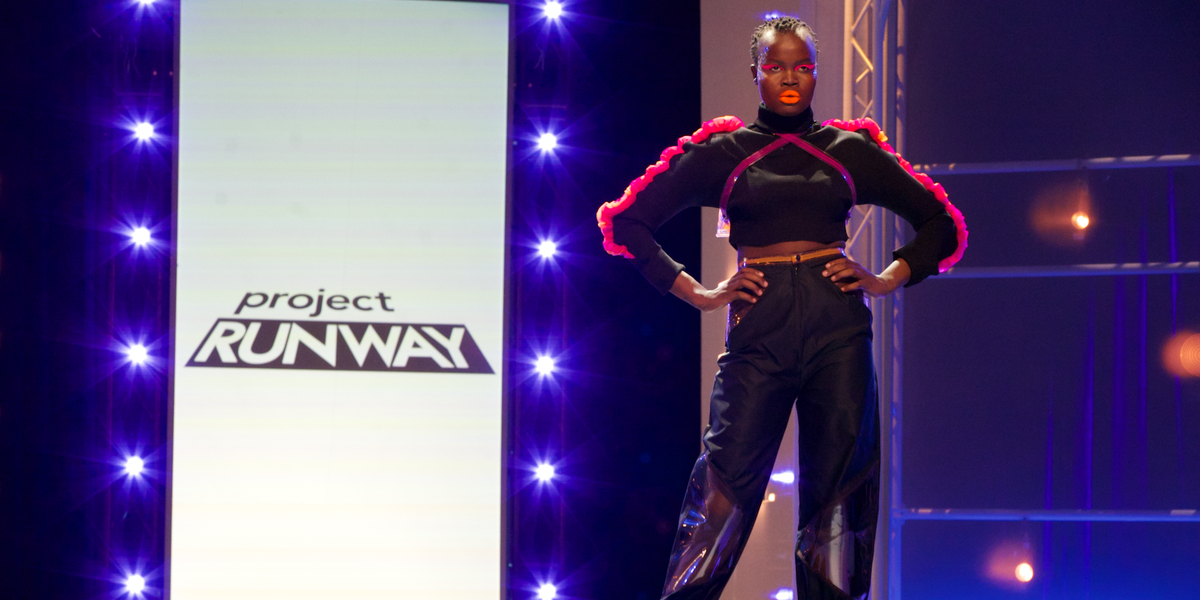 Courtesy of Project Runway
Any given episode of Bravo's Project Runway has no shortage of unique, funky, and always creative outfits. The designs created by the contestants are just half of the appeal, though—the makeup is often a statement in itself.
We took three bold looks from the brand-new season of the show and made them wearable for life off the runway (outfits not included). Watch below as three ELLE editors get Project Runway-inspired looks, from eye-popping shadow to a bold lip using Maybelline Color Sensational Made For All lipstick.
Look #1: Graphic Liner + Red Lip
After applying foundation and filling in your brows, brush on a bit of bronzer, followed by blush. Next comes the fun part: silver eyeliner with a bit of sparkle. Outline your lids, starting from the inner crease above your lashes.
After a few strokes of mascara, use Maybelline Made For All Lipstick in Red For Me. This classic red will be a staple in your makeup collection—any occasion can benefit from a red lip.
Look #2: Glow Highlighter + Bold Lip
Start by applying foundation and concealer, then fill in your brows. Next, lightly brush on a bit of blush before using some Maybelline New York Master Strobing Liquid highlighter for a glowing effect.
Finish things off with another shade in Maybelline's Made For All lipstick line: Plum For Me. The hue was tested on dozens of women to make sure it looks good on, literally, everyone.
Look #3: Colorful Eye + Bright Lip
First, apply foundation, concealer, and blush. Then apply cat-eye liner in a bold color and several strokes of Maybelline Snapscara in Ultra Violet. Finish with Maybelline Made For All Lipstick in Fuchsia For Me. A hot pink lip can be intimidating, but this particular shade works well with all skin tones.
The Project Runway season finale airs on June 13.