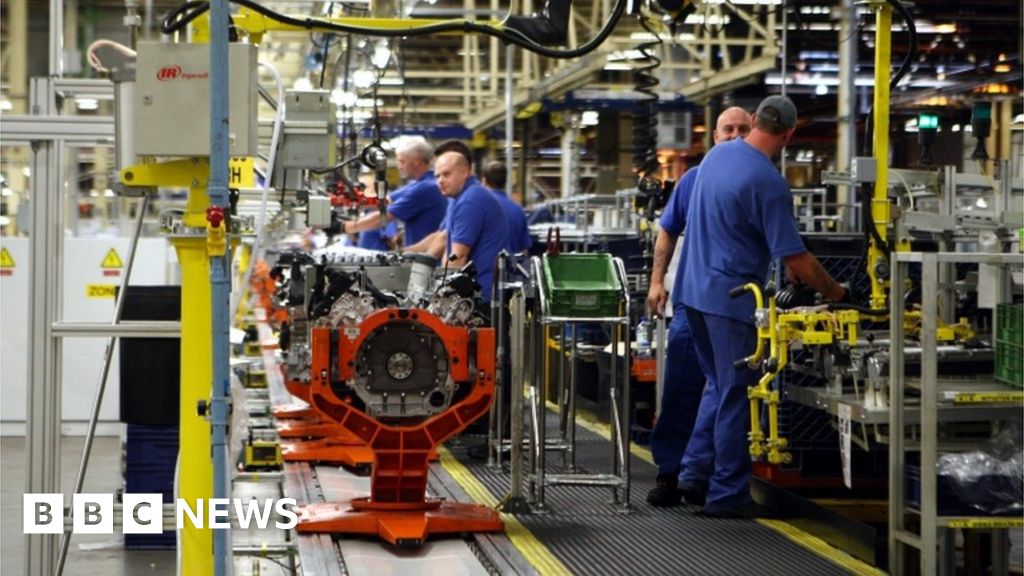 Staff at Ford's plant in Bridgend working on the new Jaguar engine have been told not to come into work for five days.
The AJ production line at the plant will shutdown from 29 October to 2 November, the car maker confirmed.
Letters were sent to staff this week – a move which union officials said came as a surprise.
Wales' first minister Carwyn Jones said he wanted assurances the move was only temporary.
News of the shutdown has caused fresh anxiety for those at the plant – which is one of the biggest employers in Wales.
Last week, Ford's European boss Steven Armstrong warned a no-deal Brexit could affect the company's future in the UK.
And in 2017, it was announced production of engines for Jaguar Land Rover would end three months earlier than expected.
A spokeswoman for Ford said: "We have initiated five days downtime on one of our production lines at Bridgend Engine Plant from 29 October.
"The production line builds engines for a third-party."
It is understood the workers affected will still get basic pay.
---
Analysis: Sarah Dickins, BBC Wales economics correspondent
The timing of the shutdown is somewhat ironic – it comes as the plant celebrates a year since the first production of its new Dragon engine for Ford cars.
Investment in that new engine for Ford was welcomed, but there has been concern about the long-term viability of the plant for some time.
This latest move comes at a time when the automotive components sector starts to feel the impact of cuts in production by big car makers.
Jaguar Land Rover (JLR), owned by Tata Group, announced cuts in production at its plants in Solihull , Halewood and Castle Bromwich. As a result there is less demand for the parts that go into the cars.
The company has blamed falling demand in China and also "Dieselgate" – the UK government's change of policy on diesel cars and the subsequent fall in sales of diesel vehicles.
At the same time, car makers are becoming increasingly vocal about their fears about the possible effect of Brexit on the industry.
BMW said in September that it would stop producing its minis at Cowley in Oxford for a month when the UK leaves the EU .
http://platform.twitter.com/widgets.js