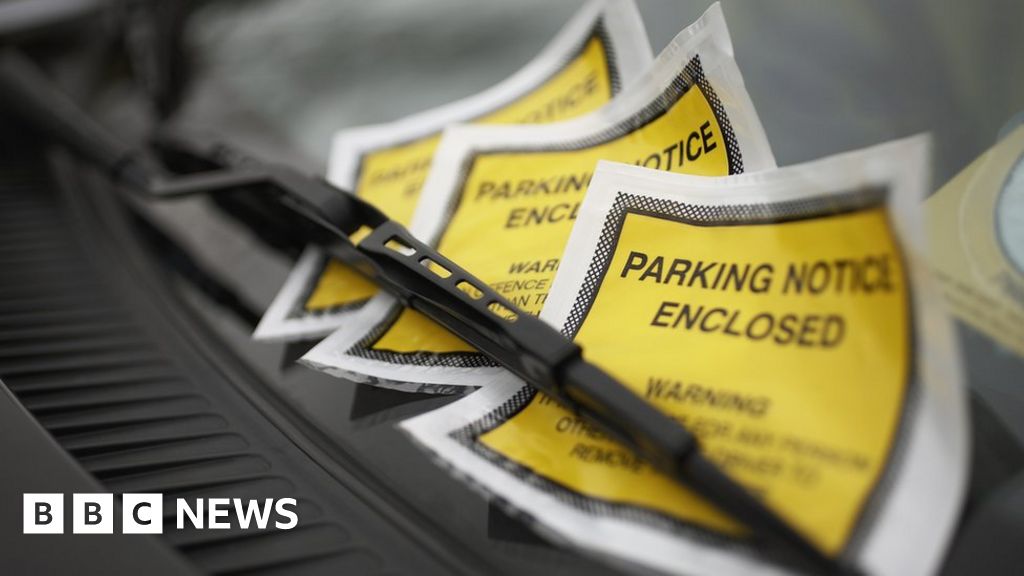 The number of parking tickets issued by car park management firms hit a record 5.65m last year, data suggests.
The RAC Foundation says the number was rose by almost a fifth in a year and were far above levels of a decade ago.
But RAC director Steve Gooding said the total could be even higher as "some firms will simply slap a demand onto a windscreen".
The government is backing a bill to introduce a new code of practice for the private parking industry.
The motoring research group said the number of tickets issued in the 2017-18 financial year rose from 4.71m – an increase of nearly 20%. A decade ago 499,000 tickets were issued.
Drivers face charges of as much as £100 for contraventions such as overstaying, said the RAC.
Mr Gooding said: "Each year we publish this analysis and each year we are not only astonished by the numbers involved, but also by the fact that those numbers keep rocketing up.
"Pursuing so many people must be a major administrative task for the companies involved, but the questions the numbers really beg are what's going wrong? Are Britain's motorists really flouting the rules on such an industrial scale?"
The RAC has based its figures on the number of vehicle-owner records purchased by car parking management companies from the DVLA in the last financial year.
These businesses are only allowed to purchase car ownership records from the DVLA for the purpose of issuing penalties, said the RAC.
New legislation
According to the data, ParkingEye Ltd, which is a car park management company owned by the outsourcing group Capita, was the biggest buyer of car ownership records from the DVLA last year.
It purchased 1.76m records compared to 1.53m in the previous financial year.
It is followed by Euro Car Park, which manages private parking spaces across the UK, Ireland and Europe, which bought access to 406,323 records compared to 306,857 in the previous period.
The RAC said that numbers have increased since clamping cars on private land was banned in 2012 under the Protection of Freedoms Act.
The act allowed private parking companies to pursue to registered owner of the vehicle rather than having to prove who the driver was at the time of the offence.
The government is supporting a bill by Conservative MP Sir Greg Knight to introduce legislation to regulate the private parking industry.
Failing to comply with these rules could mean that companies would be blocked from accessing driver data from the DVLA and issuing fines which, the Ministry of Housing and Local Communities said would effectively force them out of the industry.
A spokesperson for ParkingEye said: "ParkingEye continues to be a member of the British Parking Association and follows its strict code of practice in all the car parks we manage on behalf of our clients.
"We welcome any additional government legislation that aims to drive consistency and improve processes across the entire private parking sector."