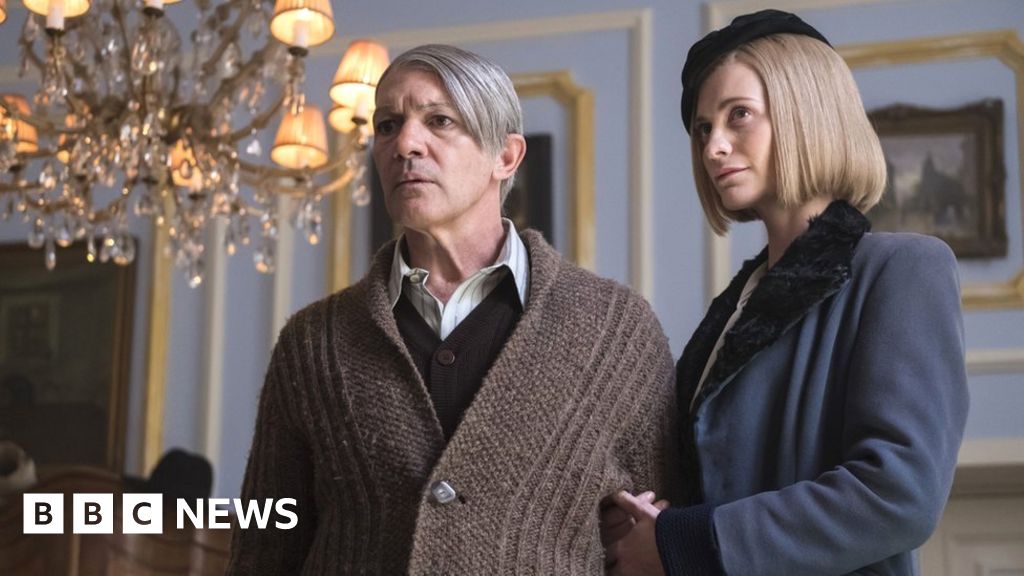 A new TV series based on Picasso's life begins on Monday, starring Antonio Banderas as the artist and Poppy Delevingne as Marie-Therese Walter. But, the actress says, the woman she plays was more than just a muse.
"There's no-one in the world that doesn't know that name, Picasso," Delevingne tells BBC News.
"He is, without a doubt, one of the most influential artists of the 20th Century. There's something about him, something electric, he was passionate, relentless… he's just such a universal figure."
Audience appetite for all things Picasso seems to know no bounds – with a recent exhibition of his work opening at the Tate Modern and now this new TV adaptation of the artist's life.
Delevingne's role in the National Geographic series sees her playing perhaps Picasso's most famous muse – Marie-Therese Walter.
"Sometimes people are like, 'Oh Marie-Therese, she was such a doormat', and you're like, 'No no no, she wasn't, just because she was easy-going and kind and gentle and probably a little more subservient than all the other women in his life, it didn't make her a doormat'," the 31-year-old says.
"He was more inspired by her than most of the other women in his life, and for that to happen there must have been something quite sort of magical and incredible about her. And I hope that in the show that we gave her some kick."
Delevingne's co-star, Samantha Colley – who plays Dora Maar, another of the Picasso's lovers – agrees.
"I think there is a danger in sometimes looking at Picasso perhaps as a bit of a monster," says Colley.
"Dora Maar was a very engaged woman, she knew what she was doing. She herself was in surrealist circles and engaging in bohemian activities, and a particular lifestyle, and she herself devoured a lot of men and muses and broke a lot of hearts."
She adds: "My character is often known as the weeping woman, because he painted her as such. And I think unfairly, Dora Maar is looked on as this sort of victim who was chewed up and spat out by him, and I sometimes think that's a bit of a simplistic way to view it."
'Modelling stigma'
Delevingne is well-known for her successful modelling career, but is a relative newcomer to acting.
"I've been modelling for a very long time, since I was 17, and the acting thing was always something I wanted to pursue, but it always got put on the back burner because the modelling took up a lot of time," she says.
"But when I was 28 I was like, enough is enough, this is not what makes me happy, and so I started pursuing the acting thing, and I didn't get a job for quite a while. And then really it was around 29, 30 stuff started happening."
Delevingne's acting credits now include appearances in King Arthur: Legend of the Sword and Kingsman: The Golden Circle.
Her acting career may have recently picked up some momentum, but Delevingne says many directors have negative perceptions of models turned actors.
"I think there's a huge stigma. I think a lot of people think they go hand-in-hand, they go 'Oh you're a model, you can just slip into the acting thing', and you're like, 'it doesn't really work like that'.
"Directors, casting directors, producers, you've got to really prove yourself to them.
"For me, acting has always been my passion, it just somehow got waylaid, but now it's been reignited, it's been like starting a whole new job at 30, which is very weird – it feels like the first day at school whenever I'm doing anything."
Her drive to impress as an actress meant she regularly asked for advice on how she could improve during shoots.
She says: "Being on the set was so terrifying, you're acting with people like Antonio Banderas – who I've grown up with, obsessed with, he's an icon – and Samantha Colley who has trained at Lamda [London Academy of Music and Dramatic Art]. All these incredible actors and they could not all have been more charming, more wonderful, more welcoming.
"All the cast and crew made it so much easier, I learned so much.
"I was like a sponge, I was just sponging off everyone, I was always asking questions like 'How do I do that better?', which they were all more than happy to answer – they never made me feel like I was small and didn't belong."
'MeToo prism'
There's little doubt that Picasso's affairs and relationships with young women would have been viewed rather differently were he an artist living and working today.
"The main thing I keep getting asked is viewing him through the MeToo prism," Colley acknowledges.
Delevingne adds: "My character, Marie-Therese, met him when she was 17, he was 45. That now?" (She makes a face which says 'eeek'.) "But then, it was very different, it was regarded in a very different way.
"And this is a story about a genius, no-one's calling him a saint. By telling this story, it's not glorifying him in any way, his relationships, his behaviours, we're just focusing on the man and what he was about, what he achieved. But yes I know some people feel that at this time, in this current climate…"
"But all these women in his life – Francoise Gilot, she was a fantastic painter, Dora Maar was an incredible photographer – they were all strong, unique women in their own right. Throughout the series you see all these women and how they come into play, and how they inspire and impact him. They all do have their own voices."
Colley says the series is "an all-encompassing look on his whole life", but adds: "I also think it's important to differentiate the art from the artist.
"What we're trying to focus on is the element of genius and what it means to be or be with a genius.
"The thing about genius is it doesn't necessarily lend itself to being a good partner in any type of relationship, be it platonic or romantic.
"I think one could say sometimes he wasn't that good a boss, sometimes a bit of a selfish friend perhaps, but that goes into the other spectrum where he could be completely loving and amazing.
"It's hard to look back at something through a particular prism, and I think it can be a bit sort of dangerous to do so."
Picasso is the second figure to have been the subject of the Genius series – the last being Albert Einstein.
Asked who the third series should be about, Colley says: "I'd love it to be a woman. Fingers crossed maybe they're hoping to try and do that."
It turns out her instinct was spot on – days after this interview, National Geographic announced that Frankenstein creator Mary Shelley was to be the subject of the third instalment.
Genius: Picasso starts on Monday 23 April at 20:00 BST on National Geographic.
Follow us on Facebook, on Twitter @BBCNewsEnts, or on Instagram at bbcnewsents. If you have a story suggestion email entertainment.news@bbc.co.uk.