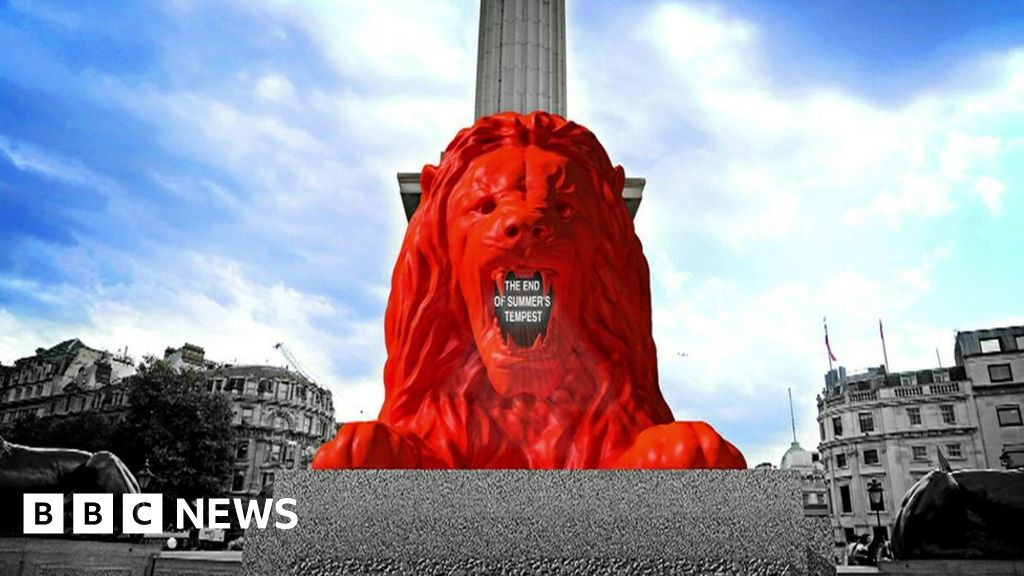 A bright red lion which roars poetry generated by members of the public is to be unveiled in London later.
The fluorescent sculpture will join four existing lions on Trafalgar Square for five days as part of the London Design Festival.
Passersby will be able to type in a word on a screen next to the lion, which will then create a poem based on that word, generated by an algorithm.
By day, the poem will be shown on a screen inside the lion's mouth.
At night time a stream of poetry will be the projected onto Nelson's Column.
Words, with the exception of names of people or swear words, can also be submitted online.
Set designer Es Devlin is behind the Please Feed The Lions installation which follows a year-long collaboration between her and Google Arts & Culture.
Ms Devlin, who also designed the London Olympic closing ceremony, said she got the idea for the project after British designer Sir John Sorrell told her last year that Sir Edwin Landseer, who created the square's lions in the 19th Century, "never wanted [them] to look so passive".
"He proposed a much more animated stance, but Queen Victoria found it too shocking.
"The thought lodged in my mind. What if we could invest the lion with a diversely crowd-sourced collective poetic voice?" she said.
Other installations in the capital as part of the design festival include an alphabet of 26 chairs in Finsbury Avenue Square in Broadgate, east London.
Freya Murray, programme manager for Google Arts & Culture, said: "We're delighted to be able to support Es's exploration of machine learning in her work and be part of her public artwork for London Design Festival."