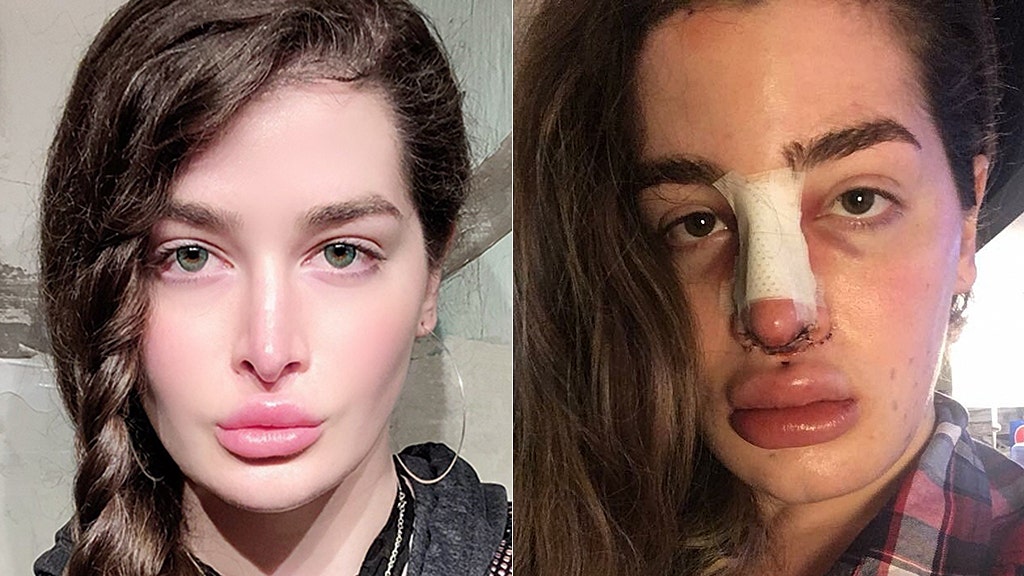 A Virginia woman who said bullying in her youth set her off on a plastic surgery journey that so far has resulted in over 20 procedures, totaling more than $187,000, is determined to head back under the knife despite her family's fears that the obsession might kill her.
"I was frequently made fun of in school and that forced me to learn to not care what other people think of myself and my choices," said Kristen Snider, whose first procedure was in 2010, according to Mirror.co.uk. "Being a perfectionist, ambitious and creative is a quick way to become a plastic surgery addict."
SHARK TOOTH PULLED FROM MAN'S FOOT 25 YEARS AFTER BITE
Snider, 28, has even had ribs removed in a drastic and bold bid to create her vision. A plastic surgeon previously explained the procedure to Fox News, and said that parts of the 11th or 12th ribs are removed, but very rarely are the 10th ribs involved as that protects the kidneys.
But photos allegedly taken after Snider's procedure do purportedly show that the 10th ribs were removed.
"In the typical person you're not losing protections of your organs," Dr. Barry Eppley, who has performed rib removal procedures, previously said. "I wouldn't recommend it for an athlete though."
Snider also told the news outlet that she had several procedures done on her face to drastically change her appearance.
"I had jaw contouring, chin contouring, a lip rift, rhinoplasty, cheek implants, forehead reshaping and a brow life," she said, according to mirror.co.uk. "My first Brazilian butt lift was in December 2015 and I had another butt lift in December 2018 and I then had 500cc bum implants put in too."
FLORIDA MAN SAYS HE CONTRACTED FLESH-EATING BACTERIA INFECTION DESPITE NOT ENTERING WATER
She said she went back under the knife for another rhinoplasty in 2016, as well as a second chin reshaping, jaw reshaping and a fat graft to her forehead in December 2017.
"I view my body as a canvas and surgery as the tool to achieve the image I have of myself in my head," she said, according to the news outlet.
But not everybody shares her views, including her family members, who worry that her propensity for surgery may lead to an early death.
CLICK HERE TO GET THE FOX NEWS APP
"We all have our own opinions on what is beautiful," she said. "We can't try to push our ideals on others."
Snider said she has a long list of procedures she would still like to try, including a rib narrowing and implants in her hips and thighs.  It was not clear if she had sought the procedures from the same surgeon each time, but she said she closely follows new advancements in the field.