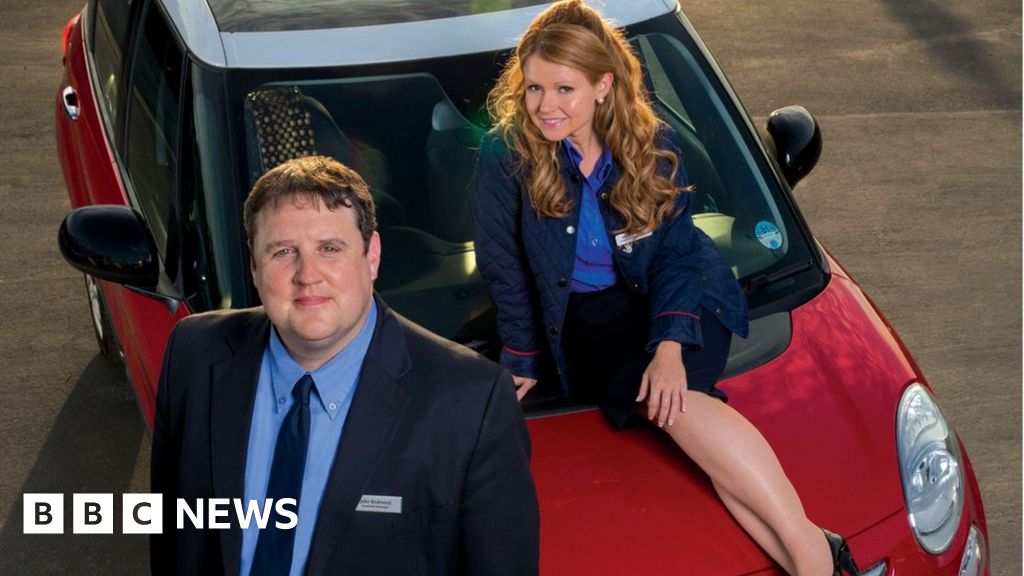 The unscripted return of Peter Kay's Car Share has been met with a mixed reception from fans and critics.
The first episode in a two-part finale was improvised by Kay and Sian Gibson and attracted 4.4 million viewers, according to overnight figures.
"We decided to see what would happen if we took the script away and relied on just our chemistry alone, reacting to whatever came on the radio," Kay said.
It was a warm-up for the show's finale, which will be on BBC One later in May.
And it marked Kay's first return to TV since cancelling his tour in December due to "unforeseen family circumstances".
But how did fans react to the gamble of going without a script?
'Couldn't stop laughing'
A number loved the show, with one branding it "superb comedy".
Another remarked: "I couldn't stop laughing. Comedy at its very best."
The Manchester Evening News' Simon Binns offered a similarly glowing review under the headline: "With lines straight out of Phoenix Nights, the new episode makes you love John and Kayleigh even more."
Others enjoyed the hidden gags in the show, including a shop called Halaldi.
BBC Breakfast presenter Dan Walker wrote on Twitter: "Some gold on #Carshare Halaldi is magical. Did anyone spot the 'struggling to grow a moustache… please take one' on the tree?"
However the lack of a script was the episode's downfall for other viewers.
'Rambling rubbish'
Writing in The Guardian, TV critic Julia Reaside said the effort "stalled at the headlights".
One Twitter user wrote: "Sorry, not impressed. They are just annoying. Proves you need a script otherwise it's just rambling rubbish."
Another wrote: "Oh dear. #CarShareUnscripted proving beyond the shadow of doubt how vital good writing is."
Certain jokes sparked a separate backlash, particularly John's disgusted reaction to a letter read out over the radio from a woman who discovers her husband has been dressing in her clothes and having an affair with other men.
The Guardian described the exchange as "one moment of real discomfort" that did not "sit well in such a good-natured show".
On Twitter, Dr Fay Alberti wrote: "It's 2018 not 1950. Transgender people are experiencing an unprecedented level of violence around the globe. Shame on Peter Kay for channelling #transphobic ignorance."
A section in which John talked about losing his virginity at the age of 13 also stirred a reaction.
"Big fan of Peter Kay but the scene talking about 13 year olds having sex in #CarShareUnscripted wasn't his best idea!" wrote one viewer.
Fairytale ending?
The unscripted episode will be followed by the Car Share finale, which will be on BBC One on Monday, 28 May.
Despite the mixed reaction, viewers are eager to find out whether John and Kayleigh will finally end up together, after the cliff-hanger at the end of series two.
Only time will tell…
Follow us on Facebook, on Twitter @BBCNewsEnts, or on Instagram at bbcnewsents. If you have a story suggestion email entertainment.news@bbc.co.uk.