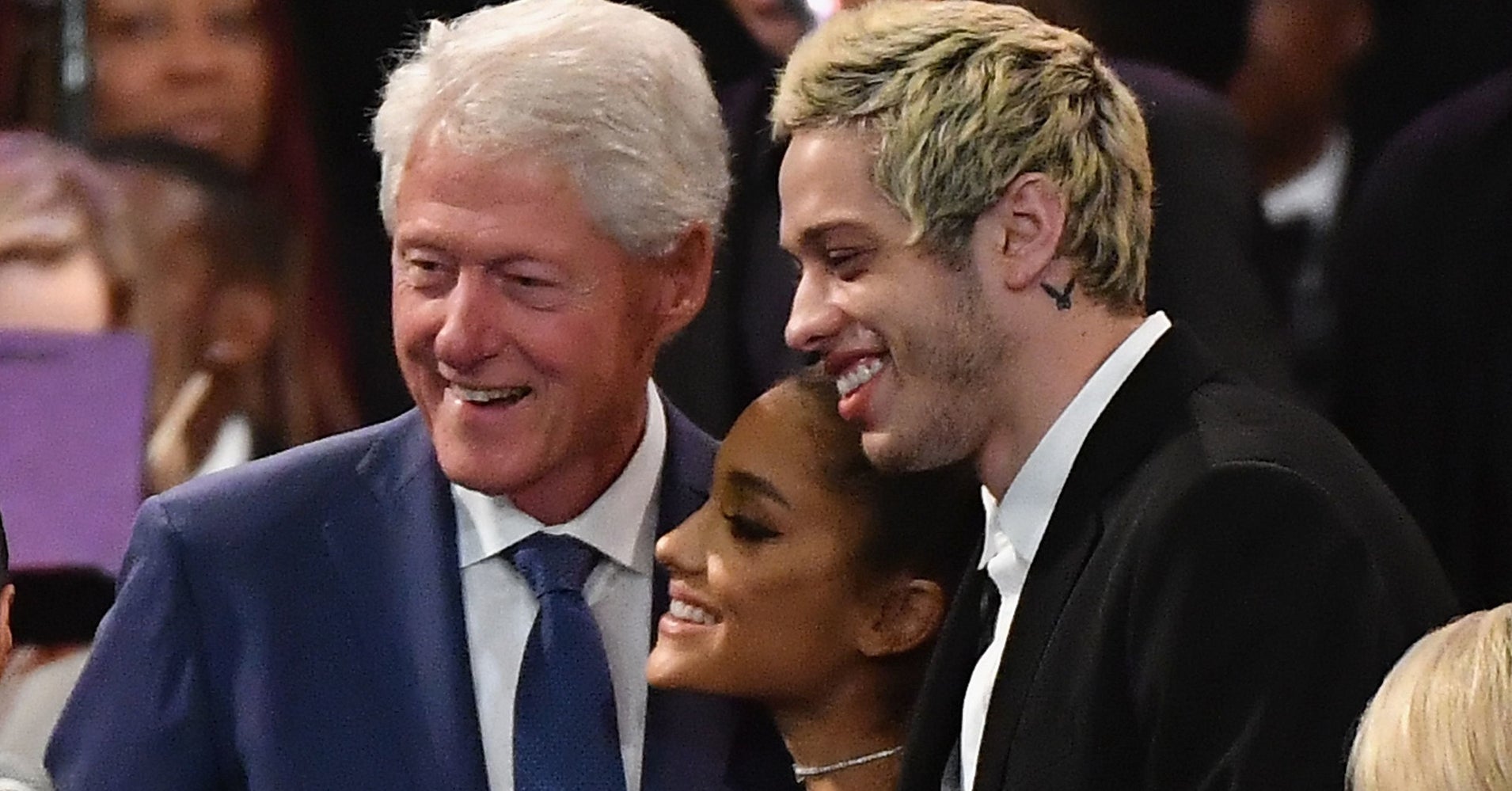 After a two-day public visitation period for fans to pay their respects, the legendary soul singer was laid to rest at the Greater Grace Temple in her hometown of Detroit on Friday morning.
Franklin died on Aug. 16 at age 76 from a rare form of pancreatic cancer.
Her funeral drew an expectedly impressive crowd, including former President Bill Clinton, former almost-president Hillary Clinton, Rev. Jesse Jackson, Smokey Robinson and more.
And then there was Davidson arriving hand-in-hand with Grande, who wore a little black dress for the occasion. 
The two recently got engaged after weeks of dating and have since redefined the term PDA by showing off their love on social media, at concerts and on red carpets.
Once inside the Greater Grace Temple, Grande and Davidson greeted and posed for photos with other guests, including the Clinton family. 
The former secretary of state was seen embracing and holding hands with the "God Is A Woman" singer as they exchanged words we only wish we were privy to. 
In case you forgot, Davidson has on his leg a tattoo of Hillary Clinton, whom he had called "one of the strongest people in the universe."
And the former Democratic presidential nominee even reciprocated the love when he debuted a photo of the politically inspired ink late last year. 
"Thanks, @petedavidson, This makes it significantly less awkward that I've had a Pete Davidson tattoo for years," Clinton responded. "But seriously, I'm honored. Merry Christmas my friend."
Grande was tapped to sing at the funeral after Franklin's family were taken with her tribute to the Queen of Soul on "The Tonight Show" earlier this month. The 25-year-old, who met Franklin several times, had fought back tears belting out the legend's classic ballad "You Make Me Feel (Like A Natural Woman)" before sharing some happy memories of the diva with Jimmy Fallon. 
Those watching the funeral on social media, however, were especially taken with Davidson's presence.
Other performers at the service include Stevie Wonder, Jennifer Hudson, Faith Hill, Shirley Caesar, Chaka Khan, Yolanda Adams, Marvin Sapp and Vanessa Bell Armstrong.
The story has been updated to note Davidson's Hillary Clinton tattoo.
http://platform.twitter.com/widgets.js