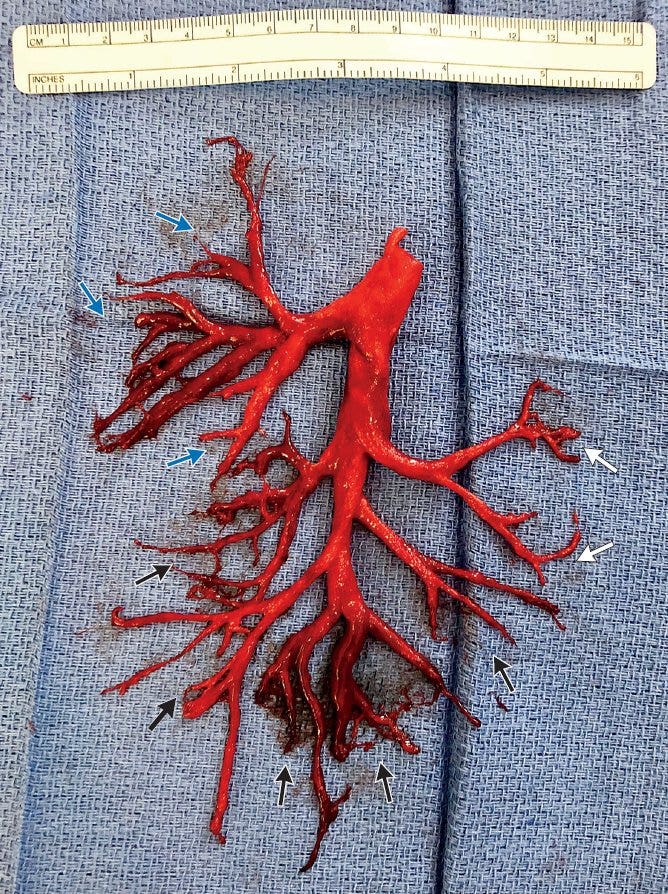 A patient dying from heart failure last month coughed up a blood clot in the shape of his right lung's bronchial tree, which measured nearly 6-inches in length, according to a photo from the New England Journal of Medicine.
The 36-year-old patient, who was not identified, was receiving treatment at the University of California San Francisco Medical Center, according to a Nov. 29 article by NEJM.
During treatment, the man's condition worsened and he began coughing up blood and phlegm. Amid the hacking, he coughed up "an intact cast of the right bronchial tree," according to the report.
The doctors determined the patient's blood had filled up the passages in his right bronchial tree and solidified "like Jell-O."
"No one on our team has seen anything close to this," said Gavitt Woodard, a cardiothoracic surgery fellow at the hospital. She said the blood clots the patient had coughed up were a side effect of the medication.
The patient was intubated for two days after the coughing attack but died the following week due to complications from heart failure.
Woodward said the patient's death was unrelated to the coughing incident.