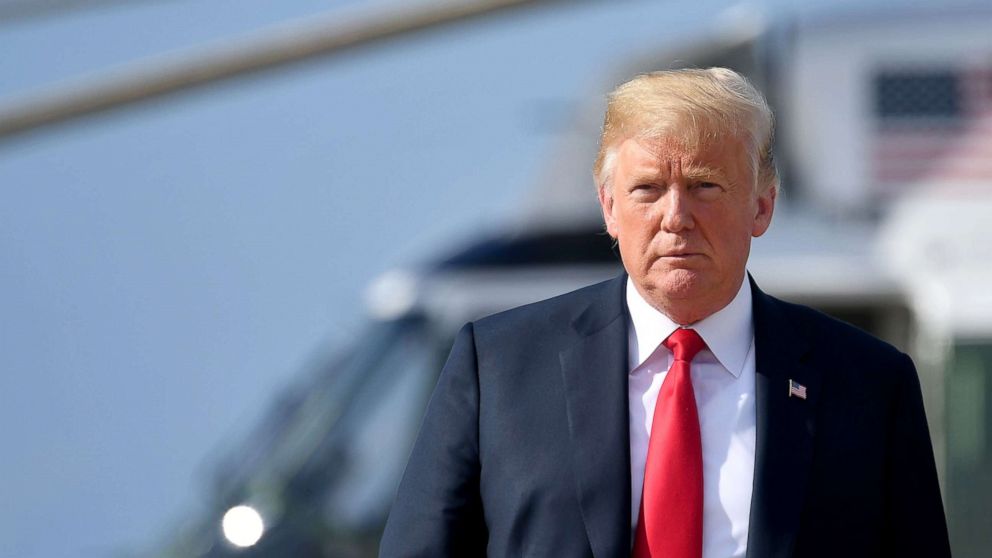 On Labor Day, President Donald Trump took aim at the head of the largest group of unions in the country for criticizing the net benefit the president's policies have had on American workers.
Interested in
Donald Trump?
Add Donald Trump as an interest to stay up to date on the latest Donald Trump news, video, and analysis from ABC News.
Trump's attack came just two days ahead of another round of talks with Mexico and Canada on NAFTA, which Trump believes has cost American factory jobs. The talks stalled last week after leaked comments from Trump forced a chasm with Canada.
Richard Trumka, president of the AFL-CIO, appearing on "FOX News Sunday," said he supports the president's efforts to get a new deal and said NAFTA has had a "devastating effect on the working people of this country for the last 25 years."
But asked to rate the president's overall performance, Trumpka said even up against the statistics Trump touts on the country's 4.2 percent GDP and low unemployment — which is currently 3.9 percent — the president has done more harm than good.
"Unfortunately, to date, the things that he's done to hurt workers outpace what he's done to help workers. He hasn't come up with an infrastructure program that could put a lot of us back to work. He overturned a regulation that would actually denied over five million people overtime that they would have had. He overturned some health and safety regulations that will hurt us on the job. Enforcement of OSHA and MSHA isn't what it should be," Trumka said to FOX News' Chris Wallace.
"So we keep trying to find areas where we can work with him. And where we can, we do," he said.
The president responded the next day, Labor Day, on Twitter.
Richard Trumka, the head of the AFL-CIO, represented his union poorly on television this weekend. Some of the things he said were so against the working men and women of our country, and the success of the U.S. itself, that it is easy to see why unions are doing so poorly. A Dem!

— Donald J. Trump (@realDonaldTrump) September 3, 2018
The tweet was originally his first of the morning and came before he acknowledged the holiday — which he did in his second and third tweets of the day. In the initial tweet, the president misspelled the word "against." He re-posted it again, about four hours later, and then deleted his first tweet.
Happy Labor Day! Our country is doing better than ever before with unemployment setting record lows. The U.S. has tremendous upside potential as we go about fixing some of the worst Trade Deals ever made by any country in the world. Big progress being made!

— Donald J. Trump (@realDonaldTrump) September 3, 2018
On Sunday, Wallace asked the labor union president if he gives Trump credit for the strong economic numbers.
"No, those are good, but wages have been down since the first of the year. Gas prices have been up since the first of the year. So, overall, workers aren't doing as well," Trumka said.
"He's — every place we can, Chris, we do. But, unfortunately, right now, the scale is weighted against him because he's done more to hurt workers than to help workers," he added.
http://platform.twitter.com/widgets.js