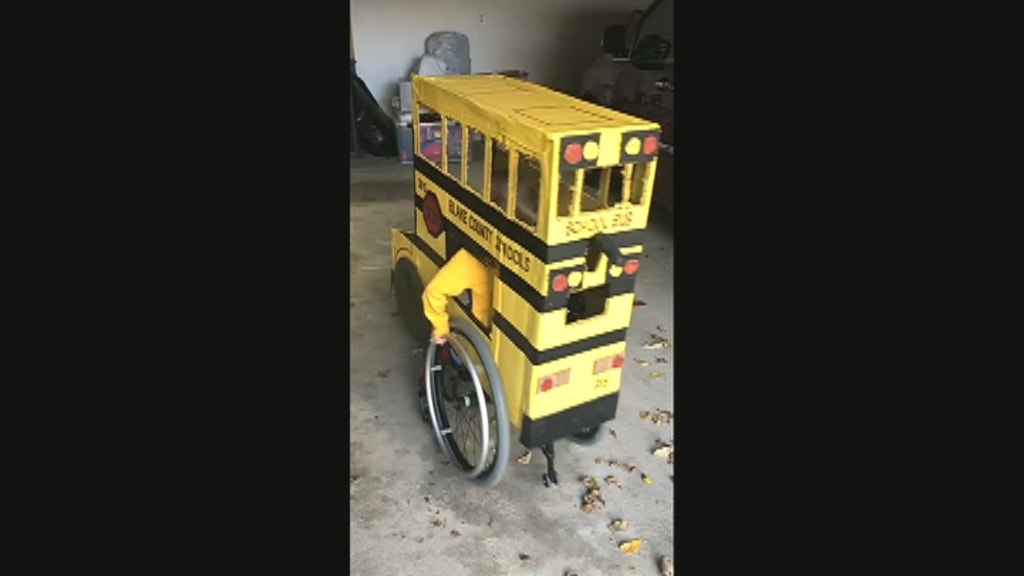 A 5-year-old boy in Ohio is all set for Halloween after his family created a custom costume to fit around his wheelchair. Blake Mompher, who has spina bifida, will make his rounds disguised as a "Blake County Schools" bus.
"He's just a boy who loves buses, trucks and all that good stuff," Megan Mompher, Blake's mom, told Fox 28.
TERMINALLY ILL BOY, 7, IS SWORN IN AS HONORARY COP, FOLLOWING IN DAD'S FOOTSTEPS
Spina bifida is a neural tube defect that affects the spine and is usually apparent at birth. According to the Centers for Disease Control and Prevention (CDC), when the neural tube doesn't close all the way, the backbone that protects the spinal cord doesn't form and close as it should, which results in damage to the spinal cord and nerves.
Physical and intellectual disabilities range from mild to severe, depending on the size and location of the opening in the spine, and whether part of the spinal cord and nerves are affected. The three most common types of the condition are myelomeningocele, meningocele and spina bifida occulta, which is sometimes called "hidden" spina bifida. The news outlet did not specify which type Blake was diagnosed with.
MOM WHO DELAYED CHEMO TO SAVE UNBORN BABY DIES OF OVARIAN CANCER
The Momphers used cardboard to build the bus around Blake, with his wheelchair's back wheels aligning perfectly with the kit.
"We put it on his wheelchair and it comes to life for him," Mompher said.