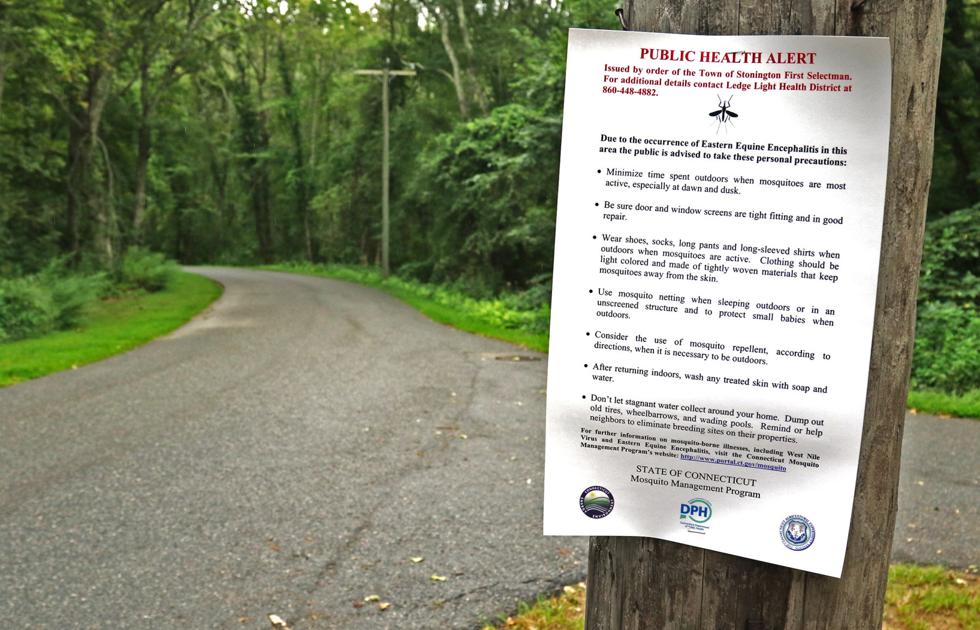 STONINGTON — Town and health district officials are urging area residents to take precautions after mosquitoes collected in the region tested positive for Eastern Equine Encephalitis.
Data collected and analyzed through the Connecticut Agricultural Experiment Station program found 9 mosquitoes that tested positive for EEE based on samples collected from four locations in Stonington and North Stonington on Aug. 20 and Aug. 21. There were positive tests at all four locations, and the Ledge Light Health District issued an advisory in both towns.
Stephen Mansfield, director of health for Ledge Light, said it was not uncommon to find mosquitoes carrying the rare viral disease, but this finding could have a more direct impact on area residents than those in previous years.
"What is unique about this finding is that in each municipality, at least one of the traps contained positive findings in a human-biting mosquito," said Mansfield. "That's not very common. By comparison, the last case we had was reported in October (2018) and was found in a mosquito that primarily feeds off birds."
According to the U.S. Center for Disease Control and Prevention, the Eastern Equine Encephalitis virus is a rare cause of brain infections. There have been 32 cases in humans across the U.S. from 2014 to 2018, with most occurring in eastern or Gulf Coast states.
Approximately 30% of people with EEE die and many survivors have ongoing neurological problems, the CDC said. Connecticut has had one death related to the condition since the CDC first began tracking known EEE cases.
Mansfield said that the recent local findings were among the largest pools of mosquitoes to test positive in a single August week since 1996.
Sites at Stonington High School and Barn Island, and along the Pawcatuck River and next to Interstate 95 in North Stonington were tested last week. Station locations along Coogan Boulevard in Mystic and Bell Cedar Swamp in North Stonington were not part of the latest round of testing.
The results found one positive test from a pool of 50 mosquitoes at Barn Island; three positive tests from 133 mosquitoes tested near Stonington High School, including a human-biting species; one positive result from 50 tested along the Pawcatuck River; and four positive tests from 58 mosquitoes near I-95, including a human-biting species.
"Based on the data, our staff spoke with town leaders and it led to the collective decision to issue a press release and stress the importance of curtailing any outdoor activity for an hour before or after dawn or dusk," Mansfield said. "Anyone who is out at those times should consider wearing long pants and sleeves, especially if they are in areas that may be more susceptible to mosquito activity."
The protections should be taken until the first frost of the season, which is not expected for at least a month. Mansfield said the findings may fluctuate in the coming weeks, but that the district is prepared to see the number of positive tests increase before the first frost, which is necessary to kill the mosquitoes carrying the disease.
Mansfield said informational signs have been posted at parks, boat ramps and other locations in the community where residents would be at higher risk.  
The information has also been relayed to school administrators. Officials in Stonington and North Stonington confirmed that they would consider schedule changes as needed to limit exposure to student athletes and club members.
Mary Ann Butler, assistant superintendent of curriculum and assessment for the Stonington Schools, said the district was notified by First Selectmen Rob Simmons on Tuesday and the district immediately relayed the information to parents.
There are no active clubs as classes have not started yet for the 2019-20 school year, but coaches and club advisers have been notified and asked to adhere to the health district's recommendations.
"We've still got four to six weeks before the first frost. It will impact the practice schedule, but we would rather error on the side of caution," Butler said. "It'll be a challenge as the nights get shorter, but we would rather play it safe."
For more information on EEE testing and mosquito management, including tips to avoid exposure, visit the Ledge Light Health District at www.llhd.com or the state's informational website at portal.ct.gov/mosquito.