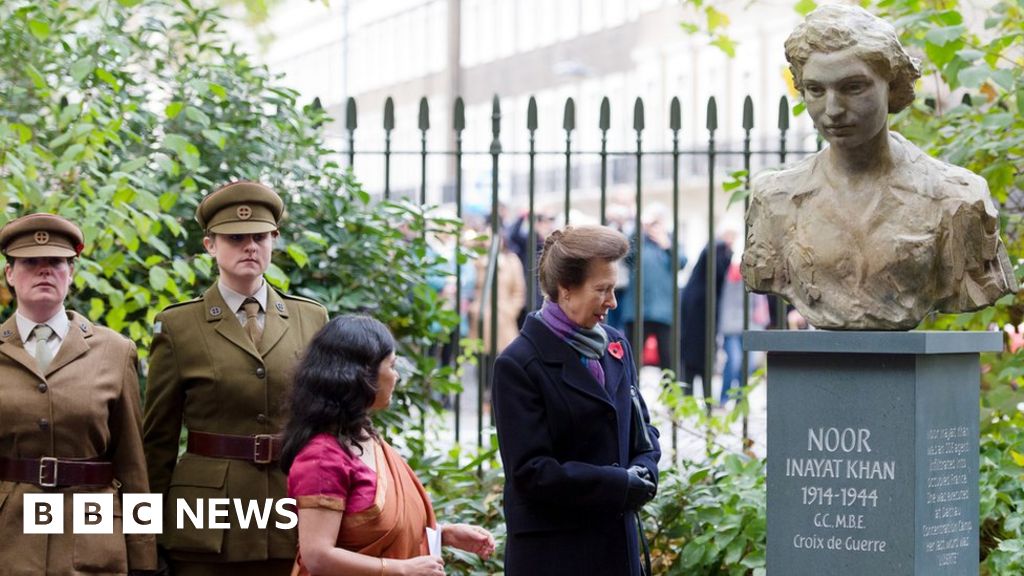 The £50 note is getting a plastic redesign – and a new famous face.
Steam engine pioneers James Watt and Matthew Boulton appear on the current £50, issued in 2011.
The Bank of England is now seeking nominations from the public for figures to feature on the note. So who are the contenders?
Noor Inayat Khan
Who:
Raised in Britain and France and a descendant of Indian royalty, Noor Inayat Khan was a secret agent for Britain during World War Two. Records show she was the first female wireless operator sent to Nazi-occupied France during the war, aged just 29. She evaded capture for three months but was eventually arrested and imprisoned by the Nazis. Despite suffering months of torture she refused to reveal any information and was transferred to Dachau concentration camp in Germany, where she was killed in 1944.
Why:
A petition supporting Noor Inayat Khan has already attracted more than 1,300 signatures, with supporters including Conservative MP and former Army officer Tom Tugendhat and historian and BBC presenter Dan Snow. No UK banknote has ever featured a person from an ethnic minority and the petition calls for the "remarkable" woman's bravery to be recognised as an example of the "positive contributions" of Muslims to Britain.
Odds:
16/1
Mary Seacole
Who:
Mary Seacole was a Jamaican-born nurse who cared for wounded British soldiers during the Crimean War. In 1854 she travelled to England and approached the War Office, asking to be sent as an Army nurse to the Crimea, but was refused. Undaunted, Seacole funded the trip herself and established the British Hotel near Balaclava to provide food, supplies and medicines to troops as well as nursing the wounded on the battlefield.
Why:
Many have argued that in the past Mary Seacole's work has been overshadowed by her contemporary Florence Nightingale, who was also a nurse during the Crimean War. However in 2004, Seacole was voted the greatest black Briton and her achievements against a backdrop of discrimination in the 19th Century are becoming more widely recognised. In 2016 a memorial statue was unveiled in London in her honour and Labour MP David Lammy praised the fact her "pioneering work" had "finally been recognised".
Odds:
10/1
Stephen Hawking
Who:
The British physicist died earlier this year aged 76 and is widely regarded as one of the most important scientists of his generation. At the age of 22 Hawking was given only a few years to live after being diagnosed with a rare form of motor neurone disease. But despite his illness he completed groundbreaking work on black holes and relativity throughout his career.
Why:
Hawking's book A Brief History of Time was an unlikely best-seller and he became a popular ambassador for science. He was even depicted in an episode of The Simpsons. The physicist's achievements have been recognised with numerous medals and awards, and following his death in March, he is among the favourites to be given the posthumous honour.
Odds:
16/1
Clement Atlee
Who:
Clement Atlee was leader of the Labour Party from 1935 to 1955. He served as deputy prime minister in Winston Churchill's coalition government and was then prime minister from 1945 to 1951. His government introduced the National Health Service, nationalised one-fifth of the British economy, including the coal and steel industry, and granted independence to India.
Why:
His administration is often credited with founding the modern welfare state, and in the NHS's 70th birthday year, a tribute to the man who oversaw its introduction may seem fitting.
Odds:
10/1
Margaret Thatcher
Who:
Margaret Thatcher occupied 10 Downing Street as Conservative leader and prime minister from 1979 to 1990. She was both the UK's first female PM and the the country's longest-serving leader of the 20th Century. Her policies gave thousands of people the chance to buy their council houses and snap up shares in newly-privatised industries like British Gas and BT. She died in 2013 after suffering a stroke.
Why:
Despite being a divisive figure, Margaret Thatcher is widely considered one of the most influential political figures of the 20th Century. A petition calling for her to be chosen as the new face of the £50 note has attracted more than 12,000 signatures. With just one of the UK's banknotes featuring a woman other than the Queen, the petition argues there would be no-one more appropriate to feature than the country's first female prime minister.
Odds?
16/1
Among the more original suggestions is a picture of England defender Harry Maguire riding an inflatable unicorn. The idea was proposed by sports journalist Jonny Sharples and a petition has already reached more than 25,000 signatures.
Sadly for fans, it seems an unlikely option – the Bank of England has said that apart from the Queen, living Britons cannot feature on currency.