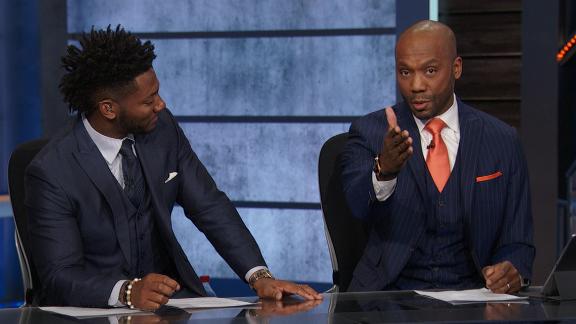 NFL teams will spend the first months of 2018 devising their game plans for free agency and the draft. In the meantime, several indicators help with projecting how far teams might go in overhauling their rosters.
Coaching changes, scheme changes, front-office changes, expectations, average player ages and starters unsigned for next season can provide clues. Using those and other cues, I've placed all 24 eliminated teams on the overhaul continuum. Check back after each playoff weekend to see where the the newly eliminated teams rank.
---
The first 11 teams seem likely to make bigger changes and/or a larger number of moves.
1. Arizona Cardinals
Indicators:?new head coach; new QB; NFL's oldest starters; league-high 10 unsigned veterans with at least eight starts and seven more with one to seven starts
GM Steve Keim has alluded to an overhaul that will probably make the Cardinals younger as they build around David Johnson, Chandler Jones and Patrick Peterson. The timing seems right, with coach Bruce Arians and quarterback Carson Palmer retiring.
The Cardinals rank No. 1 by a wide margin in 2017 snaps and starts by unsigned veterans (40 percent of their starts from 2017 are tied up with players who have four-plus years of experience and no contract for next season). As the oldest team in the NFL, the Cardinals have even more reason to overhaul. Keim has been aggressive in the lower-priced veteran market. Now, he could be looking for players to fit new schemes.

2. Chicago Bears
Indicators: new head coach; team is all-in on a second-year QB; fourth-year GM has new contract but must rally from 14-34 record
The Bears need an offensive overhaul, particularly at wide receiver, as they build around quarterback Mitchell Trubisky. They have a new, offensive-minded head coach in Matt Nagy. We'll know more as the offseason progresses, but for now, Chicago is high on the list. The Bears need to make up for a string of high draft choices who might not pan out ( Kevin White has been hurt, Leonard Floyd is hurt and Trubisky might or might not be what the Bears need him to be). That could be a recipe for moving aggressively. The question is whether the Bears agree.

3. Cleveland Browns
Indicators: new GM; head coach with a 1-31 record; new QB; NFL's youngest starters
The Browns are unlike most teams high on this list. They have by far the fewest 2017 starts and snaps for unsigned veterans with at least four years' experience. Even so, they look like a team about to shuffle the roster. GM John Dorsey has sharply criticized the existing talent while suggesting that the Browns should contend for the AFC North title right away. Dorsey is also armed with extensive draft capital. That is a recipe for an overhaul. Cleveland could add a mix of veterans and draft choices.

4. Indianapolis Colts
Indicators: second-year GM; new head coach; QB uncertainty; 4-12 record
GM Chis Ballard has had a full season to assess the Colts' roster. He is also bringing in a new head coach. That combination should lead the Colts to shake up their roster, though Ballard has shown that he would rather take a deliberate approach than go for a quick fix. The Colts rank third in 2017 snaps by unsigned veterans with at least four years in the NFL, behind Arizona and San Francisco. The Colts won't be in the market for a quarterback if Andrew Luck returns to health — but will he?

5. New York Giants
Indicators: new GM and new head coach; same QB (for now); ninth-youngest starters; five unsigned veteran starters
New GM Dave Gettleman set the tone early when he released disgruntled starting right tackle Bobby Hart before year's end. The assumption is that Gettleman and the Giants' next head coach will put their stamp on the roster, especially because it is apparent that the team needs a culture change. There could be overhauls on the offensive line, at running back and at quarterback, to begin with. Scheme changes could also drive changes.

6. Buffalo Bills
Indicators:?second-year GM and second-year head coach; QB TBD; fourth-oldest starters; five unsigned veterans with four-plus years' experience and eight-plus starts
The Bills were wheelers and dealers during their first season with coach Sean McDermott and GM Brandon Beane. They presumably will remain aggressive because McDermott and Beane have an older team. Buffalo ranked near the top five in 2017 starts and snaps by unsigned veterans with at least four years' experience. Their handling of Tyrod Taylor suggests that they'll be in the market for a quarterback even if they hope Nathan Peterman starts. They already fired offensive coordinator Rick Dennison. Defensive mainstay Kyle Williams is 34 and could retire. It's tough to see McDermott and Beane standing pat.

7. Denver Broncos
Indicators: QB TBD; sixth-oldest starters; reshuffled coaching staff; second-year head coach coming off a 5-11 season with a GM who demands playoffs or bust
The Broncos need to revamp their lines on both sides of the ball. They need to find a quarterback. Cornerback Aqib Talib could be out. GM John Elway isn't necessarily feeling the heat, but there's an urgency to win in Denver, which could drive changes.

8. Seattle Seahawks
Indicators: eight unsigned veterans with at least four years' experience and eight starts; missed playoffs for the first time since 2011; losing ground in the division
Kam Chancellor, Cliff Avril, Richard Sherman and Michael Bennett are among the familiar faces on defense that could leave the roster for various reasons. Tight end Jimmy Graham is another prominent player potentially on his way out. There will be an overhaul at running back, without question. They fired offensive coordinator Darrell Bevell and offensive line coach Tom Cable, and have considered changes to the defensive staff as well.
That's a lot of change for a team that settled in from a personnel standpoint over the past couple of seasons. Eight Seahawks without deals for 2018 started at least eight games this season. Only Arizona had more, with 10, a figure that does not include Palmer, who retired with one season left on his deal. The question is: How far will Pete Carroll and John Schneider go?

9. New York Jets
Indicators:?fourth-year GM and fourth-year head coach coming off 5-11 records in each of the past two seasons; QB uncertainty; $100 million in projected cap space
The Jets, ready to build up their roster after paring it back last offseason, enter 2018 with cap space and an owner who said the team will be active — responsible but active — in free agency. The quarterback position needs attention. Bringing back GM Mike Maccagnan and coach Todd Bowles reduces the scope of an overhaul simply because those two acquired a fair number of the players on the roster. They aren't starting over the way they were last offseason, when they ranked No. 1 on this list, but they do have work to do and the means with which to do it.

10. Oakland Raiders
Indicators:?new head coach; fifth-oldest starters; renewed expectations following a disappointing 6-10 finish
Jon Gruden arrives in Oakland with the power to shape the roster to his liking. Some new coaches might need time to study the personnel they are inheriting. Gruden probably watched all the video before taking the job. It's what he does. He will bring new schemes on both sides of the ball, which will spur additional personnel changes. The Raiders will have much less cap space than some of the other teams ranked high on this list. They could need new tackles, a tight end fitting Gruden's offense and an even bigger overhaul in the defensive back seven.

11. San Francisco 49ers
Indicators:?second-year GM and second-year head coach; more than $100 million in projected cap space; excitement surrounding new QB Jimmy Garoppolo
The 49ers remain early in the building process and should be in position to make a significant jump in the NFC West standings, perhaps contending for a playoff spot. Will they push hard in free agency to accelerate the process? Having Garoppolo lets them focus their roster attention elsewhere.
"What they have the ability to do is go cherry-pick the 'blue' free agents, and they are an attractive team because they have a quarterback," an evaluator said.
Coach Kyle Shanahan is eager to bring back young players for development, but he and GM John Lynch are still relatively early in the rebuilding process. Fifteen unsigned veterans with four-plus years of experience started at least one game for the 49ers, the second-highest figure in the league behind Arizona (17). Five are at least 30 years old. Three are 28 or 29.
---
The next 10 teams could go either way, based on a range of circumstances.

12. Miami Dolphins
Indicators: third-year head coach coming off 6-10 season; fourth-oldest starters on defense
The Jay Ajayi trade showed what can happen when a head coach is trying to get the locker room configured to his liking. Could there be additional significant changes after the Dolphins barely held off the Jets for last in the AFC East? General manager Mike Tannenbaum hasn't been afraid to move aggressively in free agency or the trade market.
Jay Cutler, Matt Moore, Anthony Fasano, Jermon Bushrod, William Hayes, Sam Young and Nate Allen are among the players in their 30s who combined to log more than 3,000 snaps in 2017 without being under contract for next season.

13. Green Bay Packers
Indicators: new GM; coming off 7-9 season; head coach signed through 2019 only
The Packers will almost certainly become more involved as buyers in free agency now that Brian Gutekunst has succeeded Ted Thompson as GM. Supporters called Thompson a disciplined builder through the draft. Detractors called him too restrained in free agency. A coordinator change on defense could drive additional changes. Will there be an overhaul or just some tweaking? This Green Bay offseason seems to be about embracing change.

14. Detroit Lions
Indicators:?new head coach; second-year GM; seven unsigned veterans with four-plus years' experience and eight-plus starts
The Lions will likely undergo a scheme change on defense that will drive personnel changes. Ezekiel Ansah is the headliner among defensive free agents. Several other full- or part-time starters from that side of the ball are also without contracts, including Tahir Whitehead, Nevin Lawson, Tavon Wilson and Paul Worrilow. Haloti Ngata's future is also in some question.
15. Kansas City Chiefs
Indicators: QB decision pending; age in spots on defense; second-year GM
The Chiefs have star power at running back, tight end and wide receiver. Their offensive starters were the NFL's second-youngest, even with Alex Smith at quarterback. There is some age on the defensive side, however. Tamba Hali and Derrick Johnson are near the end. Smith could be traded as part of a transition to Patrick Mahomes II.

16. Tampa Bay Buccaneers
Indicators: fifth-year GM and third-year head coach coming off a 5-11 season; NFL's second-longest playoff drought (2007)
Expectations for the Bucs have been high since the team drafted Jameis Winston first overall in 2015, but it was the other three NFC South teams that reached the playoffs this season. Tampa Bay will surely address its pass rush after finishing the season last in sacks, down from ninth a year earlier. Running back is another position that needs addressing. With clear needs and obvious urgency, the Buccaneers will be a team to watch.

17. New England Patriots
Indicators: Aging QB; losing both coordinators; rock-solid stability for nearly two decades
Nate Solder, Malcolm Butler, Danny Amendola and Dion Lewis are among the veteran players without contracts for 2018; Butler in particular seems unlikely to return. New England was quite active in the veteran market last offseason. Will the Patriots follow a similar approach this time? Will they lean more heavily on the draft? Will New England keep together its core for another Super Bowl run amid disputed rumblings of discontent?

18. Houston Texans
Indicators: GM situation fluid; fifth-year head coach; fourth-most 2017 starts by players with four-plus years' experience and no contract for 2018
The Texans finally have a quarterback in Deshaun Watson. They do have some older starters without contracts, including Breno Giacomini, Xavier Su'a-Filo, Marcus Gilchrist and Johnathan Joseph. The Texans hired Brian Gaine as GM in a move designed to unify the building. What kind of changes do he and head coach Bill O'Brien have in mind?

19. Carolina Panthers
Indicators: ownership change pending; interim GM; 10th-oldest starters
Julius Peppers, Charles Johnson and Jonathan Stewart are age-30-plus veterans facing uncertain futures, but the Panthers' list of veteran players without contracts for 2018 is a short one. Andrew Norwell, Ed Dickson and Star Lotulelei are three starters on that list. Firing key members of the offensive staff and bringing in Norv Turner as coordinator could drive some changes. What happens on the ownership and GM fronts could be pivotal.
20. Washington Redskins
Indicators: QB in flux; 14th-oldest starters; coming off 7-9 record; fifth-year head coach with one playoff appearance
Kirk Cousins' status is the key variable here. If he leaves, the changes could feel like an overhaul; but aside from the QB position, most moves figure to be routine: an offensive lineman here, a running back and wide receiver there, a couple of defensive backs or an insider linebacker or two. Washington could be a team that banks on improved health more than colossal change. Cousins' unsettled status pushes Washington up in the order for now.
21. Baltimore Ravens
Indicators:?second-oldest starters; one playoff appearance and one postseason victory since 2012 season; crushing defeat to Cincinnati in Week 17; fan discontent
Team president Dick Cass wrote an open letter in December attempting to reconnect with fans upset about the Ravens' on-field inconsistency and how the team handled anthem protests. The letter acknowledged a higher number of no-shows for games. Nine days later, Cincinnati knocked Baltimore from the playoffs with a shocking 49-yard touchdown pass on a desperation fourth-and-12 play in the final minute. That could be the context for roster change, especially with obvious needs for offensive weaponry. How far will the Ravens go?
---
The final 11 teams seem more likely to make smaller changes.

22. Los Angeles Rams
Indicators: rising second-year head coach with clout following an 11-5 season that saw the Rams score 478 points, most in their Los Angeles history
The Rams rank 11th between Buffalo and Miami in 2017 starts by players with four-plus years' experience and no contracts beyond this season. Trumaine Johnson, John Sullivan, Sammy Watkins, Lamarcus Joyner and Connor Barwin account for most of those starts. There will be some changes of note, but the Rams have key pieces in place.

23. Tennessee Titans
Indicators: New head coach; consecutive 9-7 seasons; seventh-youngest starters
The Titans announced that they are parting ways with head coach Mike Mularkey. There could be other staff changes as well. On the whole, Tennessee appears likely to stay the course from a personnel standpoint, with most key players under contract.

24. New Orleans Saints
Indicators: Aging QB; fifth-youngest starters overall
Drew Brees has no contract for next season, but it's tough to see the team heading in another direction. The Saints finally have ascending young talent to build around elsewhere on the roster, which means they don't need an overhaul. They need to build on their recent success in the draft.
25. Los Angeles Chargers
Indicators:?aging QB; second-year head coach; sixth-year GM with increasing win totals over the past three seasons but no playoffs since 2013, his first season
The Chargers will keep their scheme on defense after re-signings coordinator Gus Bradley. They will definitely be in the market for a kicker. Beyond that, however, this team seems likely to take things slow and steady. GM Tom Telesco has not been the quick-fix type.

26. Minnesota Vikings
Indicators: QB TBD; eighth-oldest starters
The Vikings have no starting quarterback signed for next season. They also have a few especially old contributors who are unsigned for 2018 in Terence Newman (39), Joe Berger (35) and Tom Johnson (33). The roster is otherwise mostly set.

27. Jacksonville Jaguars
Indicators: QB in flux; second-youngest starters
Most of the pieces appear to be in place, except for one. Quarterback Blake Bortles is scheduled to earn $1.1 million per week next season. The Jaguars could swap him out for a more efficient veteran. They could also draft a quarterback. The heavy lifting elsewhere on the roster appears mostly finished.

28. Cincinnati Bengals
Indicators: ninth-oldest starters
Only the Steelers and Browns got fewer 2017 snaps from veteran players who are unsigned past this season. That number is a little misleading because Tyler Eifert, Jeremy Hill and AJ McCarron are three bigger-name players who could reach free agency after combining to play only 202 snaps last season. The Bengals could realistically part with all of them.

29. Dallas Cowboys
Indicators: third-youngest starters
Owner Jerry Jones expected the Cowboys to contend in 2017. From his perspective, Ezekiel Elliott's six-game suspension ruined everything. With Elliott back and with a relatively young roster, the Cowboys appear likely to make another run with largely the same group.

30. Philadelphia Eagles
Indicators: Third-year head coach coming off 13-3, Super Bowl season; seventh-oldest starters
The Eagles have stayed ahead of the curve by re-signing key players before free agency, which is why they rank so low on this list. There are some older veterans with less-certain futures ( Jason Peters, Brent Celek, LeGarrette Blount) and pending free agents, such as Nigel Bradham.

31. Atlanta Falcons
Indicators: Head coach entering fourth season with a 29-19 record; only Cleveland has fewer veterans with four-plus years' experience and no contract in 2018
The roster is pretty much set, with only a few veteran starters — Dontari Poe and Ricardo Allen among them — scheduled for free agency. The schemes also appear unlikely to change, which could help promote continuity after a staff shakeup last offseason.

32. Pittsburgh Steelers
Indicators: Tied with Falcons for second-fewest veterans with four-plus years' experience and no contract in 2018
The Steelers are a build-through-the draft team with very few key players unsigned beyond this season. There could be significant change if Ben Roethlisberger follows through on last offseason's retirement talk — though his comments after the loss to Jacksonville indicate he'll return for 2018 — and the team somehow does not bring back franchise player Le'Veon Bell, but Pittsburgh should be in position to reload for 2018.