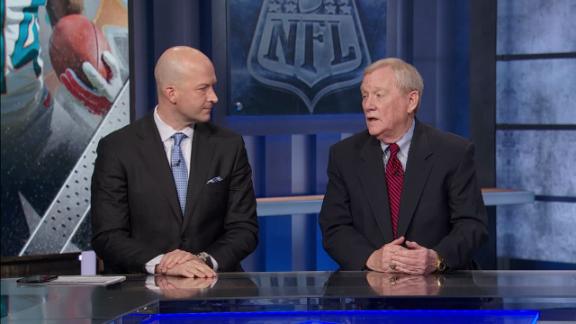 The NFL offseason is already heating up — we've had two big trades, and Blake Bortles has been taken off the quarterback market — but March 14 is when the real fun begins. That's when free agency kicks off (4 p.m. ET), and it's when the trades involving quarterback? Alex Smith and cornerback? Marcus Peters become official.
Over the next two weeks, our panel of ESPN NFL Insiders is taking a closer look at the upcoming free-agent market, answering questions on the biggest topics in the league.
Next up: We know there will be a big sweepstakes for Kirk Cousins. But who are the under-the-radar free agents that teams will get into bidding wars over?
The topics our panel has hit so far:
Minnesota's starting QB in 2018
Le'Veon Bell's future in Pittsburgh
Where Kirk Cousins will sign and for how much
Where Jarvis Landry will play in 2018
Who's an under-the-radar free agent likely to be in a bidding war?
Matt Bowen, NFL writer:? Lamarcus Joyner, S, Los Angeles Rams. Joyner doesn't have the national recognition at the safety position, but his tape is legit and his versatility in the secondary meshes with the modern game. Joyner can play over the top as a deep safety in the middle of the field, roll down to cover in the slot and has some thunder in his pads on contact. You want a defensive chess piece to counter today's NFL offenses? Make a run at Joyner.
Dan Graziano, national NFL writer:? Paul Richardson, WR, Seattle Seahawks. With Jarvis Landry franchised and the possibility of Sammy Watkins and Allen Robinson also getting tagged, you could make the case that the 25-year-old Richardson is the next-best wide receiver on the market. He was a pretty good deep threat in a Seattle offense that didn't feature enough pass protection to really maximize a deep threat. Some teams will see potential there and pay for a player his age.
Mina Kimes, senior writer:? Patrick Robinson, CB, Philadelphia Eagles. He's no longer flying that far below the radar thanks to the Eagles' Super Bowl run, but the 30-year-old defensive back had a surprisingly great season, allowing just 54.5 percent of passes to be caught in the slot, according to Pro Football Focus. Because of his age, he probably won't break the bank, but I still think a few teams will vie for the veteran after his breakout year.
Mike Sando, senior NFL writer: Trent Murphy, OLB, Washington Redskins. Murphy is under the radar after missing last season with a torn ACL. He also faces a four-game suspension upon his return. Murphy did have nine sacks for the Redskins in 2016, and outside pass-rushers can be difficult to find. ( Ezekiel Ansah?getting the franchise tag did not help.)
Aaron Schatz, editor-in-chief of Football Outsiders:? Nate Solder, OT, New England Patriots. Solder has anchored one of the league's top offensive lines over the past few years. The Patriots drafted his heir apparent last year, though Tony Garcia ended up spending the season on injured reserve. The bidding war here is not only financial, between the Patriots and other teams that need a left tackle. There's also an emotional component, as there has been a lot of talk in New England that Solder might want to retire at the end of his current contract to concentrate on care for his son, who has pediatric kidney cancer.
Kevin Seifert, national NFL writer: Rashaan Melvin, CB, Indianapolis Colts. According to scientific research, 6-foot-2 cornerbacks don't grow on trees. Everyone loves height at that position, and Melvin's recent hiring of agent Drew Rosenhaus suggests he understands that. He would be smart to hit the market.
Field Yates, NFL Insider:? Trey Burton, TE,? Philadelphia Eagles. The Eagles' jack-of-all-trades tight end was the pass thrower in the now famous "Philly Special" play, which was emblematic of his versatility. He can be a starting-level tight end, an ideal No. 2 tight end or a core special-teamer. He's the real deal.
---
Next up: The Dolphins?placed the franchise tag on wide receiver? Jarvis Landry. Will the two parties be able to work out a long-term deal, or could Miami trade him?
Jarvis Landry will be playing for the _____ in 2018.
Sando:?Miami Dolphins. I think the Dolphins are motivated to trade Landry, but how many teams will be motivated to acquire — and then pay — a limited receiver deemed expendable by his own offensively anemic team? Landry ranks third in receptions since 2014 with 400. However, he has only five scoring receptions on passes that traveled at least 5 yards past the line of scrimmage. That is tied with Tavon Austin, among others, for 121st in the league over the past four seasons.
Schatz: Baltimore Ravens. Quarterback? Joe Flacco is the king of short completions that aren't actually successful plays for the offense. It's only appropriate to give him the top receiver in short completions that aren't actually successful plays for the offense.
Seifert: Ravens. Flacco led the NFL in 2017 with 241 attempts that traveled 5 or fewer yards past the line of scrimmage. If he's going to throw short passes, the Ravens might as well pursue a slot receiver who excels at catching them.
Yates: Chicago Bears. There might not be a team more desperate for depth at wide receiver than the Bears, whose depleted core hamstrung rookie quarterback Mitchell Trubisky in 2017. Chicago has the cap space to acquire Landry, who would get a lot of targets under new coach Matt Nagy.
Graziano: Ravens. I still see the Dolphins either pulling this tag or trading Landry, and the Ravens have a desperate enough need at receiver (and a deep enough defense) to be able to get a deal done.
Kimes: Cleveland Browns. As we all know, the Browns have cap space and assets — and they're going to have to bolster their arsenal of offensive weapons in order to set up their new quarterback for success. Pairing the versatile and reliable Landry with Josh Gordon would immediately create one of the best receiver tandems in the league.
Bowen: Ravens. The Ravens lacked efficiency in the passing game last season, and Flacco's third-down numbers were dismal. Making a move to trade for Landry gives the Ravens a middle-of-the-field target out of the slot on high-percentage throws. Think of short-to-intermediate routes in which Flacco can work the ball between the numbers and move the sticks. That's where Landry can excel.
---
Next up: Kirk Cousins is the top free agent on the market, but the teams who seem to be interested in breaking the bank to sign him are dwindling. Where will he sign, and how much guaranteed money will he get?
Kirk Cousins will get $ _____ million guaranteed in his deal with the _______.
Graziano: $70 million fully guaranteed at signing (beating? Matthew Stafford's record of $60.5 million) and $100 million in injury guarantees (beating Stafford's record of $97 million) from the New York Jets . The Vikings, Broncos and Cardinals will all make strong pushes, but the Jets' offer will top them all.
John Keim, ESPN Redskins reporter:? $87 million guaranteed from the Minnesota Vikings . Of course, this depends on the Vikings going away from Case Keenum and Teddy Bridgewater. Cousins would have an opportunity to join a good franchise, one set up to win now and for the next several years — but he might have to spurn bigger offers to do so.
Seifert: $71 million guaranteed from the Broncos. That's what it will take to outbid the Jets, who might be more aggressive but offer less in the way of long-term hopes.
Sando: $90 million guaranteed from the Denver Broncos . Denver is one place where Cousins could almost single-handedly turn a losing team into a contender overnight. In Minnesota, the Vikings are already a 13-3 team, which means Cousins could be blamed for anything less than a Super Bowl appearance. It's time for John Elway to turn on the quarterback charm again. His team badly needs a good veteran starter.
Bowen: $70 million guaranteed from the Jets. Denver and Arizona also will make a strong push for the veteran QB, but I think New York wins out. Cousins is a good fit for new offensive coordinator Jeremy Bates, who can design a game plan to cater to Cousins' strengths.
Schatz: $70 million guaranteed, and I still think the Broncos are the best match for him.
Yates: $75 million fully guaranteed, but I'm not ready to pick a team just yet. Guarantees are a bit tricky to calculate, so with the idea in mind that Cousins' guarantees (for injury only) could approach nine figures, a $75 million full guarantee is a reasonable bar to expect.
---
Next up: Debating? Le'Veon Bell's future. The talented? Pittsburgh Steelers?running back is a free agent again after playing on the franchise tag in 2017. Will he be back in Pittsburgh this season — and beyond?
True or false: Bell will be playing for the Steelers in 2019.
Jeremy Fowler, ESPN Steelers reporter: True. All principals involved in the negotiations?– from player to team president to general manager — have expressed optimism for an extension, something the Steelers typically don't do without conviction. The Steelers can structure any contract with reasonable escape clauses after two to three years to account for potential declines in Bell's game, and they are eager to keep the "Triple B" trio of Bell, Antonio Brown and Ben Roethlisberger intact.
Graziano: False. After one more year on the franchise tag, Bell and the Steelers part ways in 2019, and he signs a lucrative long-term deal with the Seattle Seahawks.
Bowen: False. With Bell playing out the 2018 season on the franchise tag, the running back hits the market entering the 2019 offseason. A destination? The Cleveland Browns are an option if they don't grab Penn State's Saquon Barkley at the top of the draft — they have the first and fourth picks in the first round. Seattle is a possibility too, given the Seahawks' inability to develop a feature back since the departure of Marshawn Lynch. But for now, I'll say the Tampa Bay Buccaneers, where Bell signs a multiyear deal with a value that reflects his impact on the game and rare versatility for the position.
Schatz: False. Add me to the list of people who expect the Steelers to get one more year out of Bell on the franchise tag and then let him depart. The New York Jets seem like the kind of front office that would spend through the nose on a top running back.
Kimes : True. I might be overly optimistic, but the language coming from those in the Steelers' front office this offseason suggests that they're more motivated to get a deal done than they were last year — and one would think that Bell, who has racked up a massive number of touches over the past few years, could be more amenable as well. Pittsburgh knows how integral he is to its offense, which is why I think the Steelers will come up with an agreement that keeps him in town for at least two more years.
Sando: True. Bell is an elite talent and true difference-maker for the Steelers, which makes him too valuable to let walk while Roethlisberger is holding open the Steelers' championship window. I tend to think the sides will find a way to continue this very productive marriage, perhaps against the odds, as long as Bell is healthy and an elite performer.
Seifert:?False. The Steelers, smartly, will go year-to-year at a position where production drops dramatically in most cases after the age of 27. Bell turned 26 in February.
Yates: False. Bell will be playing somewhere other than Pittsburgh in 2019 after playing on the franchise tag again in 2018. The Indianapolis Colts make sense.
---
We're starting with a deeper look at the Vikings, whose top three quarterbacks from 2017 — Case Keenum, Teddy Bridgewater and Sam Bradford — are all free agents. Minnesota also might be in the Kirk Cousins sweepstakes.
Which quarterback will take the most snaps for Minnesota in 2018?
Sando: Keenum. We'll have to see whether Bridgewater can make it through a full offseason, training camp and preseason and win the job. Once he does those things, he will have to do what might be the hardest thing for him to do, which is play the most snaps. So, while I think Bridgewater could be the most likely quarterback to re-sign with Minnesota, I'll lean toward Keenum as more likely to play the most snaps, at least until we have more information.
Courtney Cronin, ESPN Vikings reporter: Bridgewater. I predict the Vikings will end up getting outbid in the Cousins sweepstakes, thus leading them to re-sign two of their pending free-agent quarterbacks. Though Minnesota might franchise tag Keenum, it would make sense to use its cap space to work out deals with Keenum and Bridgewater. The Vikings typically don't have quarterback competitions in training camp, but given the unique nature of their situation, both Bridgewater and Keenum will have a chance to duke it out in camp. It might not be in the beginning of the season, but by some point in 2018, I believe Bridgewater will emerge as the starter.
Bowen: Bridgewater. I expect the Vikings to explore the market for Cousins. But with the Jets, Broncos and possibly more teams jumping into the mix, the price tag is going to rise quickly. That's why I'm looking at a situation in which coach Mike Zimmer & Co. attempt to bring back both Bridgewater and Keenum. With Bridgewater healthy and prepped to go through the entire offseason program, the former first-round pick will edge out Keenum in a daily camp battle for the starting spot.
Seifert: Keenum. Part of the Vikings' public ambivalence could be related to leverage. Declaring a quarterback your guy means you have to pay him that way. There is no doubt that Zimmer loves Bridgewater, but the Vikings know how rarely in their history they have gotten a performance like the one Keenum gave them in 2017. We have no information at the moment that would allow us to project Bridgewater as the superior quarterback.
Yates: Cousins. The Vikings were publicly reticent throughout much of the 2017 regular season to fully and entirely commit to Keenum as the guy, which suggests to me that the team won't overextend to keep him. Cousins, meanwhile, is the rare available quarterback who can shift the winds of a franchise, helping Minnesota — armed with the financial resources to acquire him — elevate to another level.
Kimes: Bridgewater. The Vikings have enough cap space to make a run at Cousins, but I think they'll back off when his price tag reaches uncharted territory; Cousins is better than Keenum and Bridgewater, but he's not that?much better. It's hard to forecast when Bridgewater will take Keenum's job (I expect the team to keep both quarterbacks), but I still think Bridgewater is Minnesota's long-term plan.
Graziano: Bridgewater. My projected scenario is one in which the Vikings bring back Keenum and Bridgewater, and Bridgewater eventually takes the job away from Keenum — either in a training camp competition or after Keenum struggles during the regular season. All of this, of course, assumes the Vikings don't sign Cousins. If they break?the bank for a quarterback, I'd change my answer to Cousins.
Schatz: Keenum. My guess is that other teams will look at Keenum and say, "Yes, he had one fantastic year, but what is his regression going to look like in our system?" The Vikings are the one team that can look at Keenum and know they have seen evidence he can play well for them. In the same system with the same teammates, there's a better chance he can continue to play at 2017's high level.