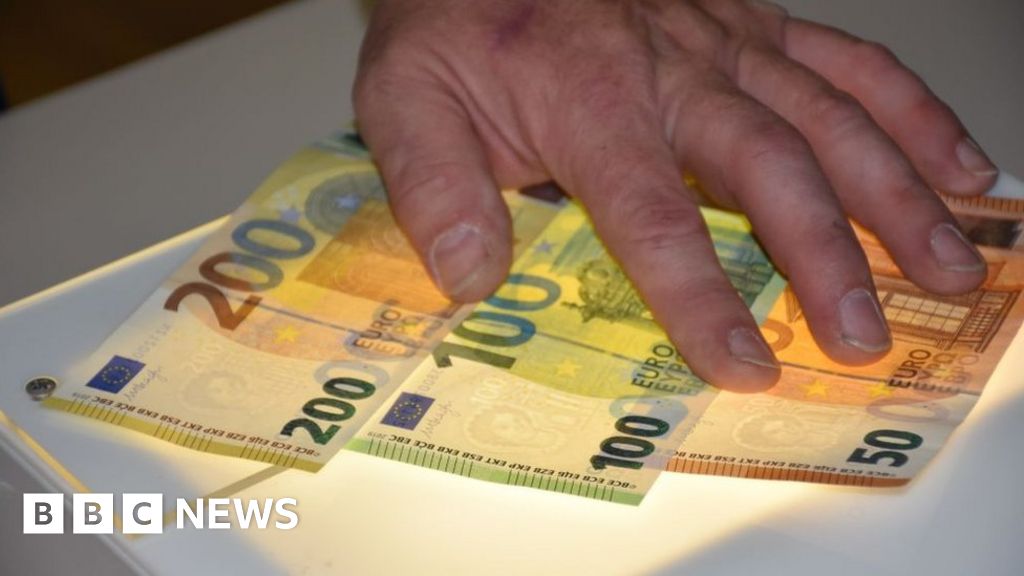 The design for the new €100 and €200 bank notes has been unveiled, ahead of entering circulation in May next year.
Both notes have new security features which are aimed at making them more difficult to counterfeit.
The new notes are smaller than the current versions, meaning they will fit better into people's wallets, the European Central Bank (ECB) said.
The size meant the notes would also be handled easier by machines and subject to less wear and tear, it said.
The two notes are the last in the Europa series, which feature an image of the mythological Greek figure of that name.
ECB executive board member Yves Mersch said that more than a million cash machines would have to be adapted before the new notes go into circulation on 28 May in the 19 countries that use the shared currency.
The notes have several new security features, including a "satellite" hologram of tiny euro symbols, which move around the number when the bill is tilted, as well as a shiny number on the bottom of the notes which changes colour from emerald green to deep blue.
Trying to avoid counterfeiting and making sure bank notes aren't used for criminal activities have been a key focus for the central bank. In 2016, it said that it would no longer produce the €500 note because of concerns it could facilitate illegal activity.
The UK asked banks to stop handling €500 notes in 2010 after a report found they were mainly used by criminals.
Despite a rise in card transactions, the ECB said that the demand for cash had continued to grow. Since the introduction of the euro in 2002, the number of banknotes in circulation in the euro area has tripled and now stands at 21 billion while the value of banknotes has reached almost €1.2 trillion, the ECB said.