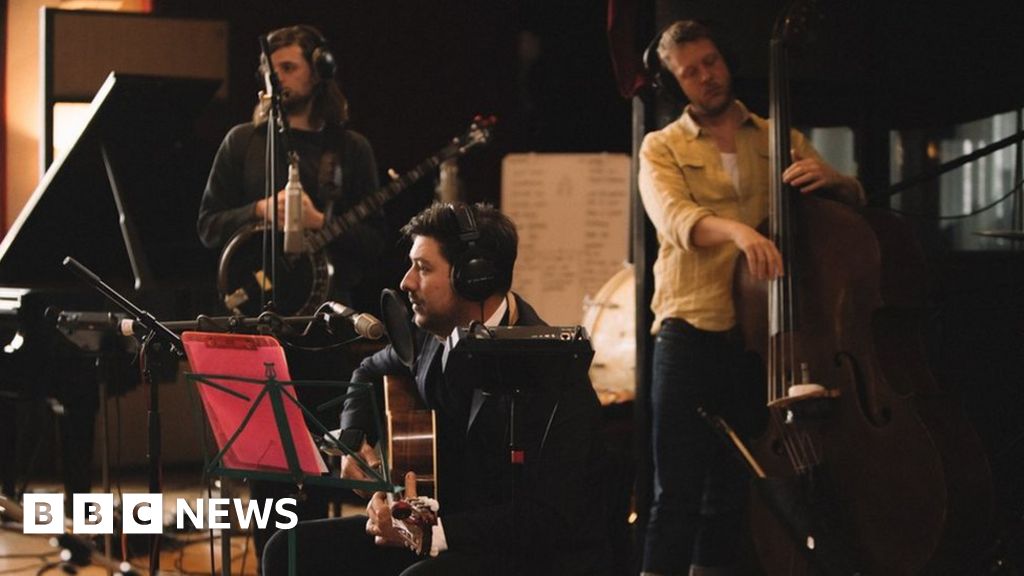 It's crunch time in Crouch End.
Mumford and Sons have just seven days to finish their fourth album, so they're squirreled away in a converted church, revising, reviewing and perfecting their new songs.
The day before, a string orchestra dropped in to add cinematic flourishes to a track called If I Say. Today, the band's publicist gets locked out of the studio because no-one can hear the door bell over the cacophony of drumming (at least, that's what they tell him).
Super-producer Paul Epworth (Adele, Coldplay, Rihanna) sits behind a vast mixing desk, illuminated by the light streaming through a stained glass window.
A whiteboard in the corner lists 24 songs with titles like Chaos, See A Sign, In The Water, Blind Leading The Blind and Drunk; all marked up with a complicated series of symbols and glyphs denoting their state of readiness.
"That's whittled down by the way," says keyboard player Ben Lovett. "We had 45 songs at one point."
The aim is to cut that list in half again, pushing the band into a mindset they used to call FCBM: Full-blown crisis mode.
"We've had to shorten it now," laughs Marcus Mumford. "We don't have time for an acronym that long. Now it's just FCM."
If there's panic in the air, though, they're good at concealing it. There's a relaxed conviviality in the studio as bassist Ted Dwane brews a cup of tea and Epworth relinquishes his chair to let us hear the works-in-progress.
"Are you OK with volume?" asks Mumford, cranking up the speakers to full blast.
He cues up If I Say (essentially a Bond theme in waiting) followed by a sparse, semi-electronic track called Woman; the rolling, West-African cadences of Rose For Sharon; and October Skies, a spine-tingling ballad, recorded live in the room, that echoes around the eaves like a hymn.
It's three-and-a-half years since the band last released an album – but they deliberately took their time, booking most of 2017 off work, and separating this year's recording sessions into two chunks either side of summer.
"What we needed was a good album, not a fast album," says Mumford.
"We could have tried to finish it and put it out in the summer but actually these bits we're doing now are really important."
"Because once it's out, it's out forever," adds guitarist Winston Marshall. "Unless you're Kanye West."
'My skin crawls'
This triggers a long discussion about musicians who, like Drake and Kanye, tweak and change albums after they're released.
"It's an interesting time when music itself, the songs, can keep changing," says Marshall.
"It's something we've been talking about, partly because of having deadlines: If we put the album out now, can we add to it later, or revise a song somehow?"
Are there any older songs they'd like to take back and fix?
"Yes!" says Mumford with almost indecent haste. "Some of the early ones.
"The thing is, we work so hard on our records and when they come out I never listen to them again.
"So I might hear them in a shop or on the radio and it makes my skin crawl."
The singer stresses he "loves the songs" despite any imperfections in the recording.
"I'm so grateful that we did put them out. People enjoyed them and that's fine… And some people didn't and that's also fine.
"But I like having to commit. Not having the option to change and revise because otherwise I think we'd always be going back."
Less than two weeks after we meet, the band commit to a new single – Guiding Light, which premiered on Annie Mac's Radio 1 show on Thursday night.
It's classic Mumford – full of searching harmonies, stridently strummed guitars and a floorboard-threatening crescendo.
Like many of the new songs, it offers solace in a crisis, with repeated imagery of a transition from darkness into light.
"I know you claim that you're alright," sings Mumford. "But fix your eyes on me… and I swear you'll see the dawn again."
"It's got a bit more real in the last couple of years," the 31-year-old explains.
"Some of the issues we've faced as individuals or in the circles around us have felt pretty serious – from death to depression and everything in between.
"I've definitely been closer to death in the last year than I've ever been."
Mumford doesn't address it directly, but it's likely he's referencing the Grenfell disaster, which claimed 72 lives last June.
He witnessed the tower block being consumed by flames from the window of his London flat and immediately committed himself to the relief effort.
The singer spent weeks with survivors and their families, listening to their stories and lobbying MPs to correct what he called the "shambolic" response.
He's since established a free summer football programme for the young children of Grenfell, and continues to support the community.
The rest of the band have also been touched by what one song describes as "the world and its curse" in the last year.
"Death, depression, divorce [are] all things that passed through our lives as we made the album," says Lovett.
"There's been a bunch of major stuff and it inspired us to rally round each other much more than we've ever needed to before.
"I'm sure we'll laugh at ourselves in 10 years, but it certainly feels like we're grappling properly for the first time with manhood."
A sense of maturity pervades the new music, too, as the band incorporate new sounds and textures without the reactionary "bin the banjos" mentality of their previous record, Wilder Minds.
"Almost every song has a banjo on it," grins Mumford, "but there's only a couple of songs where you'd say, 'Oh, that's a banjo!'"
"Trying to use a banjo without it ever sounding like a banjo was actually quite an exciting ambition for this album," adds Marshall, showing off the five-string cello banjo he used to create a low, thrumming pulse on Woman.
Innovation doesn't come easy, though.
Marshall may have "fallen in love" with Guiding Light the first time he heard it – but Mumford struggled for months to wrestle the song into shape.
"I couldn't believe in it," he says. "I mean, I believed in it hypothetically but I couldn't hear how it was coming together.
"We could have done it in the acoustic model from the first two records but the song deserved more than that. So there's a kind of disco groove underneath the chorus – and trying to pair that with a banjo was a nightmare."
Was he ever tempted to give up?
"No – because some of our songs that have connected the most with people have been the ones that were the hardest."
That even includes their biggest hit, the Grammy-nominated I Will Wait.
"I Will Wait was a real struggle," says the singer.
"I remember [producer] Markus Dravs sitting on the end of my bed in a residential studio in Paris going, 'Come on, mate, just come on!' And I was like, 'No, no, no. I can't do it again!' But we kept going and kept going and eventually got there.
"I find our best shows are often when there's some sort of struggle as well. I think we rise to conflict… to a bit of a challenge."
On this album, they challenged themselves by throwing open the studio doors to South London MC Octavian, US soul singer Yebba, Oxford indie band Glass Animals, dance DJ Benji B and a whole host of others.
Not everyone will necessarily feature on the album but the "pick up and go" atmosphere stopped the studio from feeling "like a chemical laboratory," says Lovett.
"The collaboration can just be an anecdote that someone is telling, or a joke that they're saying, and you just feel the energy of people around you."
"It resets the room," says Dwane. "It's so amazing. People are awesome."
The collaborative atmosphere was inspired by the band's ongoing Gentlemen Of The Road concerts, which sees them team up with like-minded musical pilgrims from Vampire Weekend and The Flaming Lips to Mavis Staples and Maggie Rogers.
It also picks up the thread of their 2016 Johannesburg EP, recorded in South Africa with Senegalese superstar Baaba Maal and Swedish/French/Malawian band The Very Best.
"It was important on the first three records to set out our stall and be quite insular," explains Mumford.
"We didn't let the label come in and we wouldn't have guests featuring on songs. That just didn't happen.
"Now, we're more secure in who we are, so we can invite people in and they won't dilute us.
"Plus, we like people."
But for now, they're (politely) kicking the BBC out and getting back to work,
Lovett heads to the vocal booth to record some harmonies; Mumford compares mixes with recording engineer Riley MacIntyre; and Dwane stretches out on the sofa, reading a novel.
There'll be more marker pen on the whiteboard by the end of the day – but one thing is set in stone: The album title.
"It's going to be called Delta," says Lovett. "For many reasons."
"First, there's the concept of the River Delta and how the rivers and oceans interact.
"The river is the gateway between the tranquillity and safety of the river and the wild unknown of the ocean. So that ties thematically into a lot of the lyrics – that transitional thing of facing up to life."
"Delta is also the fourth letter in the phonetic and Greek alphabet; and this is our fourth album.
"A lot of bands' fourth records are the ones that define them – and I feel like this could be the one that defines us."
Guiding Light is out now. Delta will be released on 16 November.
Follow us on Facebook, on Twitter @BBCNewsEnts, or on Instagram at bbcnewsents. If you have a story suggestion email entertainment.news@bbc.co.uk.
http://platform.twitter.com/widgets.js