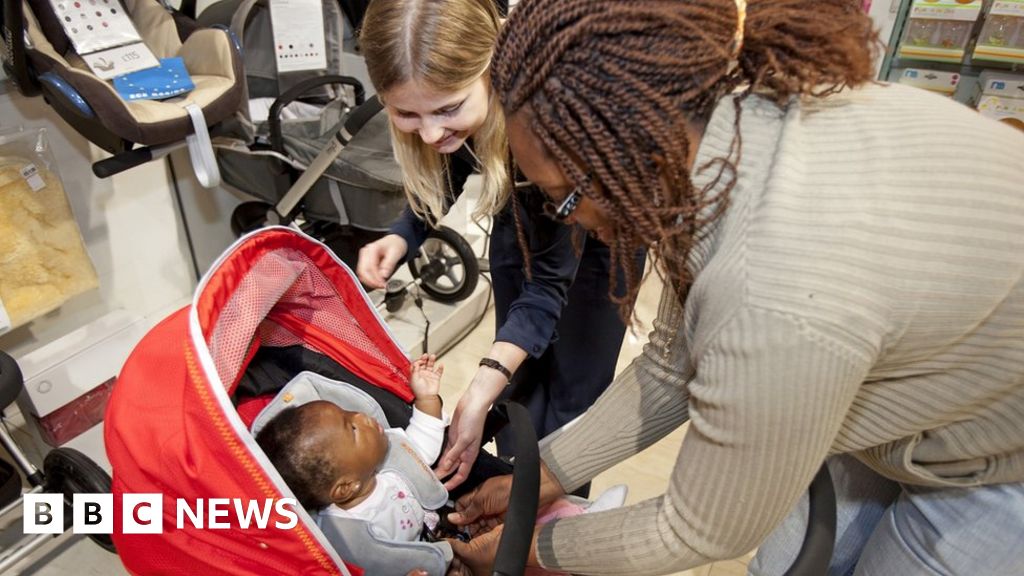 Baby goods retailer Mothercare says it is finalising a rescue deal with its creditors after years of falling sales and profits.
The restructuring is likely to take the form of a company voluntary arrangement (CVA), which typically sees a retailer closing stores and renegotiating rents to prevent it from going into administration.
It comes after the maternity specialist slashed its profit forecast in January and entered talks with creditors to avoid breaching the terms of its loans.
So what went wrong at the 57-year-old chain, and can it turn its fortunes around?
1) Rising competition
Stephen Springham, head of retail research at property consultancy Knight Frank, has been following Mothercare's progress for 20 years. He says even in the late 1990s the brand wasn't doing particularly well.
"What's changed is the UK baby goods market has become much more competitive," he says.
"A host of other firms are offering products at lower prices and Mothercare's range feels a bit outdated."
When it comes to childrenswear Mothercare faces stiff competition from supermarkets that sell their own lines, such as Asda through its George range and Tesco through F&F.
Fashion retailers Primark and H&M also now have popular babywear ranges, while Amazon and Argos dominate the toys market.
2) 'It lost touch with mums'
This is partly why Mothercare's sales have fallen every year since 2012. But the retailer could have done more to help itself, says Kate Hardcastle, retail consultant as Insight with Passion.
The mother-of-three was keen to use the chain after she gave birth a few years ago, but says she had a bad experience.
"New parents want advice and support – whether they are buying a baby-grow for the first time or a bottle – and their sales assistants just weren't trained.
"I also had a wider buggy for two children and I couldn't get it around the stores. I was really disappointed and I've talked to hundreds of other mothers who feel the same."
She blames wave after wave of cost cutting at Mothercare over the last decade as it tried to remain competitive.
She believes it could have adapted and thrived anyway, because of its strong legacy brand, but instead it "let go of what made it special".
3) Too many stores
Like other High Street retailers that have got into trouble recently, Mothercare expanded at a rapid rate during better days but now has too many underperforming stores.
Over the last four years it has reduced its store portfolio from 200 outlets to 137, but it's still struggling to pay its rents.
"It has a lot of legacy stores which it signed up to on 25-year leases during the good times," Mr Springham says, "but those sorts of agreements aren't easy to get out of."
Mothercare's rescue deal could go some way towards fixing these problems, he says, but the future will remain bleak if it can't fix its underlying issues.
4) Can the firm turn things around?
Of course, Mothercare isn't the only retailer struggling at the moment. A number of British retailers have gone bust or announced store closures in recent months amid a consumer spending slowdown on UK high streets.
But Maureen Hinton, a research director at Global Data, says most of Mothercare's problems are specific to the brand.
"It should have predicted that shopping trends were changing sooner and taken action," she says, "but it hasn't moved fast enough."
She thinks it is going to be very hard for the firm to turn things around.
"Its international business is doing well but the main UK business is really struggling. It really depends how quickly it can shed the UK stores it's got to bring down its costs."
Ms Hardcastle says Mothercare is still a brand people have fond memories of, but drastic changes are needed.
"They should start by putting some consumer insight on the board," she says.
"New parenthood is a special time, mothers will never go through it again, and Mothercare needs to reconnect with that fact."
You may also like: