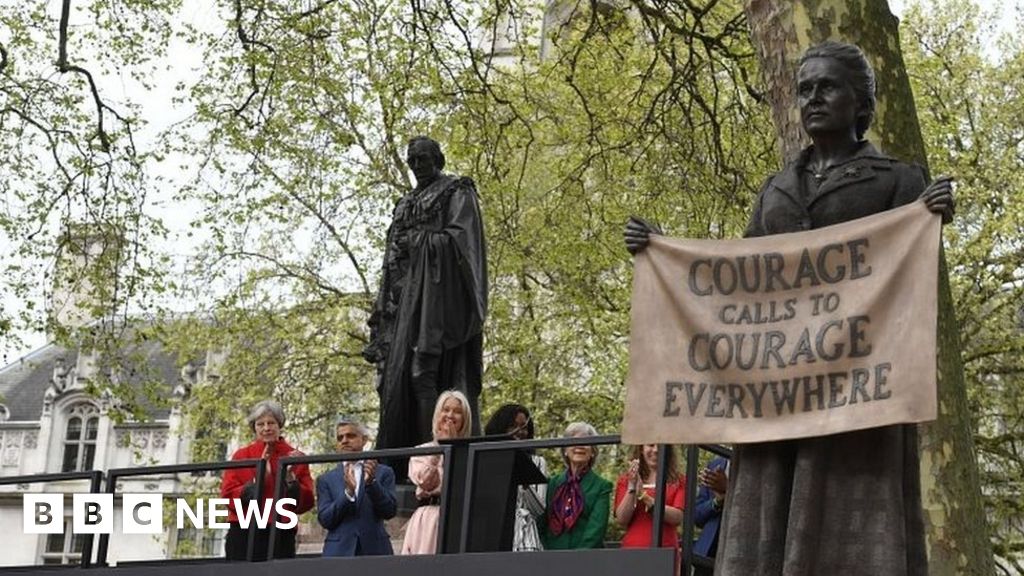 A statue commemorating the life of the suffragist, Millicent Fawcett, has been unveiled opposite Parliament.
She campaigned for women's right to vote during the early 20th Century and is seen as one of the most influential feminists of the past 100 years.
Prime Minister Theresa May paid tribute to the "truly great" campaigner's "lasting impact" after it was unveiled.
The bronze casting, by the artist Gillian Wearing, is the first statue of a woman erected in Parliament Square.
It features her holding a banner reading "courage calls to courage everywhere" and was commissioned as part of this year's centenary of the 1918 Representation of the People Act – which gave some women over the age of 30 the vote.
After the statue was unveiled by local schoolchildren, Mrs May said: "I would not be standing here today as prime minister, no female MPs would have taken their seats in Parliament, none of us would have had the right and protections we know enjoy, were it not for one truly great woman – Dame Millicent Garrett Fawcett."
It followed a campaign by the feminist writer and activist Caroline Criado Perez, who also led last year's successful effort to get Jane Austen to appear on the £10 note.
She said she came up with the idea for the statue when she was out running on International Women's Day in 2016 and realised the only historical figures commemorated there were men.
The 11 existing statues in Parliament Square are of Nelson Mandela, Abraham Lincoln, Mahatma Gandhi, former prime minister of South Africa Jan Smuts and former British prime ministers Sir Winston Churchill, David Lloyd George, Viscount Palmerston, the Earl of Derby, Benjamin Disraeli, William Gladstone and George Canning.
Ms Criado Perez launched the campaign for a Fawcett statue from her phone, as she sat on a bench outside Buckingham Palace at the end of her run.
Asked how it felt to see the statue being unveiled just two years after launching the petition, she said: "I can't really take the whole thing in. It's too big really to contemplate that it's finally happening."
Discussing how Gillian Wearing was selected to create the statue, Ms Criado Perez said: "Other designers and artists just didn't get it like Gillian did. For me, it was very important (Millicent) was middle aged.
"I wanted her to be standing there not at all sexualised, but statesmanlike. We wanted the statue to be her at a meaningful age, so we chose when she was awarded a brooch from the NUWSS (National Union of Women's Suffrage Societies) at 50 years old.
"She's directly facing Parliament with her placard, so the MPs can see her everyday and think, 'I should probably go and sort that problem out'."
Ms Criado Perez said she would "like to see more statues overall and more representations of women in public art, specifically women who have existed in the past".
"The more that I read about the amazing women that have come before me, the more angry I am about why I didn't know about them – why aren't there statues of these people?" she added.
Who was Millicent Fawcett?
Born in 1847, she was a pioneering feminist, intellectual and union leader who campaigned for women's right to vote
She was a suffragist – not a suffragette
She shared the same aims as the suffragettes – the more radical group led by Emmeline Pankhurst – but favoured non-violent protest
In 1897 she formed the the National Union of Women's Suffrage Societies
She also played a key role in the founding of Newnham College, the second Cambridge university college to admit women
In 1902, she led an all-female investigation into the appalling conditions in British concentration camps in South Africa, during the Boer War
Dame Millicent died in 1929, a year after women were granted the vote on equal terms to men
Speaking before the unveiling of the statue, at a private viewing, London Mayor Sadiq Khan said: "When you think of the great people in Parliament Square and when you realise that not one of them is a woman, it sort of begs the question, are we saying there haven't been incredible women in the past? That our country hasn't been built on the back of great women?"
"The whole process – from petition to project manager – has been made up of solely women. That should make us all incredibly proud."
He added: "Londoners are going to love it. They will be blown away."
A rival campaign, led by former Conservative MP Sir Neil Thorne, and backed by the first female Commons Speaker Baroness Boothroyd, argued Emmeline Pankhurst should have been immortalised in bronze in Parliament Square instead, as she is better known than Ms Fawcett.
Westminster Council has not ruled out a statue to Ms Pankhurst in the square at some stage – provided campaigners move an existing statue of the suffragette leader that stands in nearby Victoria Gardens first.
There have also been calls for a statue of Britain's first woman prime minister, Lady Thatcher, in the square, but the plan was rejected by Westminster Council.