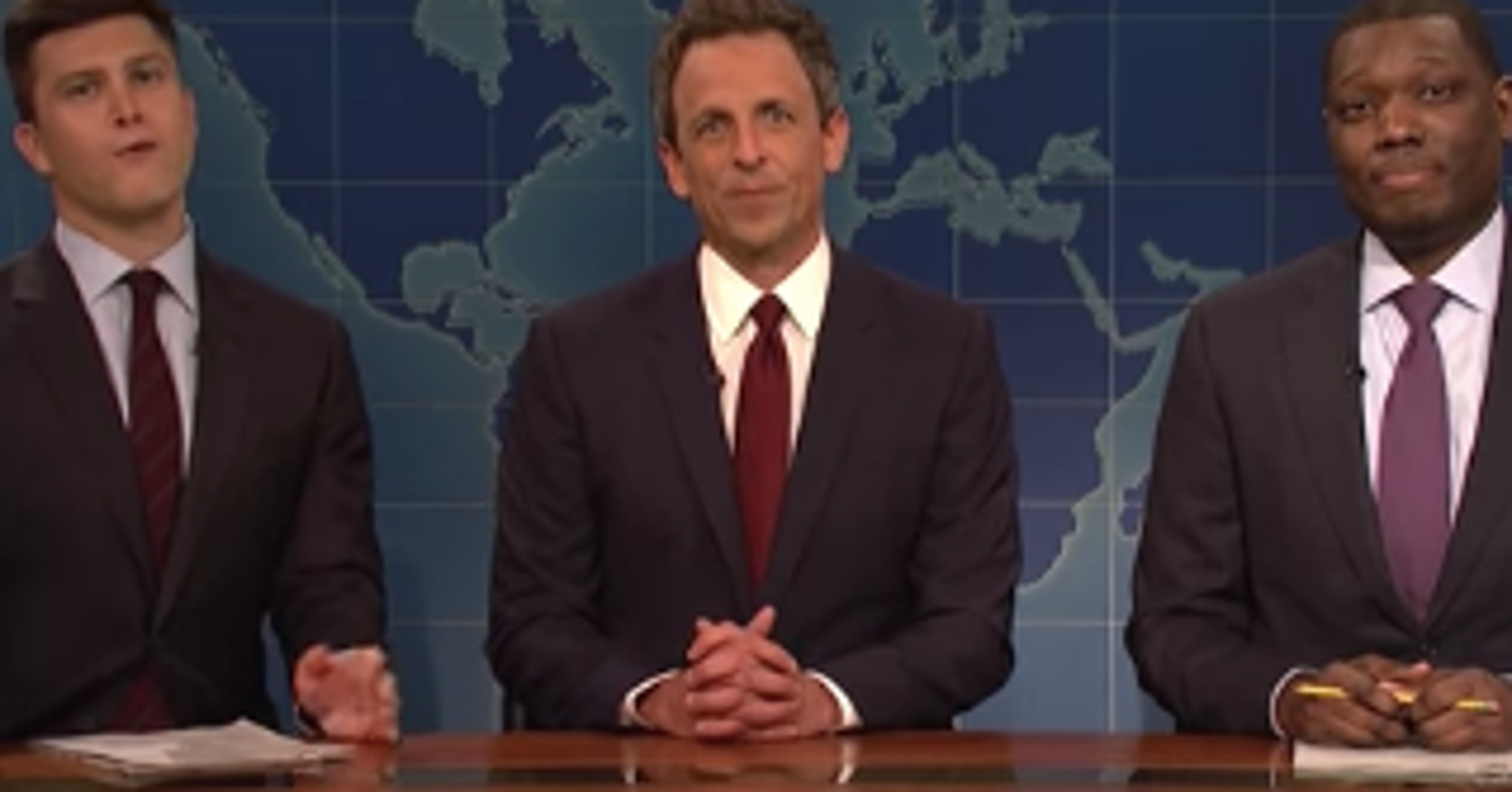 It was just like old times when former "Saturday Night Live" head writer and "Weekend Update" co-host Seth Meyers was back at the desk, this time joining anchors Michael Che and Colin Jost for a special "SNL" edition of "Really!?!" 
It was Meyers' first time back on "Saturday Night Live" since leaving to host "Late Night With Seth Meyers." 
The trio skewered the Kanye West and Donald Trump meeting in the Oval office Thursday. Commenting on a photo of Trump and West hugging, Meyers noted: "Man, it is so rare that you can see black people and white supremacists betrayed in the exact same moment."
Jost said West prepared for the meeting by "learning every fact in the world backwards, while Trump prepared by clearing his desk of any valuables."
The most startling moment came when Che used an unbleeped N-word as he wondered "how much money that n――- owes in taxes." It wasn't clear if he was referring to West, or Trump, who has not released his tax returns.
Che explained that his contract as a head writer allows him four uses of the word this season. Meyers, also a head writer who used to do "Weekend Update" with Amy Poehler, said he was never granted even a single use.
Earlier, in the opening monologue, Meyers came up with an interesting theory about why West interrupted Taylor Swift during her acceptance speech after receiving a Video Music Award in 2009. Meyers said two years before that West appeared in a sketch on "SNL" — repeatedly interrupting people receiving awards.
"We pitched him a sketch wherein he would interrupt award show speeches saying they had made a mistake and he should have won," Meyers said. "And Kanye said, 'That's hilarious, because I'd do that. Which is good self-awareness."
Kanye "did a sketch about how crazy it was he interrupted speeches and then two years later, he was at an award show and thought, 'I should do it again,'" said Meyers. "So when people say, 'Are you surprised Kanye supports Trump?' I say, 'No.'" 
Check out Che's riff above, and Meyers' theory on West in his monologue here: