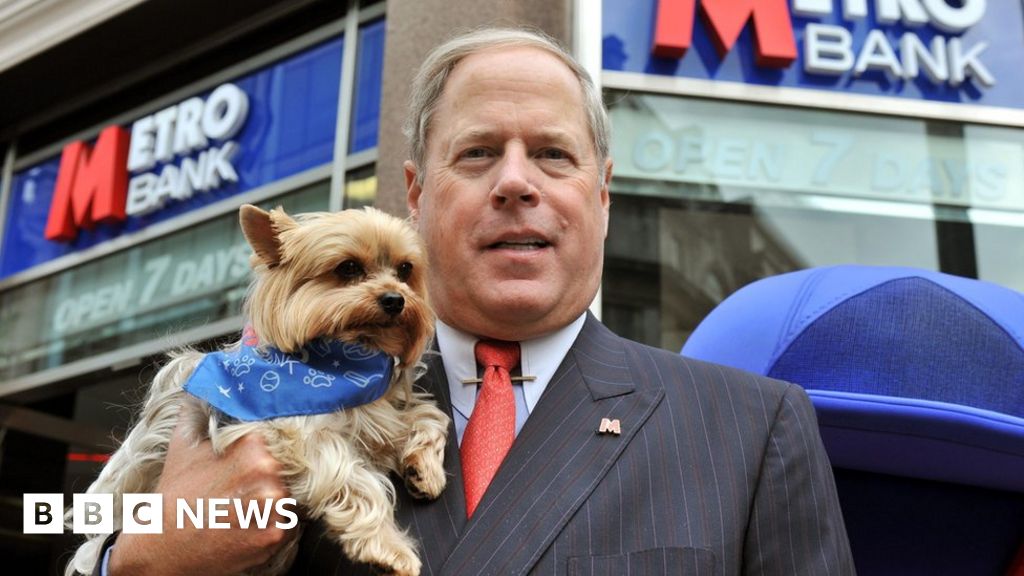 Metro Bank has avoided a shareholder revolt with founder Vernon Hill re-elected as chairman despite controversy over multi-million pound payments made to a company owned by his wife.
Of the votes cast at the bank's annual general meeting, 96% were in favour of Mr Hill continuing in his role.
Royal London Asset Management had questioned whether Metro was getting good value by using InterArch.
The firm is owned by Shirley Hill, the wife of Metro chairman, Vernon Hill.
In 2017, Metro paid £4.1m to InterArch for architectural design, branding and marketing.
Ashley Hamilton Claxton, head of responsible investment at Royal London Asset Management, which holds a 0.44% stake in Metro Bank, had said it was concerned about the oversight of the payments to InterArch.
She told the BBC's Today programme: "The concern is whether the company has had sufficient scrutiny as to whether they are getting value for money for those payments."
Shareholder advisory group, Glass Lewis, had also advised investors to vote against Mr Hill's re-election.
But on Tuesday, just 3.7% of votes were cast against his re-election, which was lower than last year.
Mr Hill thanked shareholders who he said had "overwhelmingly supported our vision and our quest".
Scrutiny concerns
As well as the payment for 2017, Metro Bank also handed £3.1m to InterArch in the previous year and in its prospectus ahead of its flotation on the London Stock Exchange, it said it paid £2.3m to Mrs Hill's company for marketing and architectural services in 2015.
Under the agreement, InterArch could also claim up to £2,000 per month for services.
Metro Bank said earlier: "Metro Bank has a premium listing on the London Stock Exchange and therefore is fully compliant with the UK Corporate Governance Code by the Financial Reporting Council."
Mr Hill founded Commerce Bank in the US, which he left in 2007 when board members voted to remove him.
The New York Times reported that the bank had paid InterArch around $50m over 10 years to decorate and design Commerce Bank branches.
A spokesperson for Metro Bank said earlier: "InterArch provides architecture, design and branding services to the bank. The audit committee has strong review and benchmarking processes in place conducted by authoritative independent third parties to ensure that the terms are favourable for the bank.
"This process has been in place since Metro Bank's inception and is disclosed in our Annual Report."