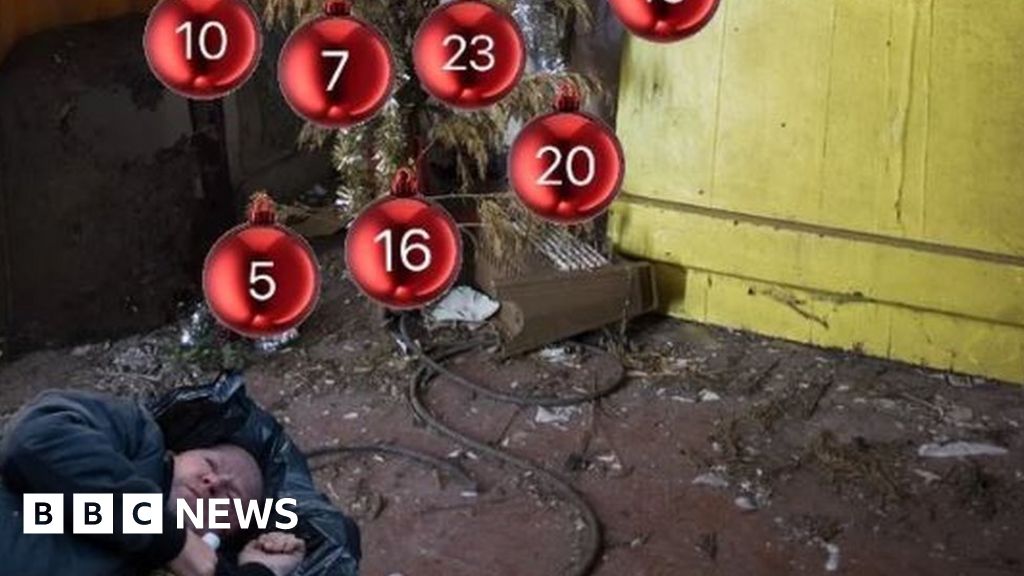 Forget the high-end items found in posh Advent calendars, there's another sold-out item in town – and this one has gone back to basics.
But while the McFadden's Cold War calendar features old-school pictures behind the "windows", don't expect to see a robin on the third and mistletoe on the ninth.
Instead, you're more likely to see international political leaders rubbing shoulders with lower-level British celebrities in various urban scenes. Sam Allardyce on the 14th anyone? The only Noel here is likely to be Edmonds.
The product is the brainchild of Christopher Spencer. He's the Birmingham artist with strong political opinions behind the popular McFadden's Cold War Twitter account.
It specialises in crude collages that imagine a bleak, post-Brexit Britain. And as with the Twitter feed, EastEnders actor Steve McFadden is the calendar's main draw.
The front of the not-so-festive countdown features him clutching a bottle of booze in a filthy squat.
'Looking aghast'
It's a sell-out but Spencer has auctioned one off online in aid of mental health charity Mind. On Friday, the highest bid of £410 landed the winner with not only a calendar but an autographed, deep-fill, Fray Bentos pie – a product he regularly features in the dystopian montages that delight his more than 100,000 Twitter followers.
Explaining the reasoning behind the auction, public sector worker Spencer, 43, said: "I've suffered with depression and anxiety the whole of my adult life. I reached a particularly low point in February 2016 when I had a breakdown but then this came about as a coping mechanism, really."
And why is McFadden the protagonist in the works?
"He's like the everyman, he's the incongruous figure in these scenes, looking with disdain or looking aghast at what's going on. He is us, slumped, looking on, despairing," Spencer said.
We're still a few days away from 1 December, though, so any chance of a hint of what's to come?
Spencer remains tight-lipped.
"You've got no chance", he said. "People have said to me this is the first time they've bought an Advent calendar in 50 years so I don't want to have any spoilers.
"But it's a memento of an awful time, the last Christmas before Brexit – it's a kind of anti-Advent calendar."
Just like the surprise of the Advent calendar windows, no-one knows what the post-Brexit future holds.
One thing's for sure, McFadden will feature in both.
You may also like:
But how will the Christmas scenes live up to the Twitter account's images of an uncertain political landscape?
Here's a round up of some classics.
This one features various Brexit-related figures, North Korea's Kim Jong-un and not only McFadden but fellow EastEnder Danny Dyer, a little (not lorra) Cilla Black, and Noel Edmonds. Deal or no deal indeed.
"I think this is a great time for satire," Spencer said, "especially with Brexit and how it's going. It's completely horrendous and I wanted to present these topics in an absurd way, to show how farcical it all is."
Talking of farcical, here's Give Us A Clue-era Lionel Blair entertaining Jose Mourinho, Kanye West, the TV presenter Nick Knowles and a big breakfast-eating Pete Doherty. Two words… sounds like…
Meanwhile, former Smiths frontman Morrissey walks away from cheap tea with Conservative MP Andrea Leadsom while erstwhile England manager Sam Allardyce drives a van emblazoned in presidential imagery. McFadden prefers two wheels.
Nick Knowles makes a return here, but cannot join the table where the big decisions are made by McFadden, singer Olly Murs and Theresa May. Shane Richie, yet another Albert Square alumnus, is having a think in a biker's jacket.
And how about this slightly football-themed one? Ex-England forward Peter Beardsley and former Premier League manager Ron Atkinson go about their business as the president of the United States points to an LP from impressionist Alistair McGowan – all under the watchful eye of McFadden and Coronation Street's Jim McDonald.
Spencer said: "I mix celebrities with politicians to show how indistinguishable they all are now.
"We have Donald Trump in the White House – it's not much different from having a Z-list celebrity in there."
http://platform.twitter.com/widgets.js