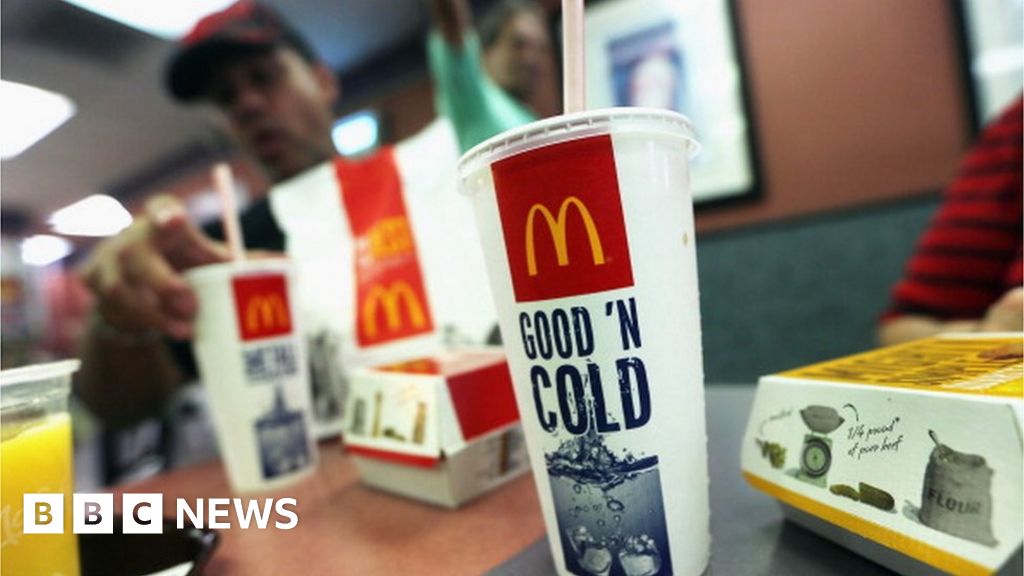 McDonald's is to face a vote by shareholders about its use of plastic straws at its annual meeting on Thursday.
A small shareholder is pressing the fast food giant to demonstrate "leadership in the elimination of plastic straws".
Keith Schnip wants the company to report on the risks to the business of continuing to use the straws.
But McDonald's says the move is "unnecessary" and "redundant".
Mr Schnip's proposal was published in an SEC filing in April. He argues that McDonald's could face a consumer backlash on environmental grounds.
"A growing global consumer movement opposes the use of plastic straws because of their contribution to waste and deleterious impacts on marine life." Mr Schnip's proposal said.
"A YouTube video of a plastic straw being removed from the nostril of a sea turtle has now been watched by over 15.8 million people. This 2015 video and the prevalence of plastic straws in marine waste have spurred consumers in the US, Canada and Europe to ask restaurants and concession vendors to be 'straw free.'"
Knockback
But the fast food giant urged shareholders to vote against the proposal.
"The requested report is unnecessary, redundant to our current practices and initiatives, and has the potential for a diversion of resources with no corresponding benefit to the company, our customers, and our shareholders," the McDonald's board said.
McDonald's position is that it already has a packaging goal that by 2025 "all of McDonald's guest packaging (including straws) will come from renewable, recycled or certified sources".
In the UK, the firm has said it will start to phase out the use of plastic straws.
There is growing consumer concern about the effects of plastic pollution, in part helped by TV programmes such as the BBC's Blue Planet II.
In April, more than 40 companies signed up to a pact to cut plastic pollution over the next seven years.