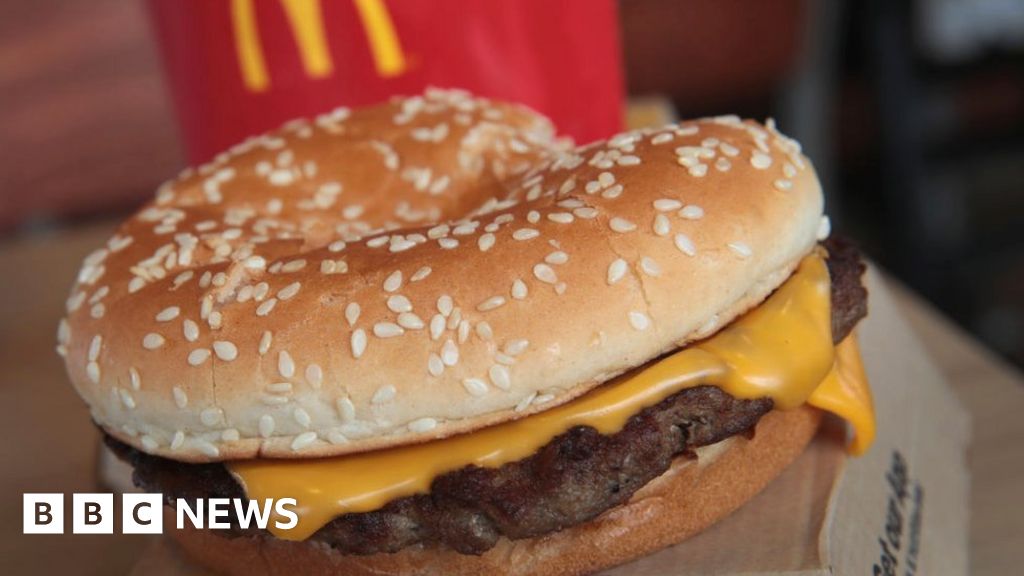 McDonald's Corp has reported strong sales in the first three months of the year, causing share prices to jump about 5% in morning trade in New York.
Profits increased 13% compared with the first quarter of 2017, hitting almost $1.38bn (£1bn).
International demand, including in the UK and Germany, helped to drive the growth, the fast food chain said.
The firm, which had faced tougher competition from new restaurant chains, has been working to win back customers.
It has introduced higher-end burger offerings, renovated restaurants, added more technology and switched to fresher ingredients as part of a turnaround plan that is showing signs of working.
Sales at McDonald's restaurants opened at least 13 months increased more than 5% in the first three months of the year, and guest counts rose almost 1% – the fifth consecutive quarter of rising customer visits, the firm said.
International growth
In the US, sales at such stores increased 2.9% year-on-year during the quarter, though guest counts declined.
In established international markets, such as the UK and Canada, comparable sales rose 7.8%.
"[This] shows the power of the brand… globally the numbers were outstanding," said Peter Saleh, an analyst with brokerage BTIG. "The results were very impressive, actually more impressive than we initially had anticipated."
Total revenue was $5.1bn, down 9% from the same period last year, a decline the firm said was due to its move to franchise more restaurants, rather than operate them directly.
Operating costs also fell, however, and McDonald's said it expected to add a net total of 600 restaurants this year around the globe.
Second wave of UK strikes
The UK is one of the strongest markets for McDonald's, reporting 12 years of consistent quarterly growth.
But the firm could face negative publicity in the UK this week as a second wave of strikes hits some of its restaurants.
It concerns a dispute over pay and conditions involving members of the Bakers, Food and Allied Workers Union.
Just 11 workers at five restaurants – in Manchester, Cambridge, Crayford, south-east London, and two in Watford – will walk out on 1 May. They are demanding a minimum salary of £10 per hour, an end to lower "youth rates" of pay and greater flexibility in working hours.
While the number is small, the first ever McDonald's UK strikes in September involved a similar number of workers and attracted widespread media attention.
A spokeswoman told the BBC: "Over the last three years, we have taken a number of additional steps to ensure McDonald's UK remains a great place to work.
"Since September 2015, we have made three significant pay moves, and maintained the many benefits we offer, from the great training, and development opportunities, to payment of overnight premiums, which so many businesses have taken from their people in recent times.
She added: "As promised last year, everyone has now been offered a minimum guaranteed hours contract.
"Despite this, around 80% of our people have selected to stay on flexible contracts because they value the opportunity to fit their work around their other commitments."
McDonald's owns or franchises more than 37,000 restaurants in 120 countries around the world.