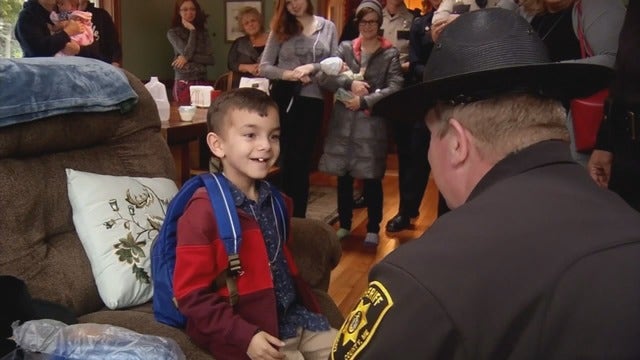 A Maine boy who wasn't supposed to live past April received a special escort to his final chemotherapy treatment last week from the officers that he always dreamed of joining on the force. Liam Silveira, 7, was diagnosed with high-grade glioma last year.
"He understands what's going on," Devin Silveira, Liam's mother, told WABI. "He knows his treatment. He knows the prognosis somewhat."
RARE 'POLIO-LIKE' ILLNESS DIAGNOSED IN 6 MINNESOTA KIDS 
High-grade gliomas account for 15 to 20 percent of all central nervous system tumors in children and are considered very difficult to treat, according to St. Baldrick's. Prognosis is poor for all types of high-grade gliomas due to the aggressive nature of the disease. Current treatments do not result in long-term survival rates, according to the organization.
Silveira said doctors predicted that Liam would not make it past April, but that he's continued to beat the odds.
"He's just going," she said.
'MIRACLE' TWINS HEAD HOME AFTER BEING INCREDIBLE ODDS
To mark the little boy's final chemotherapy treatment, members of the Penobscot County Sheriff's Office gave him a ride to the hospital and allowed him to use their radio.
"To see how strong he is as an individual is something that I admire," said Dan Gastia, a Bangor Police Department officer. "He's faced a lot of adversity through this and he's a strong individual."