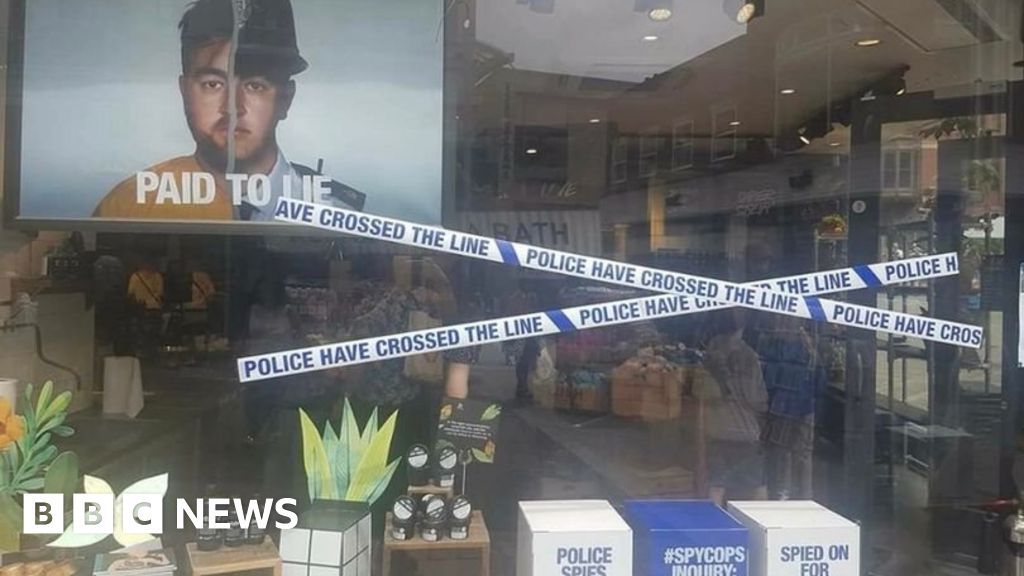 Cosmetics company Lush has been heavily criticised on social media for a campaign aimed at drawing attention to the so-called UK "spy cops" scandal.
Lush says it is highlighting "the ongoing undercover policing scandal, where officers have infiltrated the lives, homes and beds of activists."
Many on social media have accused the company of attacking the police and have called the campaign "disgusting".
But in response, Lush said it was not "an anti-police campaign".
Twitter account @UKCopHumour was one of the first to react to the campaign.
The account, which says it tries "to show the human side of our fantastic police officers", suggested Lush would no longer call on police if it ever needed them.
A public inquiry into claims of wrongdoing by undercover officers who infiltrated activist groups in England and Wales was set up in 2015.
Lush has said its campaign was designed to urge home secretary Sajid Javid to listen to campaigners who have accused the inquiry of protecting officers.
However, Che Donald, vice-chairman of the Police Federation of England and Wales, described the campaign as "very poorly thought out".
Mr Donald was one of those who used the hashtag #FlushLush when stating he would not use Lush products again.
The hashtag was used almost 2,000 times on Twitter in the first 12 hours after the campaign was launched.
A number of police officers have criticised the campaign, with one tweeting to say he was "heartbroken".
Christine Fulton who co-founded the charity Care Of Police Survivors (COPS) that supports the family of police offers who are killed on duty wrote that she was "appalled".
In response to another tweet, Lush wrote "To clear this up, this isn't an anti-police campaign, it's to highlight the abuse that people face when their lives have been infiltrated by undercover police."
In a statement released on its website, the Dorset-based company said: "Lush will be hosting a national campaign to raise awareness of the ongoing undercover policing scandal, where officers have infiltrated the lives, homes and beds of activists.
"The campaign will support the already active #SpyCops conversation and aims to highlight the current lack of progress of the Undercover Policing Inquiry and the granting of anonymity to key police witnesses."
The Lush UK Facebook page has received 19,000 negative reviews, mostly in the past 24 hours.
The Advertising Standards Authority tweeted to say it is "assessing the complaints" made against the Lush campaign and that the company is currently not under investigation.
Others were more sympathetic to Lush, but suggested the intention of the campaign may not be clear to the majority of people.
While the majority of reaction to the campaign has been negative. some on social media were supportive.
One Twitter user applauded the "brilliant, provocative and brave" campaign.
The campaign is set to run at all Lush shops in the UK until Sunday 17 June.