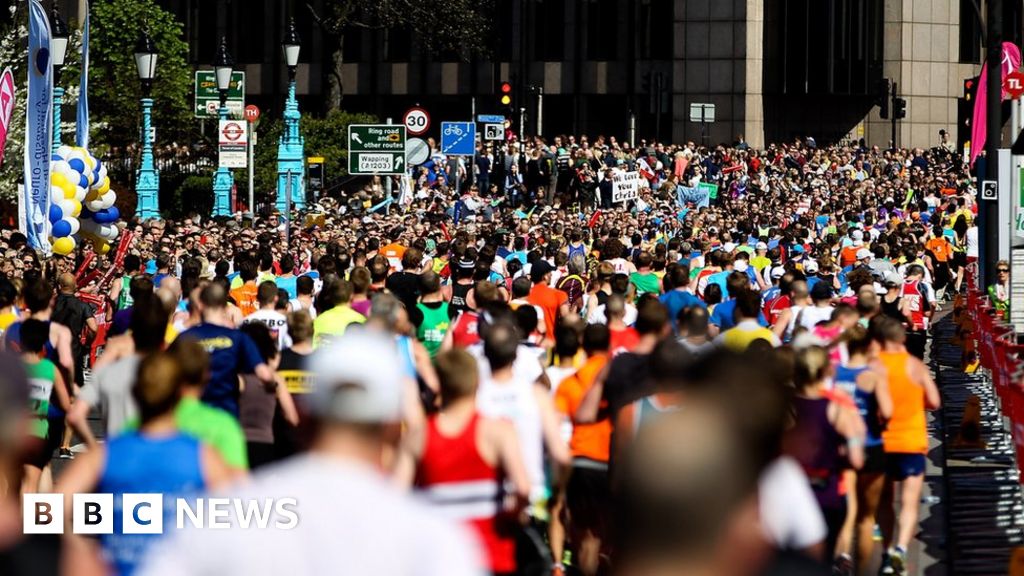 London Marathon organisers are trialling the use of compostable cups this weekend to try and reduce the amount of plastic bottles used.
90,000 of the recyclable cups will be put at three drink stations along the 26.2 mile (42.1km) route.
This is in addition to the 760,000 plastic bottles which will be in place for runners.
London Marathon told BBC Radio 5 live that it aims to recycle all plastic bottles after the race.
40,000 people will take part in the London Marathon on Sunday 22 April 2018.
Anyone who has taken part in such an event will have noticed the volumes of plastic bottles that line the curb sides.
And whilst drinking out of a bottle and chucking it to one side is socially unacceptable on the high street, it's part of the culture at big runs and triathlons.
But with an increased focus on plastics, race organisers have introduced an alternative for the first time.
High temperatures forecast
There's no question long distance runners need water. Temperatures for the race are forecast to be particularly high and organisers of any mass sporting event have a duty of care to those taking part.
A London Marathon spokesperson told BBC Radio 5 live's Wake Up to Money that there's no other way, apart from plastic bottles, to keep thousands of people hydrated in a short space of time:
"Plastic bottles that are recyclable and sent for recycling are currently the best solution for the distribution of water and sports drinks to the more than 40,000 runners, given the very short window of road closures in one of the world's busiest capital cities."
It's a challenge now facing other race organisers. Last month, residents in Brighton complained as plastic bottles dropped during the city's half marathon were blown into the sea.
Russell Seymour, chair of the British Association of Sustainable Sport (BASIS) said: "The best option for single-use plastic is to avoid using it in the first place, and this should be in place for 'mass spectator' events."
Duty of care
Mike Childs, a plastic-free campaigner for Friends of the Earth, told BBC Radio 5 live that "the compostable water cups being trialled have the potential to lessen the amount of plastic waste created by the marathon, but there are challenges when it comes to the correct collection and processing of these to ensure they have their full impact".
Yet Russell Seymour says that although reducing waste is important, he emphasises that the duty of care to participants must be a priority for race organisers.
London Marathon organisers said they will be conduction a detailed review after the event on Sunday.