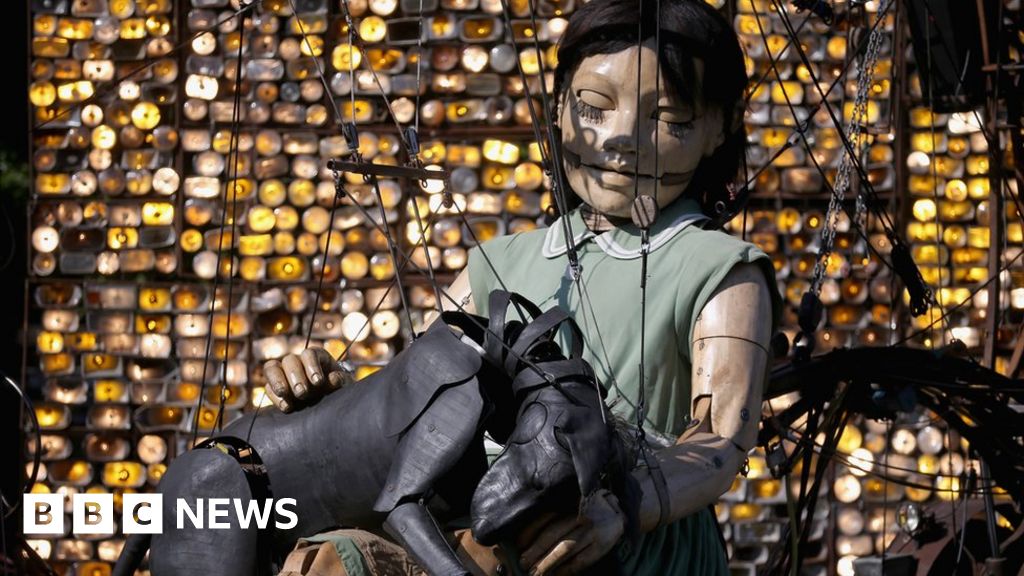 The Giants are to return to Liverpool later this year, four years after they were last in the city.
A free show named Liverpool Dreams will take place in the city and Wirral over four days from 4-7 October.
The event by French company Royal de Luxe will be the final part in a trilogy, following on from events in 2012 and 2014.
Liverpool mayor Joe Anderson said it will be "one of the great events that the city will talk about".
The event is part of Liverpool 2018, which marks the 10th anniversary of Liverpool's spell as European Capital of Culture.
The giants taking part in the performance will be announced soon, with the route to be revealed in September.
"It's about Liverpool; it's about Liverpool kids and dreaming for the future," Mr Anderson said.
Jean Luc Courcoult, founder and artistic director of Royal de Luxe, said: "The welcome we receive from the people of the city warms our hearts and we are excited about not only bringing a brand new story to Liverpool, but also to exploring beautiful Wirral for the first time."
Although it will be the Giants' last outing in Liverpool, Mr Anderson said it is "not the end of spectacular theatre in Liverpool, we will continue to push the boundaries in that regard."
The Giants first visited in 2012 for a production inspired by the Titanic which saw the Little Girl Giant travel through the city with her dog Xolo to meet the Diver.
They returned two years later as part of the city's World War One commemorations, where they were joined by the Grandmother giant in Memories of August 1914.
Analysis: Ian Youngs, BBC Entertainment Reporter
The Liverpool giants are an odd phenomenon. During their previous visits, these oversized wooden dolls brought swarms of people onto the streets – more in a day than would go to watch Liverpool and Everton combined.
The giants are like mysterious, magical visitors from another world – they are Gulliver's family and Liverpool is Lilliput.
Their facial expressions, their eyes, their gestures, all seem so realistic that you hardly notice the cranes that are holding them up, and are only vaguely aware of the army of helpers who are swinging off ropes to make them move.
It's the best kind of culture – the kind that brings people together in the heart of their city. Let's just hope the weather in October is good enough to make it worth getting out to watch these strange creatures once again.
Liverpool's first foray into large-scale performance art was in 2008 when a giant spider appeared on a building next to Liverpool Lime Street as part of the Capital of Culture celebrations.
The first event in 2012 brought in £32m to the local economy and the 2014 show generated £46m, the council said.