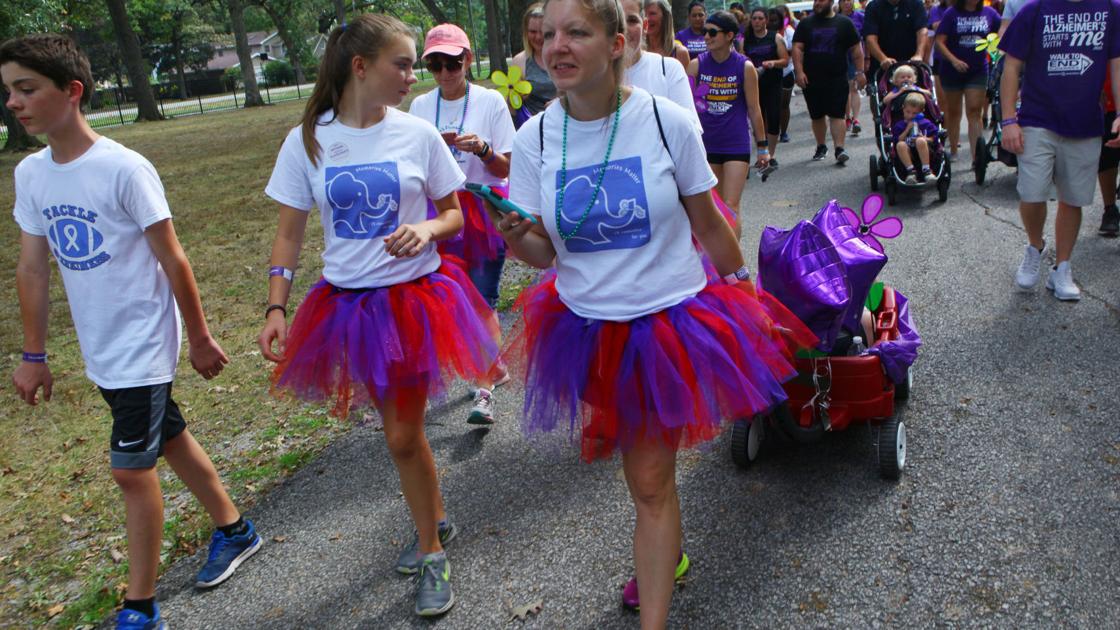 The annual Northwest Indiana Alzheimer's walk will be held Sunday in Crown Point, where the Alzheimer's Association aims to raise funds to support families dealing with the disease and hopefully find a cure for it.
"A big part of what we do is working toward advancing that vision of a day where Alzheimer's is treatable and where there's a way to slow or stop or prevent the disease," said Natalie Sutton, chapter executive for the Greater Indiana Chapter of the Alzheimer's Association.
Last year's Walk to End Alzheimer's Lake County had about 1,000 participants and raised more than $129,000, while the goal for 2018 is $150,000. Already, more than 500 people have signed up for Sunday's event.
At the Promise Garden ceremony before the walk, participants display colors that represent their connection to Alzheimer's. Blue is for people with the disease, yellow is for caregivers, purple is for someone who has lost a loved one to Alzheimer's, and orange is a supporter with no personal connection.
"Last year for the first time we introduced into the opening ceremony a white flower to represent the first survivor of Alzheimer's," Sutton said. "We hope one day we can add a white flower to that garden."
More than 5 million Americans are living with Alzheimer's, which is the sixth-leading cause of death in the U.S. In Indiana, more than 110,000 people have the disease and are tended to by 380,000 unpaid caregivers.
Part of the money raised at the walk funds the Alzheimer's helpline (800-272-3900), which is available 24/7. "Problems don't always arise from 9 to 5, during business hours," Sutton noted.
The funding also helps the 65 support groups that operate around the state, as well as local social workers who assist families directly.
The dollars go toward research into new treatments and potential cures for Alzheimer's disease. The Alzheimer's Association is the world's third-largest funding source of Alzheimer's research, behind only the governments of the U.S. and China.
At a recent conference, Sutton said she saw experts talking about such potential treatments as immunotherapy and attacking the amyloid in the brain, as well research into prevention, such as lifestyle adjustments and a possible link between certain viruses and Alzheimer's.
Other recent research is investigating whether treating blood pressure early in life can reduce the risk of dementia and other cognitive impairments later on, Sutton said. Also, a promising new treatment is in its second phase of testing (though it would likely be years before it hits pharmacists' shelves).
"There's no current way to slow, stop or prevent Alzheimer's disease," Sutton said. "Our model is we're investing in research so we can shorten the timeline to where the disease can be stopped. And it's a challenging patient journey, so we're not forgetting the people who need us today while we're investing in finding a cure."