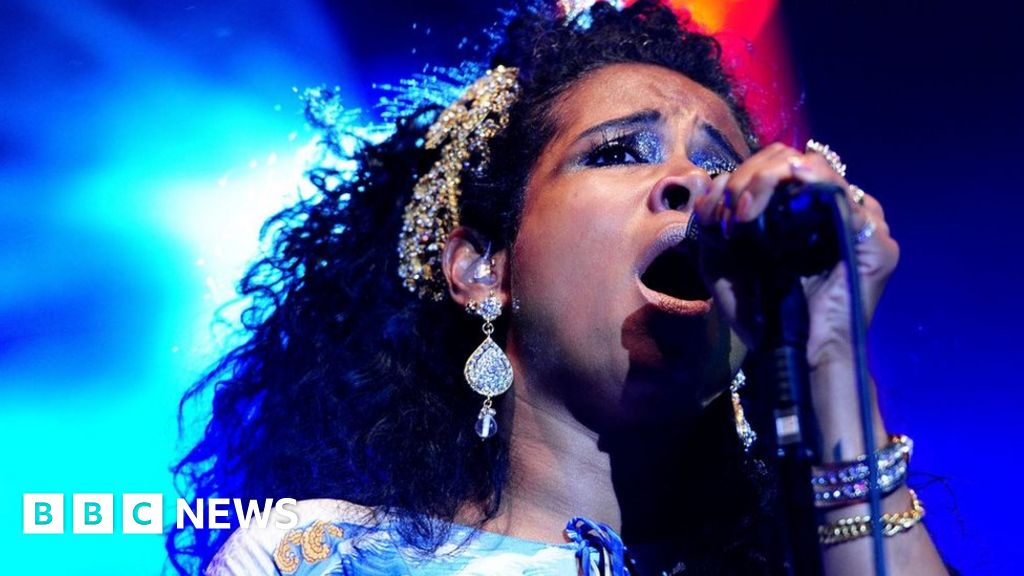 Pop star Kelis has claimed she was mentally and physically abused during her five-year marriage to rapper Nas.
In an hour-long interview, Kelis said the couple frequently traded blows, with Nas sometimes drinking heavily before becoming violent.
"I'm not afraid to throw a punch, but I wouldn't have started it," she told Hollywood Unlocked. "I was never that angry. He was angry. He was dark and he's always been that way."
Nas hasn't responded to her comments.
When Kelis and Nas married in 2005, they were hailed as hip-hop royalty – his debut Illmatic is considered one of hip-hop's classic albums, while she scored era-defining, trend-setting hits with Milkshake, Trick Me and Caught Out There.
But behind the scenes, their relationship was "tumultuous and toxic", Kelis said, with both sides becoming violent.
"I've never painted myself as a saint," she said. "I never just sat there. Did he hit me? Mmm-hm. Did I hit him back? Mmm-hm."
The star, now 44, said a pivotal point in their relationship came when details emerged of Rihanna's abuse at the hands of Chris Brown in 2009.
"I remember so clearly when the pictures came out," she said. "And the only way I can describe it was like double-dutch.
"I felt like, 'Do I jump in? Do I say it?' Cause I had bruises all over my body at that time.
"Seeing her, the way she looked, and then looking at myself. I was embarrassed."
'I stayed for years'
Ultimately, however, she decided not to reveal her own story.
"I wasn't ready to walk. I just wasn't," she told Hollywood Unlocked's Jason Lee.
"I'm not weak. I'm really private. I don't want people in my business. I felt like, 'This is my partner. I chose this. I'm going to make it work.' I stayed for years after that."
The decision to leave eventually came when she became pregnant with her first child, Knight.
"At seven months pregnant, I was terrified. I was like, 'I can't bring a person into this. This is a mess,'" she said.
"I probably would have stayed longer had I not been pregnant."
The singer filed for divorce over "irreconcilable differences" in April 2009 and gave birth that July. In less than a year, their divorce was finalised.
'My life is good'
The couple are currently in the middle of a protracted custody battle over Knight, focusing on visitation rights.
Kelis remarried in 2014 and has a two-year-old son, Shepherd, with estate agent Mike Mora.
"I moved on," she said. "I'm married. I have another baby. My life is good."
The star said she had decided to share her story in the hope it would help other women confront their own experiences of abuse.
"Women can't be afraid to fight," she said. "I have edited myself for nine years and I woke up this morning and said, 'Not today.'"
Nas's spokesperson has not responded to a request for a comment.
Follow us on Facebook, on Twitter @BBCNewsEnts, or on Instagram at bbcnewsents. If you have a story suggestion email entertainment.news@bbc.co.uk.