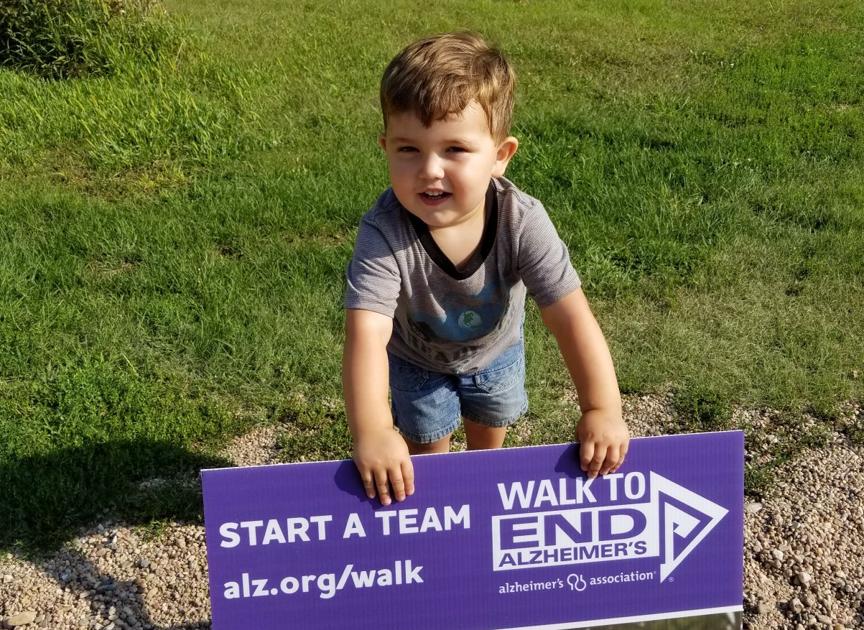 KEARNEY — Barb Turner and her brother Bobby know all too well about the devastation of Alzheimer's disease.
In 2015, it took their father Robert, who opened Turner Body Shop in Kearney in 1969.
"Once Alzheimer's hits your family, the cause becomes more important. It shouldn't be that way, but it is," Barb said.
That's why, for the fourth year, the Turners are donating a colorful pedal car to be raffled at the Walk to End Alzheimer's, the seventh annual fundraiser for the Alzheimer's Association.
The event begins at 2 p.m. Sept. 16 at Yanney Park at 2020 W. 11th St. It's free and will be held rain or shine; only tornadoes and lightning will postpone it. Preregistration is not required.
"Everyone knows someone touched by Alzheimer's," said Cassie Larreau, development specialist of the Alzheimer's Association in central and western Nebraska. Alzheimer's is just one of 200 types of dementia, but it accounts for 70 percent of diagnosed dementia cases. "Dementia is not part of the normal aging process," Larreau said.
A slow decline turns rapid
The Turners also know that all too well.
They now realize that their father's Alzheimer's symptoms started three years before his death, but their mother hid his deteriorating condition. "She'd ride with Dad and tell him where to go," Bobby said. "Then she died."
Slowly, then rapidly, they began to notice little quirks.
"One time he went to get pizza but he couldn't find the pizza place. He didn't know who we were. Once he thought my oldest sister was my mom. I was his brother one day, but the next day, he didn't know me at all," Bobby said. "With Alzheimer's, it's kind of a slow process at first, and then all of a sudden it gets progressively worse much faster."
As he worsened, Bobby realized that "whether he says he has 250 head of cattle or 250 cars, you have to agree with them on everything. It's hard, but you have to learn to lie. I'd never seen my dad mad until he got Alzheimer's."
After Robert died, Bobby and Barb, who are co-owners of Turner Body Shop along with Barb's son Tony, decided to donate a pedal car to the annual Alzheimer's fundraiser. It's a gesture they began in 2012 for Concrete Cares of Nebraska, a nonprofit that benefits cancer patients. They purchase a pedal car, decorate it and donate it to help raise money. "This is just what we do," Barb said.
Numbers skyrocket
So far, nobody ever has survived Alzheimer's disease. That's why the theme of the Sept. 16 walk is "Join the fight for Alzheimer's first survivor."
This year's estimate indicates that more than 34,000 Nebraskans are living with Alzheimers. About 4,600 people between the ages of 65-74 are afflicted, as are 14,000 people between 75-84, and 16,000 people over 85.
By the year 2025, those numbers are expected to rise more than 17 percent toward 40,500 Nebraskans.
Last year, Alzheimer's claimed 598 lives and was the sixth-leading cause of death in Nebraska.
Kearney is working hard to change that trend.
Since 2012, Apple Market at 7 W. 25th St. has raised from $2,000 to $3,000 each year by asking customers to donate $1 to the cause. So far, since Aug. 27, $800 has been raised, according to Kathy Shearer, office manager. Donations will be accepted through Sept. 23. For every donation, a flower is posted in the window of the Apple Market customer service center.
"We've done it since the walk started here in 2012. The Alzheimer's Association is just a good organization," Shearer said.
Rising support
Dollars from the Walk to End Alzheimer's event have multiplied since it began in 2012. Held on a weekday evening then, it raised $21,000 in each of its first two years. In 2014, Susie Peterson, the organization's new executive director, added food and fun and brought in $40,1356.
"Susie was instrumental in growing our event and building community partnership and outreach," Larreau said. Peterson now is executive director at CountryHouse residence, a memory care facility in northeast Kearney.
In 2016, the year Larreau took the job, the walk raised $43,000. Last year, the total was $50,000. This year's goal is $53,000. The group aims for a growth rate of about 15 percent each year, she said.
Last year, Baldwin Filters' parent company ClarCor gave a sizeable one-time gift, "so we adjusted our expectations accordingly. It is very important for us to set realistic goals, but it would be wonderful to have a gift like that again," she said.
Those totals are all the more impressive considering the size of the Kearney community.
"We raised $50,000 in a city of 33,000 people. Lincoln raises $175,000 to $200,000 every year, but its population is 280,000. This is truly a testament to the association's effectiveness in reaching our constituents," Larreau said.
The money goes for research. It also assists people who care for someone with Alzheimer's.
"We want to help teams understand how that $500 they raised truly helps caregivers and the community," Larreau said. No more than 6 percent of its funds are spent on administrative fees, leaving 94 percent for research and other efforts.
Volunteers instrumental
Planning for the September fundraising event begins in January as she recruits sponsors, sets up committees, works with team captains and shares fundraising ideas. She can't say enough about her 15-member volunteer board, which includes retirees, physical therapists, business owners and employees from long-term care facilities. "Volunteers do the majority of the planning for the walk," she said. "They know what works best in our community."
Larreau also needs volunteer coordinators, office workers, "people who would be good support-group facilitators and provide education. People who can speak on different subjects," she said. Students from the University of Nebraska at Kearney volunteer, too.
Larreau's area covers central and western Nebraska, including Hastings, Grand Island, North Platte and Kearney. This year, Minden, Holdrege and Amherst will be part of the Kearney event, too. "Sometimes, smaller places tend to be underserved. We want to bring them out and find out what resources they need," she said.