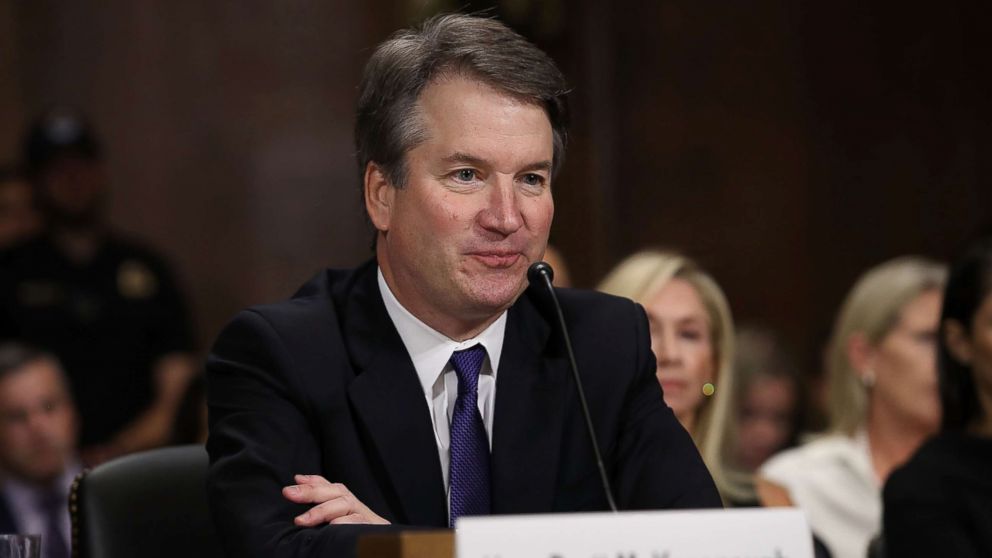 After weeks of high-stakes political and human drama, it appears Brett Kavanaugh's confirmation to the Supreme Court is all-but-assured when the full Senate takes a final vote Saturday afternoon.
The victory could allow President Donald Trump to make good on a key campaign promise to turn the court more conservative for generations.
Barring an eleventh-hour development, Kavanaugh's confirmation all but became a done deal on Friday afternoon when Maine Republican Sen. Susan Collins, a key undecided vote, announced on the Senate floor that, despite allegations of sexual assault and misconduct against him, "I will vote to confirm Judge Kavanaugh."
Just hours earlier, with his fate still uncertain, the full Senate had voted 51-49 to end debate and advance the nomination, after an additional FBI investigation seemed to turn nothing to corroborate the allegations.
"This is not a criminal trial, and I do not believe that claims such as these need to be proved beyond a reasonable doubt," Collins said in a lengthy speech defending her decision.
The Maine moderate Republican faced heavy political pressure, including from women who came down from her home state and demanded that she side with Kavanaugh's chief accuser, California professor Christine Blasey Ford, who claimed that a drunken Kavanaugh had attacked her at a party decades ago when they were both in high school in suburban Maryland.
"Nevertheless," Collins continued, "fairness would dictate that the claims at least should meet a threshold of more likely than not as our standard. The facts presented do not mean that president — that professor Ford was not sexually assaulted that night or at some other time, but they do lead me to conclude that the allegations fail to meet the more likely than not standard."
"Therefore," she said, "I do not believe that these charges can fairly prevent judge Kavanaugh from serving on the court."
Sen. Susan Collins will vote to confirm Brett Kavanaugh, saying she hopes he "will work to lessen the divisions in the Supreme Court, so that we have far fewer 5-4 decisions, and so that public confidence…in our highest court is restored." https://t.co/x6jxBAPeW3 pic.twitter.com/tXL7P6s50G

— ABC News (@ABC) October 5, 2018
Collins was quickly followed by West Virginia Democratic Sen. Joe Manchin, another key undecided vote, who issued a statement saying he, too, would vote "yes" on Kavanaugh, apparently giving Senate Republican Leader Mitch McConnell the support he needs to get Kavanaugh confirmed, even if by one of the narrowest margins in history for a high court nominee.
Manchin, a red state Democrat in a close re-election fight, said that while he had "reservations' given the accusations, he did what was "best for West Virginia," persuaded Kavanaugh will "follow the Constitution." Protesters shouted "shame" at him as he tried to board an elevator near his office.
Arizona Republican Sen. Jeff Flake, also a key vote, voted "yes" to move forward, but Collins' fellow Republican, Sen. Lisa Murkowski of Alaska, split from her party to vote "no."
Explaining why to reporters, Murkowski said, "I believe we're dealing with issues right now that are bigger than the nominee and how we ensure fairness and how our legislative and judicial branch can continue to be respected. This is what I have been wrestling with, and so I made the — took the very difficult vote that I did."
"I believe Brett Kavanaugh's a good man. It just may be that in my view he's not the right man for the court at this time, " she said."
Although protests on Capitol Hill and in front of the Supreme Court were expected to continue ahead of Saturday's vote, Democrats seemed to concede defeat, and after the long, bitter fight, reaction on both sides was relatively muted.
Democratic Sen. Amy Klobuchar, who Kavanaugh famously tangled with when she asked whether he had ever blacked out from heavy drinking, spoke out to Ford from the Senate floor.
"This may not end up the way you want and may not feel worth it. There's one reason it was worth it: The American people learned something."
She said Ford had caused a "seismic change" in the country's thinking about sexual assault, ending by quoting the title of a song by Bob Dylan, a fellow Minnesotan. "The times they are a'changin," she said.
The president, who had been roundly criticized for mocking Ford just days before, kept his immediate comments to a minimum, tweeting he was "very proud of the U.S. Senate."
Very proud of the U.S. Senate for voting "YES" to advance the nomination of Judge Brett Kavanaugh!

— Donald J. Trump (@realDonaldTrump) October 5, 2018
White House press secretary Sarah Sanders tweeted, "Thank you @SenatorCollins for standing by your convictions and doing the right thing to confirm Judge Kavanaugh."
Thank you @SenatorCollins for standing by your convictions and doing the right thing to confirm Judge Kavanaugh.

— Sarah Sanders (@PressSec) October 5, 2018
Ford's attorneys said their client has no regrets.
"I think she feels good about the fact that she came forward and did what she felt strongly was her civic duty to do — which is to provide the information she had to the Judiciary Committee so that they could make a better decision a more informed decision," her attorney Lisa Banks told ABC News' Congressional Correspondent Mary Bruce.
Will she ever be able to live a normal life again? Bruce asked.
"She's going to go back to teaching. She loves being a teacher. She's very good at it," attorney Debra Katz said. "And she's looking forward to getting back to her family and her friends and her job. And we continue this fight, we continue to look for corroborating evidence against Judge Kavanaugh."
http://platform.twitter.com/widgets.js