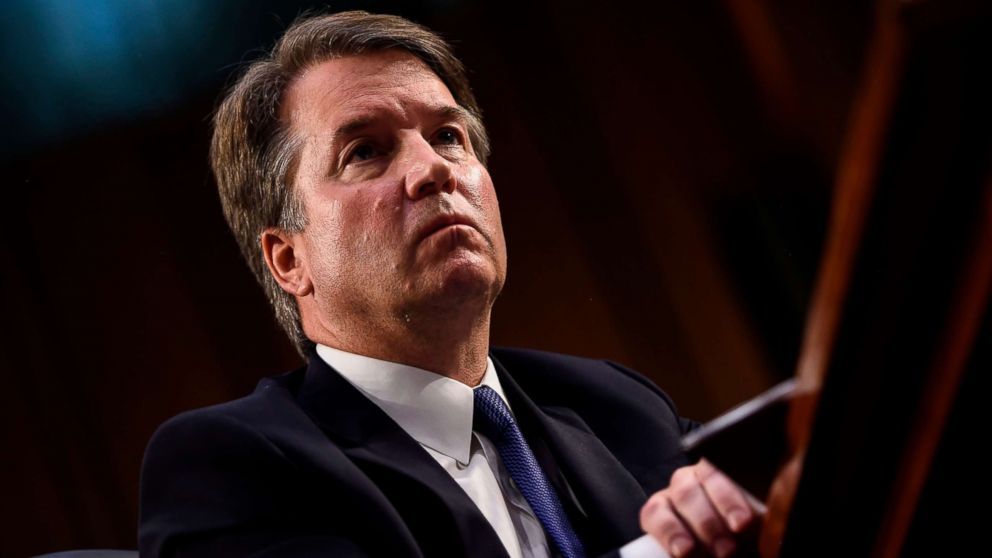 The California professor who has accused Supreme Court nominee Brett Kavanaugh of sexual assault has reached an agreement with the Senate Judiciary Committee on some details of her upcoming testimony, but not on who will question her.
Interested in
Supreme Court?
Add Supreme Court as an interest to stay up to date on the latest Supreme Court news, video, and analysis from ABC News.
Christine Blasey Ford's attorneys issued a statement Sunday after achieving what they described as "important progress on our call this morning with Senate Judiciary Committee staff members."
The hearing will be open and will start at 10 a.m. Thursday.
"Despite actual threats to her safety and her life, Dr. Ford believes it is important for senators to hear directly from her about the sexual assault committed against her," the lawyers' statement reads.
Kavanaugh has strongly denied Ford's accusation, calling it "a completely false allegation."
In addition, a source familiar with the conversation between Ford's attorney's and committee staffers told ABC News that although Ford's lawyers want Kavanaugh to testify before her they accept the committee leadership's position that the Supreme Court nominee will be heard after his accuser.
Among the issues still outstanding is who will ask Ford questions, whether it will be senators or staff attorneys, her lawyers said in their statement. Having legal staff — likely women — question Ford could avoid the optics of Republican committee members, who are all male, questioning her.
"We were told no decision has been made on this important issue, even though various senators have been dismissive of her account and should have to shoulder their responsibility to ask her questions," Ford's lawyers said.
The committee has decided not to subpoena other witnesses whom Ford's legal team wanted to testify, including Mark Judge, who Ford says witnessed the assault, according to Ford's attorneys. They said the panel "refused to invite other witnesses who are essential for a fair hearing that arrives at the truth about the sexual assault."
Committee Chairman Chuck Grassley, R-Iowa, has said committee leaders have been reasonable in negotiating with Ford's lawyers.
Prior to the two sides reaching agreement on an open hearing, Grassley said on Twitter that Ford could speak to the committee in any format she liked.
We're going to continue to try to hear from Dr. Ford in any format she's comfortable w open session/closed session/private staff interviews/public staff interviews bc her information is very important. We've provided an opportunity for her to put her story fwd on Monday 2/4

— ChuckGrassley (@ChuckGrassley) September 19, 2018
The committee leadership and Ford's lawyers have also agreed that her attorneys can be seated at the table with her during her testimony, according to the source. And a security detail has been assigned to protect her.
Ford, 51, a psychology professor, claims Kavanaugh assaulted her at a house party in Montgomery County, Maryland, around 1982 when he was a 17-year-old student at Georgetown Prep in North Bethesda, Maryland, and she was attending all-girl Holton Arms School in Bethesda.
In an interview with The Washington Post, published a week ago, Ford claimed that Kavanaugh and another male teen, whom she identified as Mark Judge — both "stumbling drunk" — cornered her in a bedroom and Kavanaugh pinned her on her back on a bed.
She said Judge watched as Kavanaugh groped her over her clothes and attempted to remove her clothes and the one-piece bathing suit she was wearing underneath, according to the Post. Ford said that when she tried to scream, Kavanaugh put his hand over her mouth. She said she managed to escape when Judge piled on top of them, sending the three tumbling.
Judge Brett Kavanaugh is a fine man, with an impeccable reputation, who is under assault by radical left wing politicians who don't want to know the answers, they just want to destroy and delay. Facts don't matter. I go through this with them every single day in D.C.

— Donald J. Trump (@realDonaldTrump) September 21, 2018
President Trump weighed in last week, questioning why Ford or her parents had not gone to authorities when the alleged assault happened 36 years ago.
I have no doubt that, if the attack on Dr. Ford was as bad as she says, charges would have been immediately filed with local Law Enforcement Authorities by either her or her loving parents. I ask that she bring those filings forward so that we can learn date, time, and place!

— Donald J. Trump (@realDonaldTrump) September 21, 2018
He has also continued to praise Kavanaugh, calling him "a fine man, with an impeccable reputation, who is under assault by radical left wing politicians who don't want to know the answers, they just want to destroy and delay."
Kavanaugh issued a statement saying, "I categorically and unequivocally deny this allegation."
"I did not do this back in high school or at any time," he said.
ABC News' Trish Turner contributed to this report.
http://platform.twitter.com/widgets.js