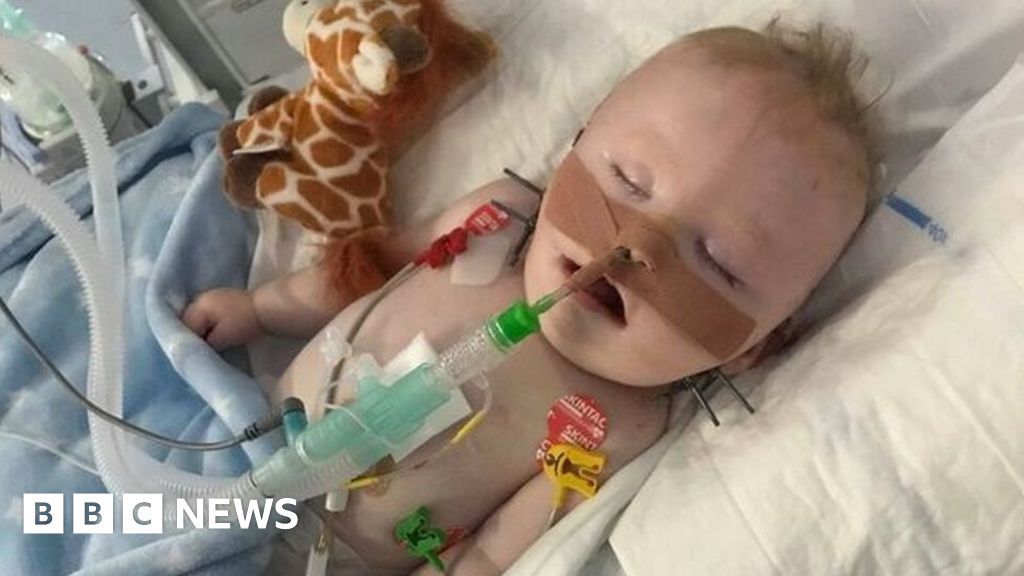 Noah Connell from Glasgow has a rare condition which could have stopped him from breathing.
Doctors have carried out an operation on him that has never been carried out on a person so young in the UK.
It involved inserting metal plates and pins into his jaw because he could not eat or breath properly.
His parents have told BBC Scotland the way Noah has coped with his condition has been an "inspiration".
Rare medical condition
He turns one on Saturday, but his family say they will be celebrating so much more than his first milestone birthday.
The baby, from Robroyston in Glasgow, was born with a rare medical condition called Hemifacial Microsomia, which means the lower half of his face did not form properly.
He also has Pierre Robin syndrome – a congenital condition of facial abnormalities which causes problems with feeding and breathing.
Surgeons were considering carrying out a tracheostomy, where a hole would be cut into his throat, but the maxillofacial team at the Royal Hospital for Children in Glasgow had other ideas.
They wanted to try a different operation, one which would insert metal plates into his mouth to reform his jaw.
The procedure is so rare that the "scaffolding" had to be sourced from the USA and Germany.
Noah's parents Jade Gordon, 19, and Kieran Connell, 17, have been speaking about what their son has been through on the BBC Radio Scotland's Kaye Adams programme.
Jade was launched into the whirlwind of parenthood unexpectedly, because she did not know she was pregnant until she went into labour.
Genetic testing
Kieran said: "It wasn't a bad thing. It was just a shocker when he was born."
The birth of a child with special needs changed the young couple's lives completely; Kieran had to leave school and Jade had to leave college.
Jade added: "The first couple of days he was in an incubator, then after that the consultants said they'd have to do genetic testing.
"They thought it was a condition called Pierre Robin, where the jaw is tiny and pushed right back, and it was restricting his breathing."
"He had a floppy airway, and the maxillofacial team decided they could operate at four weeks old, which is very young. You're meant to be six months old.
"The operation was five hours long. They broke his jaw in three places, put plates in, and pins behind his ear, and me and Kieran had to turn his face with a screwdriver for three weeks."
"That worked well, but he still couldn't swallow safely."
Then in January, Noah caught the Australian Flu. That is when his medical team discovered he was not getting enough oxygen at night.
Several more operations followed to try and keep his airways open, including one only last week to fix a metal plate which had moved.
That is also when doctors discovered he is missing the C1 to C5 vertebrae of his spine. He cannot sit up unaided, but his parents say it is not affecting other parts of his development.
Kieran said: "He's really happy all the time. He's got a brilliant personality. He laughs all the time. He's not developing 'normally', but it's our normal."
"Normal to us"
Jade added: "He loves the films Trolls and Moana and he loves Celtic. He's a big fan, and is glued to the telly when they're playing."
"He's thriving. The future's still…we've been told to take one day at a time…don't plan too far ahead.
"But Noah's healthy to us, he's normal to us. That's our baby, so we'll just keep going on. He's an inspiration. He doesn't moan about anything."
The couple say people do stare at Noah when they're out and about, but say that is because he is different.
"We'd rather people came to us and asked us what's wrong with him. We're all about raising awareness. It's a very rare condition he's got," Kieran added.
They also say they really appreciate it when people react positively to their son.