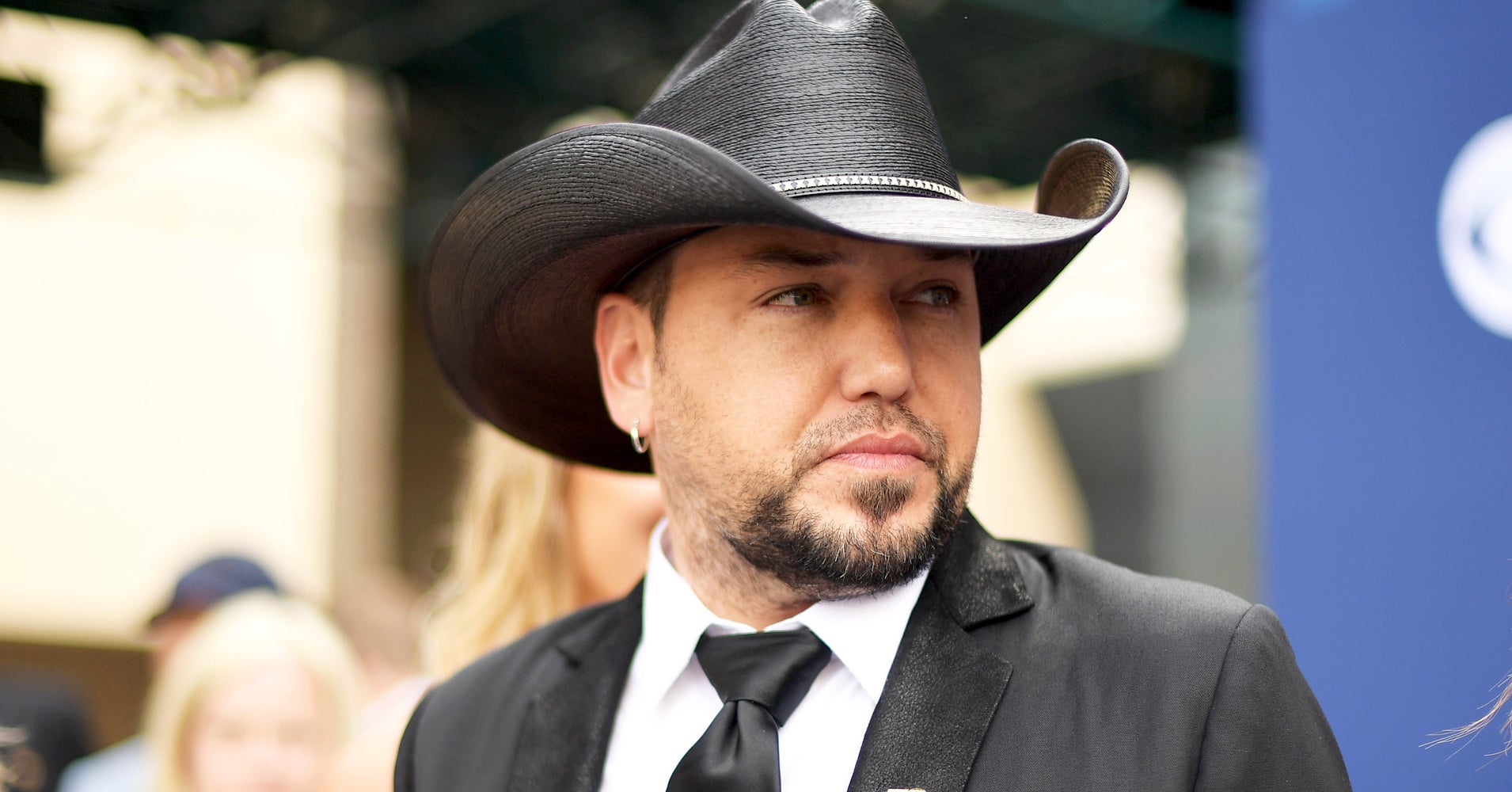 The country star will often listen to his music over and over, or watch tapings of his performances.
"I pick all my stuff apart. I listen to it a lot. But I do that with everything," Aldean told HuffPost. If we have a live performance on TV, I go back and watch it and go, 'I should have done this different or that different. Or I should have done this here.' I analyze everything." 

Aldean did that with his new album, "Rearview Town," released on Friday. The title track, in particular, is one he analyzed a lot before releasing it. Though, now it appears he listens to it more for enjoyment that anything else. He likes its relatable premise about "leaving your hometown and putting the past behind you and moving on to something else down the road that maybe you couldn't achieve in your hometown."
For his eighth studio album, Aldean wanted to "push the envelope," similar to what he did with his self-titled debut in 2005. 
"Early on in my career when we would make records we had a little bit of an 'anything goes' mentality as far as songs, and finding songs that let us step outside the box — from what everybody else was doing," he said. "I think on the last couple of albums we played it safe … I just wanted to get back to finding and recording songs where people would never know what's going to come next."
The new set of 15 songs includes a mix of sounds ranging from country and blues to rock and hip-hop. It also features an appearance by Miranda Lambert on "Drowns the Whiskey." The two previously collaborated on "Grown Woman" from Aldean's 2007 sophomore effort. The trickiest part this time involved making sure he found the right track to introduce to Lambert.
"I actually sent her a song before I sent her 'Drowns the Whiskey,' and she just wasn't loving it. She didn't hate it. She didn't love it. I told her if you're going to sing on it, I want it to be something that you really like," Aldean recalled.

Luckily, Lambert fell in love with "Drowns the Whiskey." It's a more traditional song ― something right in her wheelhouse, Aldean said.
"One thing a lot of people don't know about her is that she's a really great harmony singer. Like really good," Aldean said. "She doesn't necessarily sing it  like if I brought in a background singer. But that's what makes it cool. It's very stylistic, and you can tell that it's her. We had her come in and cranked her into the mix and it sounded great. Highlight of the record for sure."
This album is Aldean's first release since the Route 91 Harvest Festival in Las Vegas in October. Aldean was performing onstage at the country music fest when a gunman started shooting from a nearby hotel room, killing 58 people and injuring hundreds. It was the nation's deadliest mass shooting in modern history.
Although the new songs were neither influenced nor inspired by Vegas (he completed them prior to Route 91), Aldean does mention the victims and survivors of the massacre in the liner notes; he doesn't want people to forget what happened that night. 
I think about those people every day, and that night, I still think about all the time."
"I feel like a lot of times it becomes less and less of a headline as times goes on. For me, it was a way to acknowledge people that were there and let them know that a lot of time has passed now, but it's still something I think about. I think about those people every day, and that night, I still think about all the time."
In the days after the shooting, Aldean visited hospitals and met with survivors, something that impacts him to this day.
"I don't think you can go through something like that and have it not change you. It's a life-altering kind of thing. It made me view a lot of things differently," he said. "I think going and talking to some of the victims and their families and seeing the spirit that those people had was pretty amazing to see. I was going through my own stuff in private and dealing with all of it. But to go talk to all the people and see the way they were dealing with it — that had been shot. They were in great spirits and just glad to be alive. I was like, 'Oh man, maybe I'm looking at this all wrong.' It really helped me have a different view on it. But it's tough. I don't know if you ever really get over it. Hopefully it gets better."
Since the Vegas shooting, a lot of talk has surrounded gun control ― with eyes on the country music community. Aldean, a gun owner himself, recently said it's too easy to get guns.
"When you can walk in somewhere and you can get one in five minutes, do a background check that takes five minutes, like how in-depth is that background check? Those are the issues I have. It's not necessarily the guns themselves or that I don't think people should have guns," he told The Associated Press. "I have a lot of them."
But when pressed on the hot-button gun debate during our interview, Aldean didn't want to elaborate. 
"I feel like it gets taken out of context, and the headline becomes that I speak out on gun control. … I'm not saying that people should have their guns taken away," he said. "Because I don't think that. It's just one of those things ― it's like a no-win. For me, I've said my piece on that and people can take it for what they want to."
With that, Aldean wants to focus on his new music and his return to the stage, with a major tour kicking off in May. Playing live is still where he feels most at ease.
"I know I'm not the best singer," Aldean, ever the self-critic, said. "That's my thing ― you put me onstage and you put me in front of people, that's where I'm comfortable." 
Now, more than a decade into his career, Aldean continues to attract a large audience. Over the weekend, he returned to Las Vegas for the Academy of Country Music Awards, where he took home Entertainer of the Year for the third consecutive time. 
"I feel like I'm able to pick songs that work for me," he said about his success, adding, "and being able to work hard when you do get the opportunities and take advantage of things and be able to sustain it."