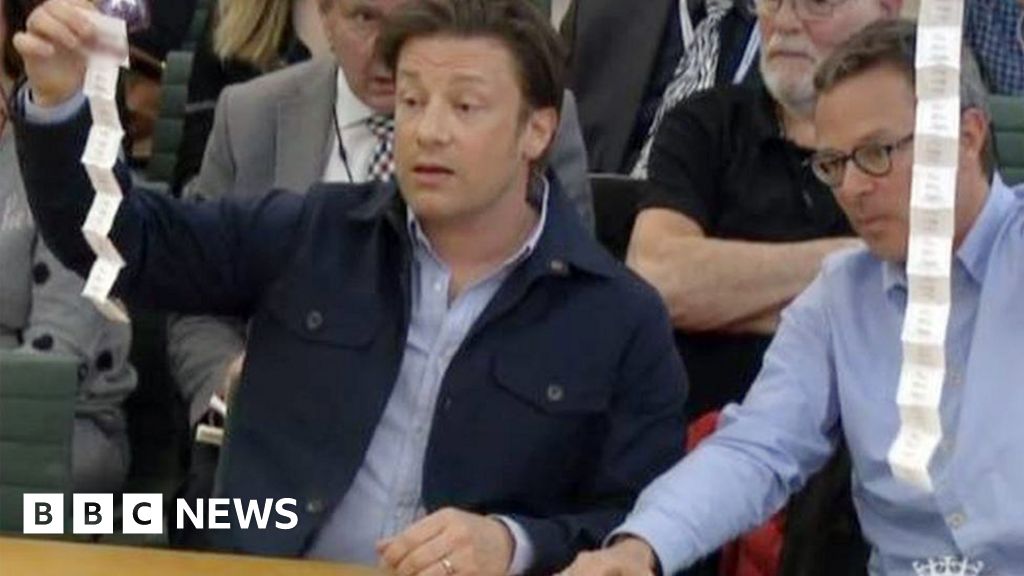 Jamie Oliver has told a select committee that more taxation is not the way to curb the UK's obesity epidemic.
Mr Oliver and fellow celebrity chef Hugh Fearnley-Whittingstall were giving evidence to the Health and Social Care Select Committee.
They showed how the sugar tax had helped cut sugar in drinks by holding up the number of sachets in one drink before and after the tax.
But Mr Oliver said: "I think the tax whip should be used very sparingly."
Mr Oliver and Mr Fearnley-Whittingstall then showed the committee two sweet milk-based drinks that respectively contained nine and 10 teaspoons of sugar.
Talking about the sugar tax, Mr Oliver said: "There is some logic to opening it out to milk products, which are jam-packed with additives and sugar and they're currently outside of that taxing."
He also said the money raised by the tax was being put to good use.
"I fought tooth and nail for the monies from this tax to be a progressive force for good," he said.
"This money was ring-fenced and something like a quarter of a billion pounds is going into schools for breakfast clubs and new sports, and that feels pretty good.
"This is a tax for good – it is designed to give to the most disadvantaged communities."
Mr Oliver said: "I believe in the British people – that when you give them good clear information, they largely make brilliant choices.
"What happens is we keep talking about the concept of choice when we largely haven't got choice."
He said people who used vending machines, petrol stations or supermarkets in poor areas that sold only unhealthy products had no choice over what they could eat.
"Even 50-50 would be fair. So even if there was legislation that says for every deal you do on junk food, there's one for fresh food, that would be fair. And we haven't even got that clarity yet."
Five a day
Mr Fearnley-Whittingstall is currently presenting the BBC One series Britain's Fat Fight in which he looks at why Britain is the most obese country in Western Europe and what can be done about it.
He voiced concern at the small amounts of food and vegetables being eaten by people – nowhere near the recommended "five a day".
"Fruit sales are gently on the up in the UK – but vegetable sales are declining and that is a serious worry," he told the committee.
"Ofsted needs to assess the quality of school meals and the quality of food education.
"When less than 0.2% of all food advertising in the UK is focused on fruit and vegetables, you know something is wrong.
"Vegetables are almost nowhere to be seen in how they are promoted – but they are life-giving foods and were born to be the centre of our diet."
Mr Fearnley-Whittingstall also highlighted that cutting obesity would save the country public money, which could be diverted to other areas.
"It costs more to treat diet-related illness than it costs to run the police and the fire service.
"Cutting obesity would free money and time to deal with problems that are less avoidable than this."
He said: "Nobody wants to be unhealthy. We have to make the healthy choice a much easier choice. And there are many, many ways to make that happen.
"Let's not pluck one out – let's do them all.
"Big business should do the right thing and step up and acknowledge the problem.
"A lot of the big supermarkets have already taken away confectionery from the pester moments of just before paying at the checkout."