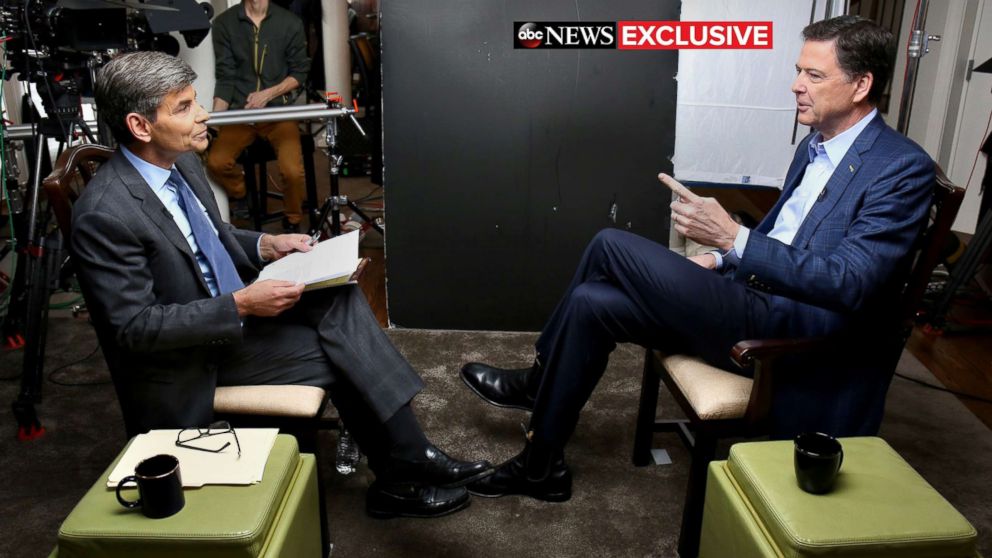 James Comey is breaking his long silence and describing his interactions with President Donald Trump before he was abruptly fired last year.
Interested in
James Comey?
Add James Comey as an interest to stay up to date on the latest James Comey news, video, and analysis from ABC News.
The former FBI director is sharing his story with ABC News ahead of the April 17 release of his book "A Higher Loyalty: Truth, Lies, and Leadership."
The interview will air during a primetime ABC News special on Sunday at 10 p.m. ET on ABC.
While criticism from President Donald Trump isn't new to Comey, the president used new descriptors for him after the first clip of Comey's exclusive interview with ABC News' chief anchor George Stephanopoulos was released Friday morning. Trump called Comey an "untruthful slime ball" in a tweet and wrote that "it was my great honor to fire" him.
The tweets came about an hour after "Good Morning America" aired a clip from the interview during which Comey talks about a discussion he says he had with then-President-elect Trump about the "dossier" which made unverified allegations that Trump engaged in an encounter with prostitutes in Moscow in 2013.
Excerpts of the book have been released, and in it Comey paints Trump as someone who is "unethical, and untethered to truth and institutional values." Comey writes that Trump is "ego-driven and about personal loyalty," going on to compare him to a mafia boss who demands loyalty.
White House press secretary Sarah Sanders attacked Comey's credibility during Friday afternoon's briefing.
"The American people see right through the blatant lies of a self-admitted leaker," Sanders said Friday.
"This is nothing more than a poorly executed PR stunt by Comey to desperately rehabilitate his tattered reputation and enrich his own bank account by peddling a book that belongs in the bargain bin of the fiction section," she said.
ABC News' chief anchor George Stephanopoulos is conducting the first interview with James Comey about the book, airing in an ABC News primetime special on Sunday, April 15, at 10 p.m. ET.